Tim Tebow and the NFL's 12 Most Hilarious Training Camp Hazing Moments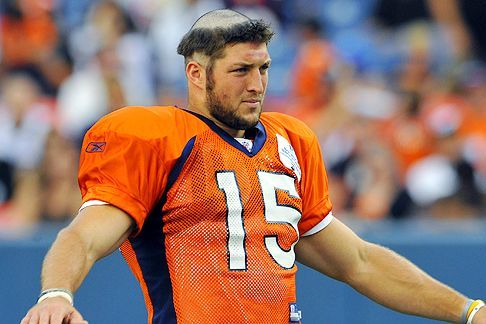 Photo Credit: ESPN.com
Rookie hazing in the NFL is supposed to be funny. The Denver Broncos' veterans pulled off one of the most hilarious hazing moments in recent memory when they gave Tim Tebow a horrid tonsure in his rookie campaign.
That's just the tip of the iceberg when it comes to rookie hazing throughout the history of the NFL, though. With that in mind, I wanted to chronicle some of the other standout performances in this misunderstood tradition.
Here are the top 12 most hilarious rookie hazing moments in the history of the NFL.
Begin Slideshow

»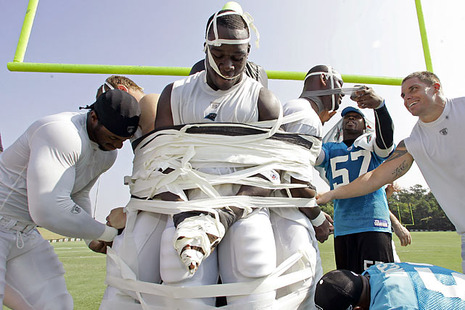 Photo credit: SI.com
Looking at this hilarious picture, I wonder if the Carolina Panthers' trainers had any tape left over when the smiling veterans were finished with this thorough tape job.
Even Jon Beason seems to be having a bit of fun with the whole ordeal.
These veterans didn't leave anything to chance, either. Those players had no chance to get themselves out of this bind with their hands tightly taped together.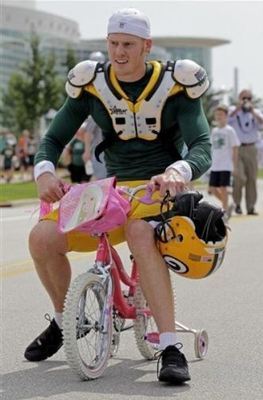 Punters aren't exactly the most respected players on NFL rosters, so you can only imagine the contempt they must face coming in as rookies.
Tim Masthay was razzed by his teammates during his rookie campaign, and they made him ride around on this little girl's bike during training camp.
At least he seems to be taking it all in stride. Masthay has actually turned out to be a pretty decent punter for the Green Bay Packers—not that they utilize his talents very often.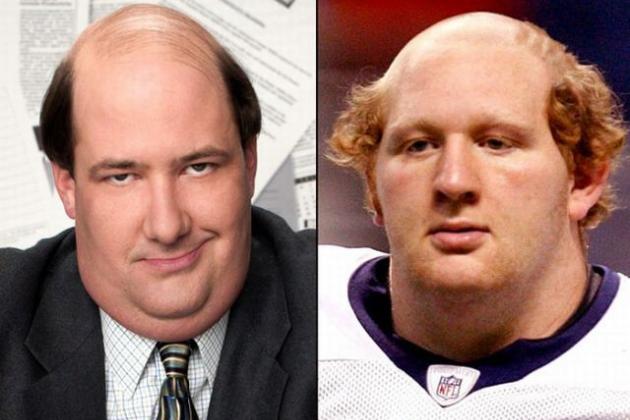 Photo credit: izismile.com
The Dallas Cowboys must have some veteran players who are fans of the hit NBC show, The Office.
They made sure rookie Greg Isdaner could at least try his hand at acting if he didn't make it as a lineman in the NFL by giving him the haircut of a lifetime.
For those of you who are into the show, Kevin happens to be my favorite character, so I'm particularly fond of this hazing prank.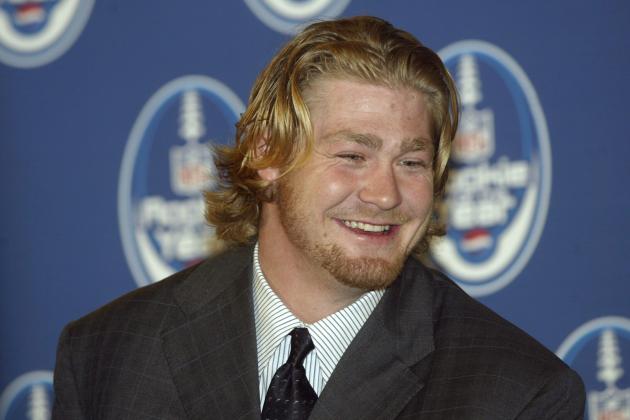 Stephen Dunn/Getty Images

Jeremy Shockey was one of the rare rookies who didn't subscribe to the notion of catering to the veterans on his team.
USA Today tells the story of his rookie hazing experience. He was eating lunch in the mess hall during training camp when the veterans started pestering him to sing Miami's fight song—a traditional ritual that seems benign enough.
Shockey told them he'd be glad to do it...after he was finished eating.
Veteran linebacker Brandon Short pressed the issue, prompting Shockey to stand up and sing the song. After he was finished singing, Shockey said, "That's for you, B. Short, and your hearing problem."
A fight broke out, and the New York Giants quickly learned that Shockey wasn't going to let anyone push him around.
I don't know about you, but I find the entire story hilarious. Male testosterone at its zenith.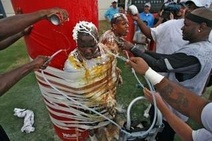 Photo credit: deadspin.com
This one probably belongs in the "over-the-top" category, but you have to admit it's kind of funny seeing grown men tied to a goalpost while their teammates cover them in condiments.
Deadspin.com (h/t The Tennessean) has the story. Apparently, Lavelle Hawkins and Cary Williams were unable to practice due to injury, causing the veterans to add a little bit extra into their normal hazing ritual.
The funniest thing I found about the entire ordeal was this: "At one point during the fiasco, Hawkins said he couldn't breathe. Tackle Jason Murphy, hoping to console the rookie receiver, responded: "Then how are you talking?'"
Hoping to console him? That's hilarious.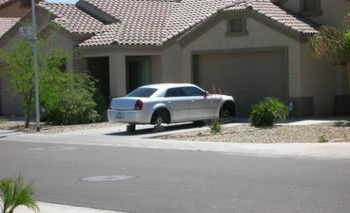 Chris Colmer was a rookie offensive tackle for the Tampa Bay Buccaneers when he refused to get veteran fullback Mike Alstott a cup of Gatorade.
That probably wasn't the smartest move.
Alstott got Colmer back in a major way by snagging the rims off his car and putting the car up on blocks ghetto-style. Colmer was then given instructions on where he could find his wheels after Alstott scattered them in four different locations.
Next time a rookie thinks about refusing to get a veteran a cup of water, Gatorade or any other beverage, they might want to remember what happened to Colmer.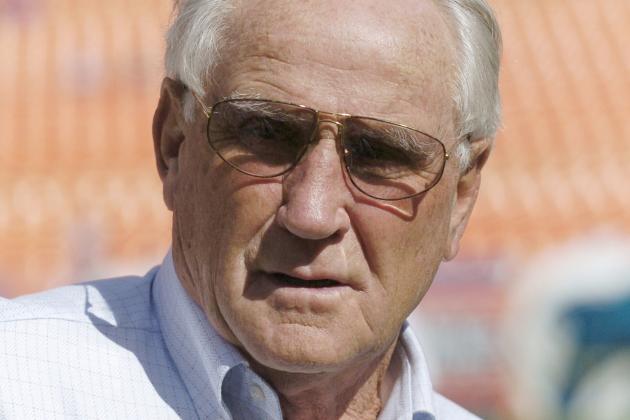 A. Messerschmidt/Getty Images

Don Shula fondly remembers the good, old days when the only things veterans asked of rookies was to sing a few songs.
Per the Sun Sentinel, Shula recounts a particularly funny story about a rookie fullback named Leroy Hill. Hill refused to sing the songs, so he was escorted by force and dumped into a pond behind the dorms at St. Thomas University.
Little did they know Hill couldn't swim.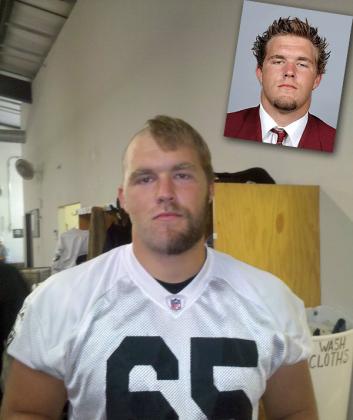 Photo credit: bustedcoverage.com
I think this picture speaks for itself.
The only thing missing is Two-Face's acid-marked face.
Alex Parsons received this gift from the thoughtful veterans of the Oakland Raiders. It's a gift I'm sure he'll cherish for the rest of his life.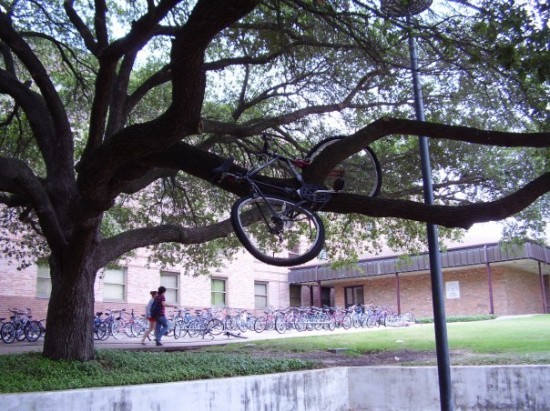 Photo credit: amog.com
Joe Montana used to love pulling pranks on players during training camp.
The worst—and funniest—prank he pulled was that he used to literally throw his teammates' bikes into trees.
The worst part about the prank is that he would do it at the end of the day so that the players either had to go hunting for their bikes or choose to walk a fourth of a mile back to their dorm rooms at Sierra College after a hard day working on the field.
For those of you who may not be familiar with Rocklin, CA, it is usually over 100 degrees during that time of year, making this prank all the more cruel.
The one thing I know for sure is that Montana's teammates would run through brick walls for him when the game was on the line, so I'm guessing they all had a good laugh about this hazing ritual.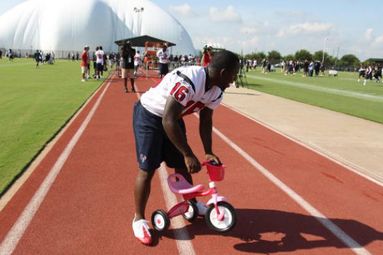 Photo credit: ww4.hdnuz.com
Trindon Holiday was a sixth-round draft pick for the Houston Texans in 2010.
The vets on the team were relentless about his size—5'5" and 160 pounds—and joked that Holiday was too little to ride on the stationary bikes in the weight room, according to the Houston Chronicle.
As a way of razzing him even further, they brought a teeny-tiny, pink tricycle to camp and made him ride around on it.
Holiday was a good sport about the whole thing, though. He clearly had fun showing the veterans that he was tough enough to handle anything they could dish out, going so far as to let Jacoby Jones push him around on it after practice.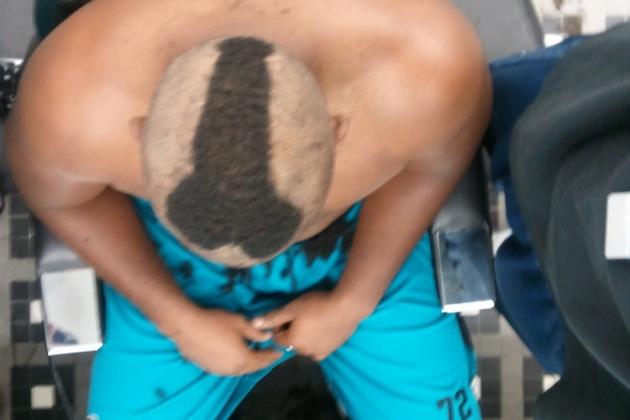 Photo credit: deadspin.com
There aren't any words I can use here that you aren't already thinking.
It makes you wonder what in the world Kevin Haslam did to deserve such treatment.
Epic haze.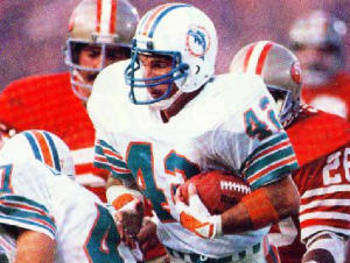 Lyle Blackwood has a dark sense of humor, and maybe I do too, because his "wronged husband" gag is downright hilarious.
Bernie Ward wrote a book entitled, "Football Hall of Shame 2" in which he chronicled some of the best/worst pranks in the history of the NFL.
In it, he detailed Blackwood's "wronged husband" gag, where he would point out a beautiful woman to an unsuspecting rookie during a preseason game.
He would then say that the woman was ready for some action, but that she was married. If the rookie bit the hook and wanted to hook up with her anyway, Blackwood would pretend to become a go-between and arrange for a meeting.
When the rookie got to the meeting place—a deserted house on the outskirts of town—one of Blackwood's teammates would be waiting with a shotgun full or blanks.
One poor rookie was so scared that they finally found him five hours later, still running for his life.