Preakness 2012 Results: Most Disappointing Horses in 2nd Triple Crown Race
May 22, 2012

Rob Carr/Getty Images
I'll Have Another did it again. He made a late charge down the stretch to overcome Bodemeister to win the Preakness Stakes, moving within one victory of the Triple Crown. Other horses weren't as fortunate, however, as they failed to reach expectations.
Let's take a look at the three most disappointing horses from the marquee race at Pimlico Race Course on Saturday. People who picked the race will likely blame one of these colts for failing to come through to make them a winner.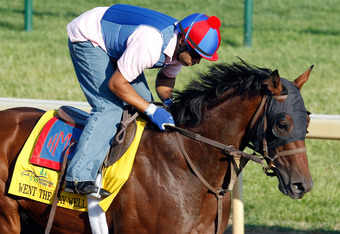 Rob Carr/Getty Images
Went the Day Well
After a late charge in the Kentucky Derby to finish in fourth, Went the Day Well seemed like a strong contender to knock off I'll Have Another in the Preakness. Instead, he finished well off the pace in 10th and was never a threat.
He got off to a slow start, but was able to get back up to pace for awhile. He never responded when the field turned for home, though. That makes it seem like he just didn't have enough energy left to race on short rest.
Went the Day Well had won two straight races heading to Churchill Downs to begin the Triple Crown, but wasn't able to live up to that high standard against elite competition. That clearly wasn't what trainer H. Graham Motion had in mind a couple weeks ago.
Bodemeister
If the first two races of the Triple Crown were both just a little bit shorter Bodemeister would be heading to Belmont Park with a chance of pulling off the rare triple. But a lack of late kick has left him with two second-place finishes.
Even though he went off as the favorite both times and was in great position, he couldn't match the final few furlongs of I'll Have Another. Second place in a big race is still a nice accomplishment, but he could have gone down in history and will instead be forgotten.
As legendary trainer Bob Baffert has found out the hard way more than a few times, the difference between winning and coming up short is often razor thin. Unfortunately for Bodemeister, he came up on the wrong end twice.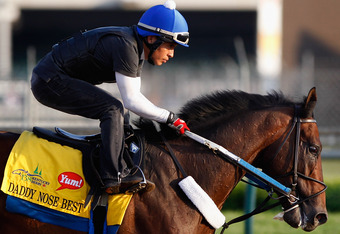 Rob Carr/Getty Images
Daddy Nose Best
A popular sleeper pick in both Triple Crown races, Daddy Nose Best once again didn't live up to the hype in the Preakness, finishing ninth. He stumbled out of the gate and was never able to recover to make up enough ground.
He already had four wins under his belt before the Kentucky Derby, including one in the Sunland Derby, so it seemed like he was on the track to success. But Daddy Nose Best didn't have the speed necessary to keep up with the tough fields.
It seems like every year there's always one popular horse that doesn't produce when it matters most, and Daddy Nose Best definitely falls in that category for 2012.