Pacquiao vs. Bradley: Pac-Man, Roach and Arum Sound off on June 9 Bout
May 22, 2012

Jeff Gross/Getty Images
Manny Pacquiao, Freddie Roach and Top Rank President Bob Arum gave their opinions on the June 9 bout against Timothy Bradley, the controversies in "Pacman's" life and Floyd Mayweather, among other topics in their media teleconference call earlier today.
The general sense surrounding Pacquiao as he prepares for his June 9 date is that he is as focused as ever, with distractions not being a problem this time around.
This is in contrast to Pacquiao's last fight this past November in his rubber match with Juan Manuel Marquez. Although he won a controversial decision, Pacman looked like he wasn't fully into it.
Pacquiao explained why he struggled: "The fight wasn't a hard fight for me but, on that fight I had problems, family problems."
Roach chimed in and reiterated the personal problems that affected Pacquiao in his November bout.
"We had a great training camp going into that fight, in the last week everything fell apart," Roach said. "And personal problems with Manny showed in the fight."
Roach went on to say that the distractions that plagued Pacman in his last fight are gone, and Pacquiao is ready to go against Bradley.
"He's very focused," said Roach. "We don't have days when he comes in tired anymore, because he doesn't have any nightlife anymore whatsoever. He just tried to go to Bible study and he's very focused on the fight and him and God are very close right now and he's a 100 percent better athlete with no distractions."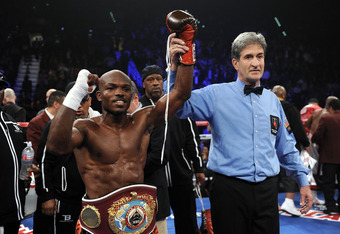 Harry How/Getty Images
Top Rank President Bob Arum was asked if he felt that he had to match the pay-per-view numbers put up by Floyd Mayweather in his last fight against Miguel Cotto earlier this month and of course took the chance to discredit "Money May" as he often does.
"We aim to get the biggest possible numbers that we can get, but we operate a completely different model from Floyd's model," said Arum. "So whatever numbers he allegedly reached or didn't reach is really irrelevant to us... You also have to remember that Mayweather was fighting one of our great fighters, Miguel Cotto who's the No. 3 pay-per-view attraction, who's gotten great numbers on his own."
A distraction that has come up in the last week for Pacquiao is the controversy surrounding his beliefs on gay marriage. Although it's been swirling around the media for a week, Pacquiao had a feeling that there would be an uproar with his anti-gay marriage beliefs, so don't expect his performance to be hindered by the public reaction to his comments.
Roach explained that Pacquiao has not been affected by the media backlash.
"No [the controversy hasn't affected him]," Roach said. "He's fired up and ready to go. He's very motivated and we've had great workouts, sparring sessions... and he's right where he is supposed to be."
Roach gave a very quick answer to what he believed what Pacquiao's distinct advantages in the Bradley bout were, saying, "Experience, speed and power," and went into why each of the three aspects would help Pacman in the fight.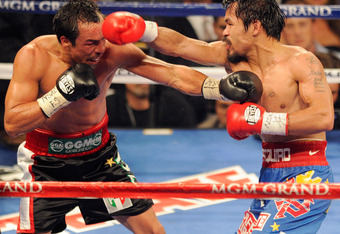 Ethan Miller/Getty Images
"Speed is hard to deal with, power will knock you out and experience will make it a little bit easier for you [in the ring]," said Roach.
With all the talk of Pacquiao being as focused as ever, Bradley should be ready for a stiff test, as a rejuvenated Pacman will be very dangerous and will show Bradley just what top-level talent is like inside of the ring.
The Pacquiao-Bradley fight is set for June 9, 2012 at the MGM Grand in Las Vegas, Nev., with tickets being $200, $400, $600, $900 and $1,200 and can be purchased from ticketmaster.com or mgmgrand.com. If you aren't able to attend in person, you can view the bout via HBO pay-per-view, starting at 9:00 p.m. EST.
Mick Akers is a Boxing Featured Columnist for Bleacher Report. Unless otherwise noted, all quotes were obtained first-hand via teleconference.