San Francisco Giants: Grading General Manager Brian Sabean's Offseason Moves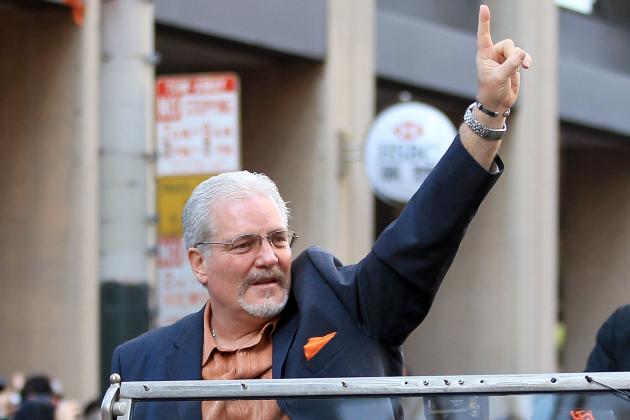 Ezra Shaw/Getty Images
Will Brian Sabean's off-season moves lead to another parade?
The San Francisco Giants entered play tonight seven games back of the Los Angeles Dodgers in the National League West but only one game back in the race for the two wild card spots. The Giants are 23-20, but they have actually been outscored by one run so far this season.
It was a busy offseason for Giants general manager Brian Sabean, the longest tenured GM in baseball. With a quarter of the season in the books, let's put an early grade on each of his major offseason transactions.
His offseason moves, which included trading for Angel Pagan and Melky Cabrera, re-signing Jeremy Affeldt and Javier Lopez, and acquiring free agents Clay Hensley, Gregor Blanco and Joaquin Arias have all worked out quite well thus far. The decision to sign Ryan Theriot and keep him on the roster over Mike Fontenot has been the one decision that has backfired.
This evaluation is of the moves that Sabean actually made during the offseason—it does not include decisions not to sign or trade for other players. It would be nice to have Carlos Beltran or Josh Willingham in the outfield and Jose Reyes at shortstop, but those moves were not made for a variety of reasons, budget constraints chief among them.
Begin Slideshow

»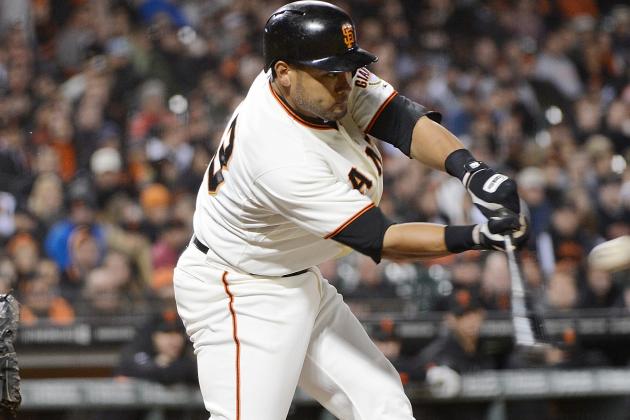 Thearon W. Henderson/Getty Images
Melky Cabrera is leading all of baseball in hits.
An offseason trade cannot go much better than Sabean's decision to deal the enigmatic Jonathan Sanchez and pitching prospect Ryan Verdugo to the Kansas City Royals for Melky Cabrera.
Sanchez has struggled horribly for the Royals and he is currently on the disabled list. In contrast to Sanchez, Cabrera has been one of the best hitters in baseball, leading all of baseball in total hits entering play tonight.
In trading Sanchez for Cabrera it appeared the Giants were trading one enigma for another as both players had failed to live up to their potential. However, Cabrera was coming off of his best season, while Sanchez was coming off an injury-plagued, ineffective season. The Giants sold low on Sanchez and appear to have caught Cabrera on the upswing.
Cabrera, 27, will be a free agent at the end of this season. He could end up being a key offensive contributor for the next several seasons in San Francisco if the two sides can work out a contract extension.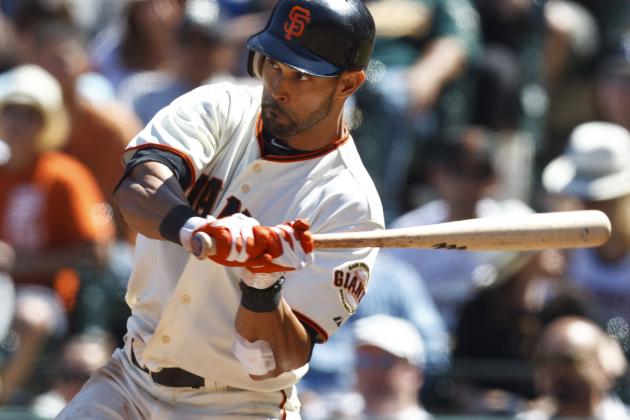 Jason O. Watson/Getty Images
Pagan has been a very solid addition.
When Sabean dealt Torres and Ramirez to the Mets for Pagan, the Giants were trading defense for offense, and that is exactly how this trade has played out thus far.
Torres certainly had more range than Pagan in center field, but given his age, injury history and declining offense, this was an easy swap to make. However, throwing in Ramon Ramirez appeared to be a mistake at the time.
Both Ramirez and Torres have struggled for the Mets in the early going, while Pagan has had an outstanding year at the plate for the Giants. Pagan, who is four years younger than Torres, is hitting a robust .297/.343/.455 (batting average/on-base percentage/slugging percentage) compared to Torres' line of .187/.330/.267.
While Pagan has struggled on defense, the offensive upgrade from Torres to Pagan has made this another excellent trade for the Giants. Also, the Giants were able to replace Ramirez in free agency by adding Clay Hensley, who has pitched very well this season.
Thearon W. Henderson/Getty Images
Javier Lopez has been nasty.
When the Giants re-signed Javier Lopez and Jeremy Affeldt to begin the offseason, it looked like a puzzling pair of decisions. They certainly had been very good left-handed relievers, but the opportunity cost in spending $9.5 million this year on two fungible relievers was the team's exit from the Carlos Beltran sweepstakes.
While it would have been nice to save enough money to retain Beltran, Lopez has remained a key contributor in the bullpen with a 0.93 earned run average (ERA) in 19 games this season.
When the Giants acquired Lopez at the trading deadline in 2010, it did not appear that they were making a significant acquisition. However, he has been used in high leverage situations throughout his time in San Francisco, rewarding the team with a 2.20 ERA while holding lefties to a weak .189 batting average.
He doesn't throw a lot of innings, but he gets a lot of outs in high leverage situations, something the low-scoring Giants desperately need.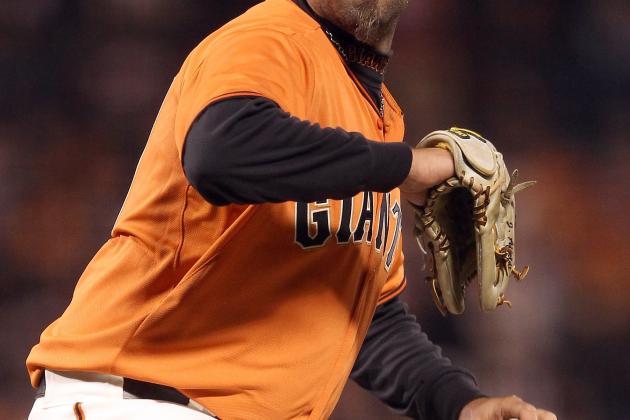 Ezra Shaw/Getty Images
Affeldt has pitched well since coming off the DL.
Affeldt has pitched just about as well as Lopez so far this season, which is of particular importance since the Giants bullpen depth has been severely tested.
The Giants lost Brian Wilson for the season with an elbow injury, Guillermo Mota for most of the season due to a suspension for performance enhancing drug use, and Dan Runzler remains out indefinitely with a shoulder injury.
Affeldt spent time on the disabled list due to a knee injury he sustained playing with son, after going on the DL with an injury he sustained cutting hamburger patties last season. Since his return from the knee injury, Affeldt has been dominant with four straight scoreless appearances.
As long as Affeldt doesn't sustain anymore bizarre injuries at home, he should remain a key part of Bruce Bochy's setup corpse.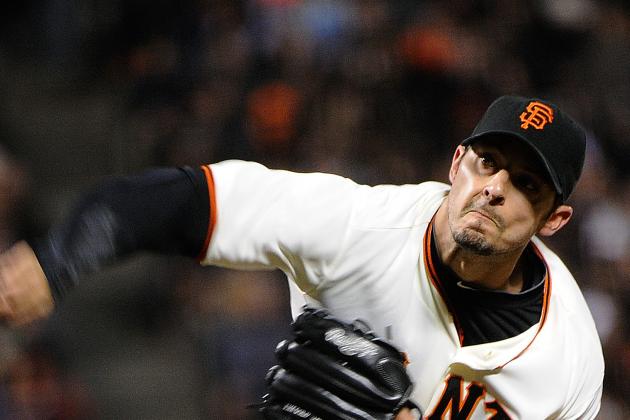 Thearon W. Henderson/Getty Images
Clay Hensley has replaced Ramon Ramirez in the middle innings.
Hensley doesn't have great stuff—his fastball sits in the 84-87 miles per hour (MPH) range, not what you would typically expect from a setup man.
However, with Ramon Ramirez traded to the Mets in the offseason and Santiago Casilla moving into the closer role, Hensley has become a key cog in the bullpen.
He makes up for the lack of velocity with excellent fastball command and movement. Most relievers only have two pitches, but Hensley, a converted started, has a starter's repertoire. His four-pitch arsenal is all finesse, including a big, slow curveball that rarely reaches 70 MPH.
He might not have the big arm of most right-handed setup man, but Hensley knows how to pitch. Even though he lacks elite stuff, he can still pitch for the strikeout as well as the groundball. For less than a million bucks, the Giants have gotten themselves a very solid bullpen piece.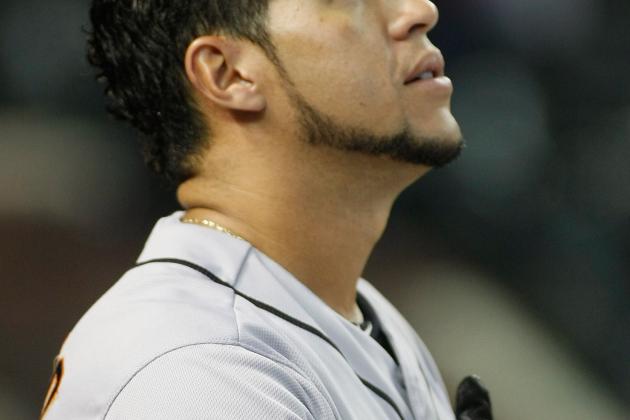 Ralph Freso/Getty Images
The Giants may have gotten a steal in Blanco.
Like Hensley, Blanco was a bargain pickup that has paid dividends early on. The 28-year old minor league free agent has become the leadoff hitter and starting right fielder in recent weeks.
Blanco leads the team with 18 walks and is third on the team with a .371 on-base percentage. Blanco also has excellent speed and range in the outfield to compliment his patience at the plate.
His hot start does not appear to be a fluke, either. His current batting line of .244/.371/.326 is not far off his career line of .258/.361/.326.
It would be nice to have a higher batting average and more power from the leadoff spot to go with the excellent on-base skills, but for the cost of basically the league minimum salary, the Giants are getting a great bargain.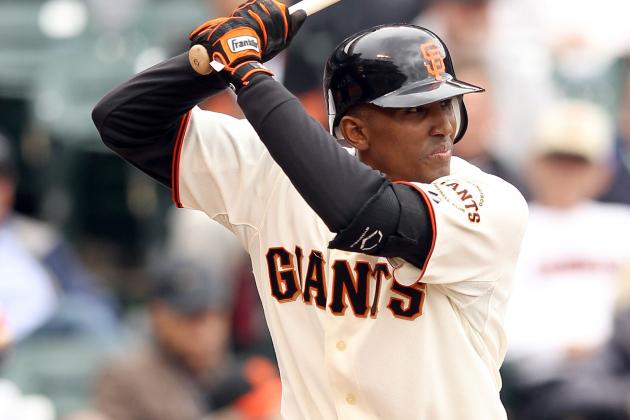 Ezra Shaw/Getty Images
Arias is better than most of the Giants infield options.
Arias is another no-cost acquisition that has played a bigger-than-expected role during the first two months of the season due to injuries to Pablo Sandoval, Freddy Sanchez and Ryan Theriot.
Arias is only hitting .237, but he's looked more competent at the plate than Theriot, Manny Burriss, Charlie Culberson and Brandon Crawford. He's also looked very smooth in the field with decent range at third, short and second to compliment an excellent arm.
When Sandoval returns from the DL, Arias could take over at one of the middle infield spots or remain on the team as a backup to Sandoval, Crawford and whoever ends up being the second baseman.
Arias is versatile and solid with glove, and he makes contact at the plate with a decent opposite field oriented approach. He might not hit enough to be a worthy everyday player, but that doesn't mean he isn't useful. Besides, the definition of "worthy everyday player" in the Giants infield has become quite blurry these days.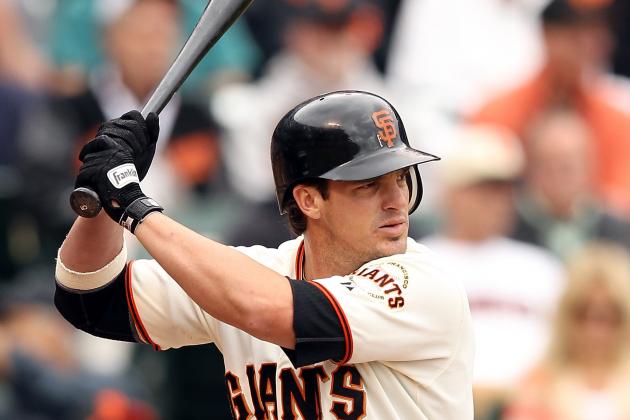 Ezra Shaw/Getty Images
Ryan Theriot was really bad before going on the DL.
Theriot made the team in spring training over Mike Fontenot despite battling injuries and struggling to hit all spring. It was a curious decision to go with Theriot over Fontenot, especially because Theriot is not as versatile defensively.
It's hard to get too worked up over a one-year contract that is not too far above the league minimum in total cost, especially given that Theriot was playing hurt before he recently went on the DL.
However, Theriot was awful at the beginning of the season, hitting .179 with a lone double through 61 plate appearances.
Second base remains the Giants biggest weakness with Sanchez on the DL, Burriss struggling and Culberson proving that he is not ready for the big leagues. When Theriot gets healthy, the job will likely be his to lose. If he doesn't start hitting, this grade will be an "F" when we look back at the end of the season.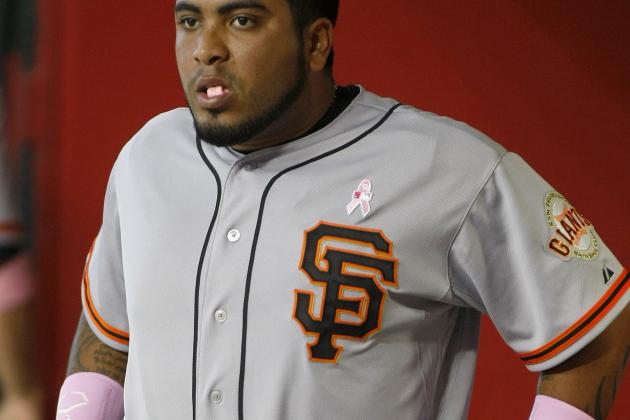 Ralph Freso/Getty Images
Hector Sanchez has some power.
The Giants dealt backup catcher Chris Stewart to the Yankees for minor league reliever George Kontos to clear the way for Hector Sanchez to take over as Buster Posey's backup.
Kontos has thrown well for the Triple-A Fresno Grizzlies so far this season and he could get a look in the bullpen at some point this season. However, this trade was really about clearing a spot for Sanchez.
The Giants rushed him to the big leagues because they needed more offense behind the plate knowing that they would have to limit Posey's workload as he returned from a catastrophic ankle injury suffered last May. They also knew that, as with the Pagan trade, they would be losing some defense in the transaction.
Sanchez has swung the bat well so far, showing a lot more offensive ability than Stewart and Eli Whiteside displayed last season. However, his 15:1 strikeout-to-walk ratio is a sign of an approach that needs a lot of work.
The Giants desperately needed more offense behind the plate, but the jury remains out on whether or not Sanchez is really the answer given his limited playing time so far this season.