NBA Draft 2012: Lottery Superstars That Will Transform Teams into Contenders
May 22, 2012

Ronald Martinez/Getty Images
Many teams look towards the NBA lottery as a means to save the franchise. The top players represent hope and a new direction for a squad that often floundered miserably through the previous season and, in many circumstances, has been irrelevant for years.
Sometimes, things just work out. The Oklahoma City Thunder used back-to-back lottery selections in 2007 and 2008 to acquire Kevin Durant and Russell Westbrook, respectively. Now they are in the Western Conference Finals for the second straight year.
In many other instances, these lottery picks set an organization back. Look no further than the Portland Trail Blazers taking a chance on Greg Oden with the No. 1 pick (right before KD!) in '07. They cut him in March after he played a total of 82 games during his five-year career.  
Let's take a look at some lottery picks in 2012 that have the best chance of improving their team and making them contenders—much like Durant did with OKC and Oden failed to do with the Blazers.
Anthony Davis
There are no red flags for the consensus No. 1 overall pick. He has no injury woes, his motor is excellent and the kid wants to play basketball at a high level. He's already proven capable of that by winning a national championship during his only collegiate season.
Any team who drafts the Kentucky product will be handsomely rewarded with a highly skilled defender that will soon have a fearsome offensive game to round out his repertoire.
Whichever squad selects Davis will be contending in the postseason in short order.
Michael Kidd-Gilchrist
MKG should come off the board right after Davis and for good reason. He's got the best motor of anyone in the class and will do whatever it takes to become a great NBA player.
Often times, players with that attitude who make the league possess subpar size, athleticism or any number of drawbacks. Kidd-Gilchrist has few and will immediately contribute due to his top-notch defense, superb rebounding and ability to get to the rim.
If he continues to work on (and there is little doubt he will) getting a more consistent jump shot, the sky is the limit for this young man.
Bradley Beal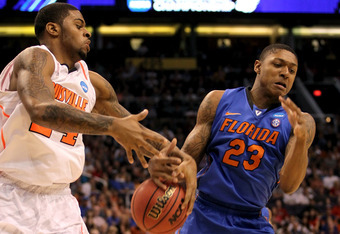 Jamie Squire/Getty Images
Beal is a bit of a wild card. If he lives up to his incredible hype, there is no doubting he is the next superstar shooting guard in this league.
He had a mediocre year with the Florida Gators and did not shoot the three as well as advertised coming out of high school. If that was a fluke, then there should be absolutely no worries about this kid's abilities.
The 6'4", 200-pound guard has the body required to play the 2 and the talent to score from anywhere on the floor. There is nothing not to like about that.