Chicago Cubs: Could Kerry Wood Be the Next Mr. Cub?
May 22, 2012

David Banks/Getty Images
I know for most Chicago Cubs fans this may sound sacrilegious. Hell, when I mentioned this to a White Sox fan he said I was nuts, but hear me out.
Ernie Banks is easily the best player in Cubs history. He earned the nickname "Mr. Cub" because he was a fan favorite and their best player. He played all 19 of his MLB seasons with the Cubs.
However no one is around forever and someone will undoubtedly eventually inherit the moniker. So why not Kerry Wood?
Since Banks retired in 1971, a few players looked like they could inherit the title. Ryne Sandberg could have been that guy until he recently left the organization after being passed over for the manager job.
Mark Grace would have been my next choice but since leaving the Cubs he seems set to become "Mr. D'back". Another candidate could have been Sammy Sosa but he has been MIA in Chicago since being traded to Baltimore.
So again I ask, why not Wood?
Some may argue he wasn't a good enough player and that is a good point. His 80 wins with the Cubs put him in a tie for 28th. 
His save numbers aren't that impressive either. His 35 saves are good enough for 17th all-time.
However his strikeout numbers are top three and his strikeout rate per nine innings is the best in team history. It is actually good enough for second all-time in league history behind Randy Johnson and ahead of Pedro Martinez.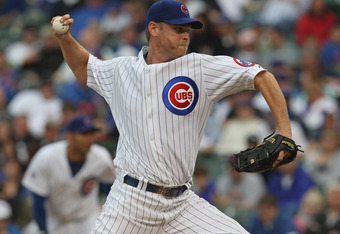 Jonathan Daniel/Getty Images
Possibly the most important thing is that since making his debut in 1998 he has been a fan favorite. It has been a career riddled with injuries but Wood never quit. A lot of players may have walked away from the game but he wanted to come back and help the Cubs win and was willing to take less money to do it.
His career reminds me of author John Grisham's latest book, Calico Joe, which is about a fictional Cubs rookie first baseman. Much like Wood, the main character was well on his way to a Hall of Fame career in his rookie season before an injury happened.
Just imagine what could have been if Wood had a few more seasons like '98 and '03. Unfortunately those 14 trips to the disabled list kept him from reaching his true potential.
Unlike Sandberg, Grace and Sosa, Wood is not going anywhere. He is going to remain a part of the Cubs organization in some way for the rest of his life.
So what do you think Cubs fans? Can "Kid K" be the next "Mr. Cub"? Sound off below.