Oregon Football: Replacing LaMichael James Is Not as Easy as It Looks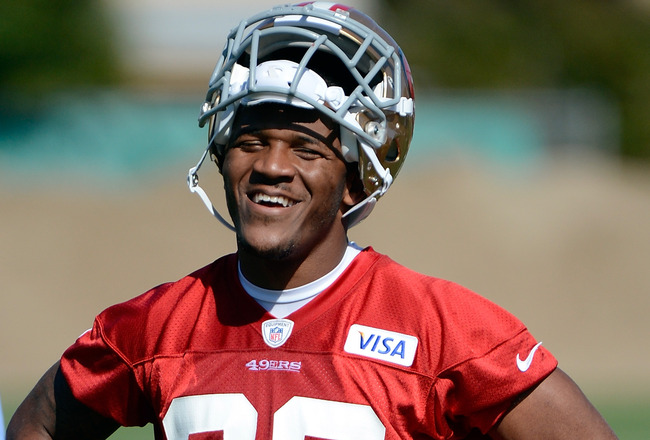 Thearon W. Henderson/Getty Images
I absolutely cringe every time I hear someone say that it doesn't matter whom Oregon's running back is. The Ducks just plug in the next guy in line and carry on from year to year.
While it's true that Oregon has had terrific RBs for decades, LaMichael James is a once-in-my-lifetime Oregon running back. Will he be as easy to replace as Jonathan Stewart, Onterrio Smith, LeGarrette Blount, et al?
In a word: no.
Here's why.
Stats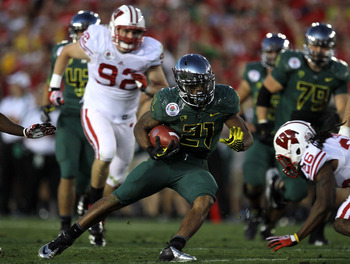 Stephen Dunn/Getty Images
Let's start with James' stats, and I'm warning you, this will be a looooong slide. These numbers come from James' University of Oregon official bio.
I'm not going to list every national, conference and U of O award and commendation James won in his Oregon career—we would be here all day and my fingers would hurt from typing. Suffice it to say that he won just about everything a college football player can win, except the Heisman, where he was a finalist and came in third in the voting (the only time I've ever seen him dressed up and looking uncomfortable).
In 2011, James led the nation in rushing yards per game at 150.42. He was second nationally in rushing yards at 1,805.
In 2010, he also was the national leader in rushing yards per game (144.2) and scoring average (12.0). Also in 2010, James led the NCAA in overall rushing yards with 1,731—a new Oregon single-season record. His 24 touchdowns (21 rushing, three receiving) also set an Oregon season record.
While we're on the topic of U of O records, James also holds the Autzen Stadium record for the longest touchdown run—90 yards in the win over Missouri State. That's also the second longest rush in Oregon history.
James is the first U of O player to have scored touchdown runs by rushing, receiving, and punt returning in a single game (Nevada).
But wait, there's more Oregon records to this young man's name. In his career, James had 26 games with 100 or more yards rushing and seven games with 200 or more, both school records. He also holds the U of O career rushing record with 5,082 yards.
Remember a pretty decent RB named Marcus Allen? James is the first player since Allen (USC) in 1981, and the first FBS player since Tulane's Matt Forte in 1987, to have three consecutive games of 200-plus rushing yards.
James is also second all-time in conference history with 53 career rushing TDs. Pause for a moment and think about all the great—truly great—running backs the Pac-12 conference has fielded over the decades.
Most amazing to me is that while James was putting up all these numbers, he was also named first-team All-Academic in the Pac-12 in 2010, one of only four conference players to earn that distinction.
If you are Kenjon Barner and you're reading this, are you starting to get just a tad bit nervous?
Toughness
Jonathan Ferrey/Getty Images
Those of us who were in Autzen Stadium the night LaMichael James suffered a dislocated elbow will never forget it.
The gruesome injury, we thought at the time, would put LaMike out for the rest of the season. It was a grim moment.
However, on the drive back to Portland, we heard James on the post-game radio broadcast telling all of us not to worry, that he felt fine.
Say what?
How could he be fine with his elbow sticking out at a 90 degree angle? That injury would have sent me—an admitted wimp—to the hospital writhing in pain, followed by six weeks of intensive home care by a sweet nurse who would cook my meals and do all the housecleaning. But I digress.
Instead, two weeks later, James is back out there against Washington St. helping the Ducks to a win.
And that's just the injury we know about. Think how many times a running back who carries the ball that much is dinged up. Think of the ice James must have gone through. And how he must have felt the day after games.
I know, it comes with the territory, but still.
I think LaMichael James is the very embodiment of toughness. You can't teach it or coach it; kids either have it or they don't.
James has it. Will his replacement?
Speed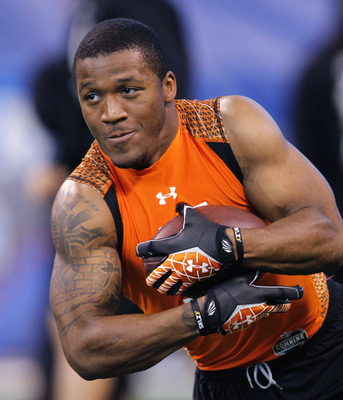 Joe Robbins/Getty Images
Did you happen to catch LaMichael James' performance at the NFL combine? It was beautiful.
And very, very fast.
For those of us who have watched him for years, it came as no surprise. Oregon has had lots of fast players over the years, but James' speed is in a class by itself.
The San Francisco 49ers, who drafted James in the second round, have the need for speed and explosiveness in their offense. They got it with James. And it didn't surprise me one bit that a coach who had been on the opposite sideline of James during part of his college career jumped at the chance to draft him.
The Ducks will have speedsters on the 2012 team—De'Anthony Thomas, anyone?—but I fear Oregon will miss LaMichael's explosive bursts. James is a slippery RB who can turn into a blur with the ball.
My father used to say that there is no substitute for speed. Guess we'll find out this year.
Heart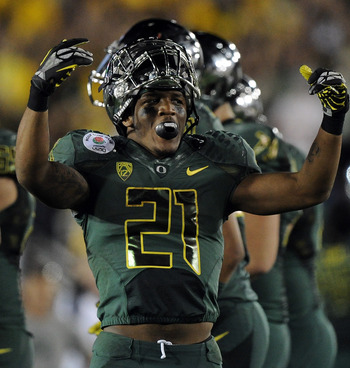 Harry How/Getty Images
While my father may have thought there is no substitute for speed, I believe there is no substitute for heart.
LaMichael has a huge heart, and he brought it to the field each and every week.
Work ethic is part of heart in my book. James' work in the weight room, on the sidelines, on the track, in the classroom and, most certainly, during the games was unequaled.
A guy with heart shows up every day, works hard and exhibits leadership qualities.
LaMichael James has heart and it will be as sorely missed as his speed and skills.
Intelligence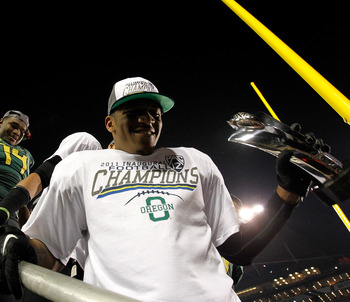 Jonathan Ferrey/Getty Images
On the stats page, I mentioned that LaMichael was a first-team Pac-12 All-Academic in 2010. One must have good grades to make that elite list. Good grades are hard in college, especially if you are a star athlete with many, many demands on your time.
I think James' intelligence extends beyond the classroom. He is smart enough to know what it takes to be successful in this world and how to make your dreams come true. Part of that is pure drive to succeed, but you can have drive and still not figure out how to get where you want to go.
Even if you have the best O-line in the business—and Oregon did not during James' productive years—a great running back still has to pick his spots, know when to follow the blockers and when to not follow them. There is a certain amount of football IQ needed to do what James did year in and year out.
Intelligent guy? You bet.
Intangibles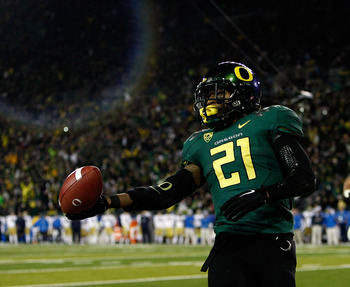 Jonathan Ferrey/Getty Images
In every successful person, there are intangible things that contribute to their success but are difficult to identify.
Beyond LaMichael's speed, strength, heart and intelligence—which, let's face it—can be found in other football players, there are certain other factors that led to his stunning success.
The most important intangible is James' close relationship with running backs coach Gary Campbell. They appear to have almost a father/son relationship. It's not much of a stretch to think that every time LaMichael entered a game, he was aware of not wanting to let Campbell down.
James is also an excellent student of the game of football. He took advantage of opportunities to learn about his position. He didn't—and doesn't, according to the 49ers—have the I-know-it-all-and-you-can't-teach-me-anything gene so prevalent at the top levels of college football.
Leaving Texas and moving all the way to little ol' Eugene, Ore., benefited James, too. He may not have thought that in the beginning—perhaps even questioning his decision—but it was so the right move for James.
Eugene taught James what it means to be part of a community, and I'm not sure he would have gotten that at a bigger school in a bigger city. It was a good fit.
So, what's next?
Kenjon Barner and Company
Stephen Dunn/Getty Images
So, LaMichael James had everything it takes to be successful in Oregon's system. Does Kenjon Barner, LaMichael's good friend, have the same qualities? What about De'Anthony Thomas? And Byron Marshall, arriving in the fall?
Here's what we know so far. We know both Barner and Thomas possess tremendous speed and skills. They both have heart. Like James, the move to Eugene will be especially good for Thomas.
Barner has had the advantage of playing with James and the two are close. They talk to each other on Twitter almost daily.
I can't speak to the intelligence and intangibles of Barner and Thomas; I don't know enough about either of them yet. However, it feels as if they both have that special something. It will be different than James' special something, but I think it will be good in their own way.
And are you anxious to see Marshall? Me too. Perhaps he is "another LaMichael." We will see.
However, for those of you reading this now, please don't say the Ducks can take any reasonably good running back out of high school, plug him into the Oregon system and make him the next LaMichael.
He is special, and complete packages like him do not come along every year. Or every decade. Or even every lifetime.
Keep Reading

Oregon Ducks Football: Like this team?