How the Chicago Bears' Win vs the San Diego Chargers Changed Their 2011 Season
May 22, 2012

Jonathan Daniel/Getty Images
In each season, an NFL team faces moments which change the course of their year. These moments may be small and subtle or big and obvious. They may happen during the game or the aftereffects may not be felt until after. They can be good things coming from losses and bad things during wins.
Regardless, nothing is the same afterwards.
Today we look at the Chicago Bears game against the San Diego Chargers on November 20th of last year.
The game was a victory for the Bears, but a costly one as Jay Cutler broke his thumb at one point.
In the week prior to the game, the Bears placed offensive linemen Gabe Carimi and Chris Williams on injured reserve.
For this piece, I watched the game on NFL Rewind again, jotting down notes as I went. We'll recap the various high points and notes per quarter and then summarize what the ripple effect was from this game.
I will say this: Cutler was kept surprisingly clean for large portions of this game, save for a couple of hits which very clearly had a large impact on his season.
Keep an eye on the pictures to the right today—all are screen captures from the game to highlight points I am making. I apologize that they are not great shots—my connection seems to be wonky today, but I have some good ideas for the next edition of this, so we'll see better stuff next time.
Let's go.
FIRST QUARTER
Overall the quarter played quickly with neither team gaining much in the way of traction on offense and both defenses doing a good job at containment. 
A few things stood out to me in the first quarter.
Roy Williams
Good Lord was he awful last year. He dropped a few balls early on here that were just unfortunate. Earl Bennett had a boneheaded play where he was wide open and not only stepped out of bounds but did so before he even caught the ball. Inexcusable.
Offensive Line
The Bears offensive line took a beating last year for some bad pass protection, but the run-blocking in this game was just brutal. This is why Matt Forte thinks—rightfully so—that he deserves the money he wants.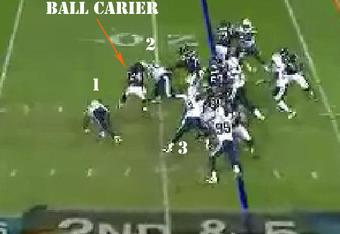 When he runs off tackle, the Chargers had penetration. When he ran outside, the offensive line and receivers were not able to block the corners and safeties. Every time he ran, he met defenders.
We talk about how bad the line is, but run blocking for a team like the Bears is key and they just didn't do it against the Chargers.
Defense
As always the defense looked very good.
Summary
This was very much like watching a pair of boxers feeling out each other. The Bears in particular took a couple of longer shots offensively, but a drop by Roy Williams and the aforementioned brain short by Bennett pooched that.
Again though, the offensive line kept Cutler cleaner than the Chargers did Rivers.
Score: 3-3
SECOND QUARTER
Things got a bit livelier in the second quarter, most notably near the end. Both offenses got on the board, the Bears twice. Once they scored on a Marion Barber run which was set up by a good Devin Hester punt return. 
The second time was on a nice short pass by Cutler to tight end Kellen Davis. Cutler had thrown a pass to Earl Bennett for a touchdown three plays earlier, but it was ruled incomplete.

The Chargers scored as well, and they found some room to throw against the Bears secondary that highlights some issues which remain today.
Some further notes:
Big-Time Receivers Cause Big Problems
It's funny to me that the same unit which kept Calvin Johnson relatively contained a few weeks prior struggled with Vincent Jackson.
OK, not struggled—more like got straight-up torched. It starts in the second quarter as he just begins to overpower Charles Tillman.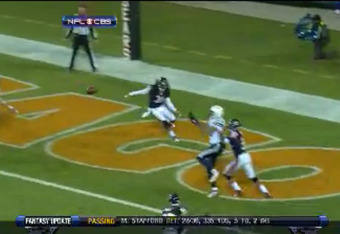 The Bears secondary just didn't have the easiest time against most of the better wide receivers in the league.
An interesting thing was pointed out by the announcers—I don't recall which—that the Bears were having such a hard time stopping Rivers from throwing the ball, so they (in the analyst's opinion) should stop blitzing, just rush four and have the rest drop into coverage.
He wasn't wrong; Rivers was killing the defense in the second quarter with some quick passes, negating the fierce blitz which hurt him in the first quarter.
However, as evidenced by both of Vincent Jackson's catches (each over 30 yards), I'm not sure letting Rivers hang out an extra three to five seconds was an answer.
O-Line Still Struggling in Run-Blocking
Despite the fact that Marion Barber scored on a run, it was despite the line not because of it. The second quarter was more of the same as the first and the linemen were unable to open holes or get too much of a push on the defensive line.
Still, by the end of the quarter, the Bears were up.
Score: 17-10
THIRD QUARTER
This is where the team came together and you can see what it might have been capable of if Cutler hadn't been hurt.
We're not sure when he got hurt, mind you. There are two potential culprits—one this quarter and one in the fourth. It could have been another moment we didn't see—it might have been the type of injury where Cutler wasn't even really cognizant of it until later.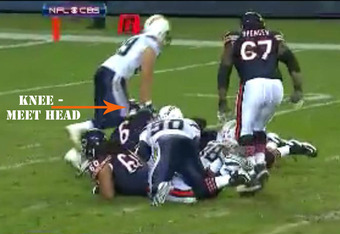 Given that he had a concussion, the knee he took from Travis LaBoy (completely incidental, by the way) and the time it took to get off his back must have made Lovie Smith's heart sink.
I've said it before, and it bears repeating: How he didn't get hospitalized because of that offensive line and blocking scheme (I use the term loosely) is beyond me.
On the play (with 9:31 left in the half, if you want to follow along on Rewind), Cutler does a tremendous job getting the ball off with a defender on his foot. It's a testament to his arm strength that with a guy on him, off his back foot, he throws a very good ball to Roy Williams, who actually makes a catch.
A play later, Cutler was still shaking his head to clear it (at 8:24 remaining).
Given that Cutler throws three straight passes right afterwards, maybe the Bears want to clomp him on the head more often. The best was a perfectly passed ball just a bit behind Knox to put the offense on the one-yard line.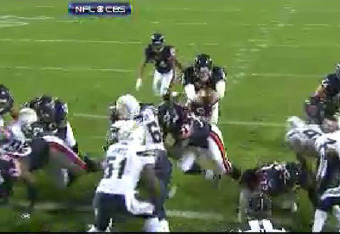 Cutler ran the ball in himself two plays later.
In the same set of downs, you can still see the offensive line struggle to block for the run.
Defensively, the Bears locked things down in the latter half of the third. While Vincent Jackson did well overall, they started to get his measure.
Score: 31-17
FOURTH QUARTER
We'll take a quick look here at the second potential play where Cutler got hurt. But this time, while the game wasn't completely out of control, it was well in hand.
The Chargers began by kicking a field goal to close to what would be the final score of 31-20. Philip Rivers did miss a wide-open Vincent Jackson because the coverage rolled to the right, where Jackson was. Instead Rivers went short.
I'm not sure Rivers should have been scared by the matchup of Major Wright on Jackson, but it was that kind of season for Rivers in 2011.
Cutler did a decent job moving the ball down the field, mixing up the running and pass plays and eating up clock as they looked to put a dagger in the heart of the Chargers.
They got to the Chargers' 30-yard line when a pass intended for Johnny Knox was picked off by Chargers cornerback Antoine Cason.
The Chargers seemed to run out of gas before that though, as the Bears began to move the ball almost at will, even on the ground.
Then Cutler threw the interception. On the play, Johnny Knox fell in his route. Cutler appeared to be throwing on a timing route, so he was throwing to where he expected Knox to be, and he instead found Cason.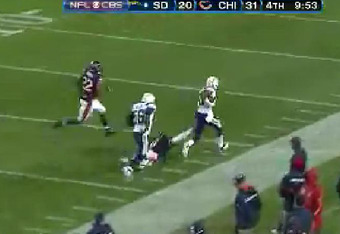 At 9:53 on the clock, Cutler—in pursuit of Cason—reaches for the corner as he falls. You can see in the screenshot to the right that he does make contact.
Does he break his thumb there? Does it get tromped on after that?
Cutler only threw two more passes the rest of the game; admittedly, though, they were in control and he didn't need to throw more.
From a the standpoint of a competitor, I respect Cutler's fire. He wasn't going to let San Diego get back into this game.
On the other hand—and with hindsight—he ended up hurt (maybe on that very play) and in the grand scheme of things, it probably wouldn't have mattered, since Forte caught Cason.
We're not 100 percent sure that that reach for Cason is what hurt him, but I'd give it a 75 percent chance of being the moment.
And from then on, the season was never the same.
Final Score: 31-20
Summary
This game was a critical one for the Bears, mostly because it was the last time Cutler saw the field in 2011. We can't be sure when he hurt his thumb, but given the shot by Travis LaBoy and a few other hits I saw him take, the Bears were lucky it wasn't worse.
Although with your starting quarterback on I/R—it's hard to GET worse.
We saw glimpses of what was and what could be. Unfortunately, after Cutler went down, the team lost five straight games.
Maybe that's not all the fault of the backup quarterbacks, but it surely didn't help.
Losing Cutler ended the season; we just didn't know it at that moment.
We know how vital that position can be and the Bears know it too—it's why Jason Campbell is on board. That said, Cutler took some big hits and we saw that all season long. Just because he wasn't sacked doesn't mean he didn't take a pounding.
That, as much as anything else, is an issue which could continue to affect this team even in the 2012 year.
It was certainly a contributing factor to the sudden end of the Bears' 2011 playoff and Super bowl hopes.