Lolo Jones: ESPN Reintroduces Sports Fans to the Hurdler
May 22, 2012

Andy Lyons/Getty Images
Everyone knows her impossible-to-forget name, her good looks and unquestioned talents.
But hurdler Lolo Jones is a lot more than a pretty face with a lot of speed. She is a fighter who has overcome numerous struggles and setbacks to reach an elite level, and those difficulties were detailed in an ESPN documentary named "Lolo," part of the network's SEC Storied series.
The documentary started by taking viewers back to her childhood in Des Moines, Iowa, where she grew up in poverty. Jones' alcoholic father was in and out of prison, and her mother raised Lolo and her siblings by herself.
The Jones' family spent time living in a Salvation Army shelter and in a bottom of a church basement. In addition, they were on food stamps, and Lolo admitted she was a "professional shoplifter," swiping frozen foods so her family wouldn't go hungry.
After addressing her earlier struggles, "Lolo" touched on the interesting way Jones started out as a runner and how she acquired her nickname. Lolo's real name, like her mother's, is Lori and Lolo stands for "Little Lori."
Whenever her father's car would break down, Lolo would run to her next destination. Eventually, she took up the hurdles and excelled, earning a scholarship to LSU, where she won an indoor national championship in the 60-meter hurdles.
But collegiate success did not immediately translate into professional success as she failed to qualify for the 2004 Olympics.
But Jones persevered, working part-time at, among other places, Home Depot and a Cajun restaurant while training. Eventually, she emerged as an elite hurdler, qualifying for the 2008 Olympics and establishing her as a favorite for gold—which looked like it was going to happen.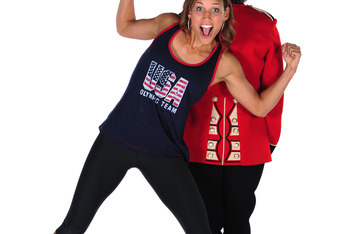 Harry How/Getty Images
Leading after eight hurdles in the final, Jones hit the next-to-last hurdle, costing herself the gold medal that many had predicted. "I felt someone stabbed me in my stomach," she said about not winning the gold.
However, it wasn't stomach pains—or a broken heart—that sidelined her for much of the next three seasons—it was spinal cord problems (which the documentary spent a lot of time focusing on and might have caused her to hit the eighth hurdle in Beijing).
Her back problems prevented her from dominating the event as she had been and eventually sent her to the operating table in 2011, but not to an early retirement, as she worked diligently to recover.
"I feel like my story is not complete," Jones said toward the end of "Lolo." And certainly her quest for an Olympic medal isn't. The last race "Lolo" showed highlights of the 60-meter hurdles race she competed in earlier this year in Madison Square Garden. 
Jones won, proving she's back from injury.
She certainly seems ready to put a perfect ending to her story. All she has to do is (a) qualify for the London Olympics and (b) win gold.