Big Ten Football Morning Coffee: Michigan Is the Enemy of the State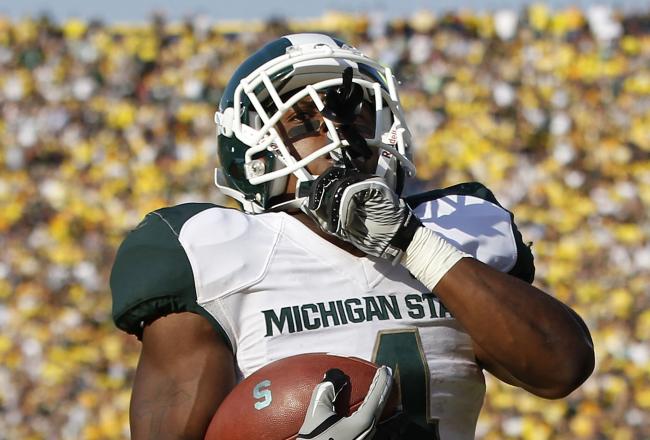 Easily the best road team taunt in all of sports: the 'shhhhh.' Here, Edwin Baker drops it on the Big House in Michigan State's 28-14 victory there in 2011.
Leon Halip/Getty Images
Three months and change before the start of the 2012 season, and the game Michigan's talking about the most at this point is...Michigan State, as the Spartans hold a four-game winning streak over Michigan for only the second time since MSU joined the Big Ten in 1953.
That's pretty remarkable, considering the fact that the bookends of Michigan's 2012 schedule are a couple who-dats named Alabama and Ohio State, no?
One of the biggest quirks of the new Big Ten schedules from yesterday is Ohio State and Nebraska missing each other for four straight seasons, creating a gap from 2013-2016.
This is likely just an unintentional but unavoidable consequence of trying to maneuver around inter-divisional scheduling and guaranteed games and what have you, but I prefer to think of it as mandatory time apart after something outlandish like a fistfight between Tom Osborne and Gene Smith. Oh, like that wouldn't be hilarious.
The University of Michigan made a tiny profit on its Sugar Bowl appearance this past year, netting a little under $79,000 for the trip. That's better than most bowl teams do, considering there's usually a loss involved, but Michigan was able to cut back on travel costs and come out in the black.
Of course, it's also worth noting that the only reason Michigan profited was the Big Ten's usual approach of spreading the cost of returned tickets across all member institutions, and Michigan was unable to sell about $375,000 worth this year.
That's still substantially better than every other Big Ten team that didn't go to Pasadena, as the rest struggled to sell even half of their guarantees. But no, the bowl system's really terrific for the Big Ten, isn't it?
Former Nebraska tailback turned Green Bay great Ahman Green was approached by OutSports.com at a recent NFLPA flag football game, and—no spoilers—the interview takes a rather unexpected turn. It's well worth a read.
This article is
What is the duplicate article?
Why is this article offensive?
Where is this article plagiarized from?
Why is this article poorly edited?