Philadelphia Eagles: 10 Players That Need to Prove Themselves This Offseason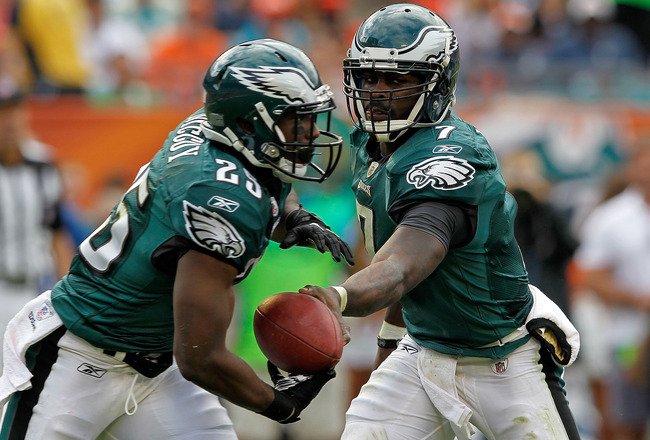 Mike Ehrmann/Getty Images
The 2011 Philadelphia Eagles' campaign was mired by injuries, inconsistency, poor play at the safety and linebacker positions, and fourth quarter collapses. Andy Reid's job is definitely in jeopardy entering 2012, and the Eagles likely need a division title and a deep playoff run for Reid's job to be secure for 2013.
To be better, the Eagles will need a handful of players to prove themselves this offseason—players that have underachieved in the past or players that are entering contract years. Obviously, every player in the league needs to prove himself each and every season, but these 10 players need to do so more than ever.
Michael Vick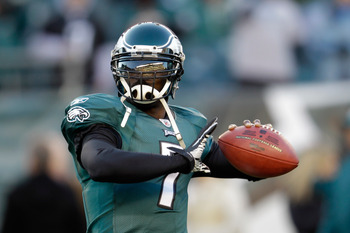 Rob Carr/Getty Images
If you made a list of players in the National Football League who are playing for their contracts in 2012, Michael Vick would top that list.
The Philadelphia Eagles inked the playmaking quarterback to a six-year, $100 million contract extension following his highly successful 2010 season, but Vick regressed badly in 2011, stumbling through a schedule in which he was oft-injured, inconsistent, highly erratic and not much more than an average NFL quarterback.
Vick can be released following next season at no cap penalty, and considering he's set to earn a $12.5 base salary in 2012, plus a $1.4 million bonus that will constitute $13.9 against the cap, it's hard to imagine the Eagles paying those figures for a quarterback who will be 33 years old at the time.
In 2013, those figures include a $3 million miscellaneous bonus that counts as $16.9 million overall against the cap.
That means Vick has this offseason to get in the best shape of his life, improve his accuracy and lead the Eagles to an 11-or 12-win season—or else he may be out of a job in Philly.
This is his first full offseason in which he's entering camp as the starting quarterback in Philly, and he has all the weapons surrounding him—DeSean Jackson, Jeremy Maclin, LeSean McCoy and Brent Celek—to succeed.
LeSean McCoy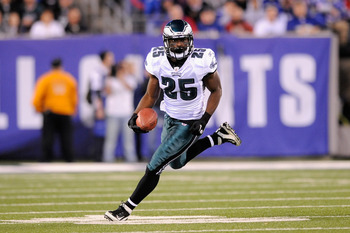 Patrick McDermott/Getty Images
The Philadelphia Eagles recently inked All-Pro running back LeSean McCoy to a five-year, $46 million contract, and McCoy needs to set out in 2012 to break the curse that has plagued running backs that have signed long-term deals.
Adrian Peterson suffered a potentially career-threatening injury late in last season, shortly after signing a seven-year, $100 million contract. Chris Johnson held out for most of training camp before signing a four-year, $53 million contract, and then he went through an absolutely miserable season. And Jamaal Charles tore his ACL in one of his first games after signing a five-year, $32 million extension.
McCoy is just 23 years old, he's a dual-threat as both a runner and a receiver, and he plays in an offense designed to maximize his talents.
McCoy won't be carrying the ball 300-plus times, so his risk of injury is lower than that of a typical No. 1 back, but still, it would go a long way for the Eagles if McCoy shows up in top-notch shape and defies the recent running back contract curse.
DeSean Jackson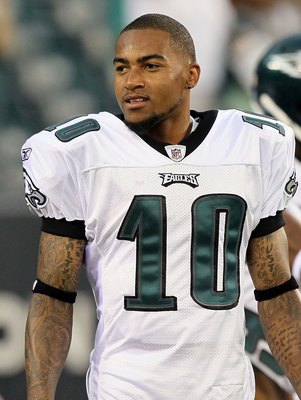 Jim McIsaac/Getty Images
DeSean Jackson staggered through an extremely disappointing 2011 season, allowing his off-field issues to affect his performance on the football field. He was still signed to a five-year, $51 million deal in the offseason shortly after being franchised, and he is unofficially on the player hot seat heading into 2012.
Jackson has the talent to be a top-10 or even top-five wide receiver in the NFL.
He has blazing speed that is virtually unmatched around the league, and the Eagles run an explosive offense with a quarterback who loves to throw the deep ball. Jackson forces the opposing safeties to play 15 or even 20 yards deep, and that in turn opens up the field for his teammates in Jeremy Maclin, LeSean McCoy and Brent Celek.
More than one NFL player has gotten paid and then dogged it afterwards; if Jackson does that in Philly, he will become the most hated man in the city. His talent is purely God-given, and the Eagles can't replace him with anyone through the draft or anyone else in the league.
Jackson has the ability to help the Eagles' offense be a top-five offense in the league in 2012—if he wants to.
Jeremy Maclin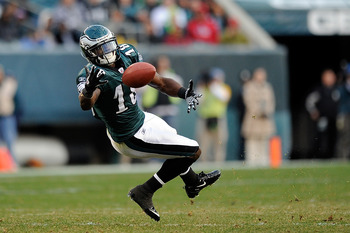 Patrick McDermott/Getty Images
Jeremy Maclin suffered through a mysterious injury in the 2011 training camp before it was revealed that the Philadelphia Eagles' third-year wide receiver missed time due to a cancer scare. Maclin lost weight and struggled to regain his form during the season, seeing a drop in his numbers from 2010 to '11. Maclin's total receiving yards fell from 964 to 859, his touchdowns dropped from 10 to five, and his catches fell from 70 to 63.
The drop-off is perfectly understandable—Maclin was battling something much more serious than football, and it's remarkable that he was still able to suit up for the season at all.
That being said, Maclin will need to work hard to put some muscle back on for 2012 and emerge as a No. 1-caliber wide receiver in the NFL. In addition to his declining numbers in '11, he was unreliable in clutch situations—dropping a key pass against the Atlanta Falcons late in the game and then fumbling the ball away the following week as the Eagles were trying to come back against the San Francisco 49ers.
A full offseason should be good for Maclin. He's still labeled as the No. 2 receiver on the Eagles' depth chart, but if he can play well enough to give the Eagles a 1A and 1B combo in Jackson and Maclin, the Eagles will have a top-notch, explosive offense.
Demetress Bell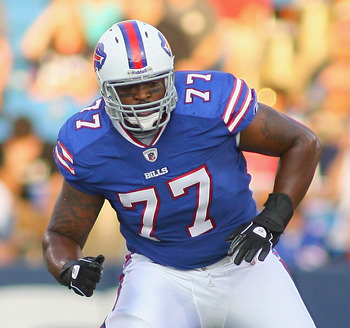 Rick Stewart/Getty Images
The Philadelphia Eagles losing Jason Peters to a devastating Achilles tendon tear—and then another one three weeks later—cannot be overstated. Peters was probably the best overall football player on the 2011 Eagles, and he had reached a level far exceeding that of any other offensive tackle in the game. Peters was instrumental in opening up holes for LeSean McCoy and keeping Michael Vick standing upright.
Peters' former replacement in Buffalo, Demetress Bell, was signed to be a stopgap starter in Philly. Bell is an average left tackle when healthy, but that's the key. He's struggled with injuries in two of his three NFL seasons, and if he gets hurt in 2012, the Eagles are down to King Dunlap, their career backup at left tackle.
Bell has a full offseason in Philly of OTAs and training camp to win the starting job—almost guaranteed—and then to learn Howard Mudd's scheme and utilize it effectively.
Brandon Graham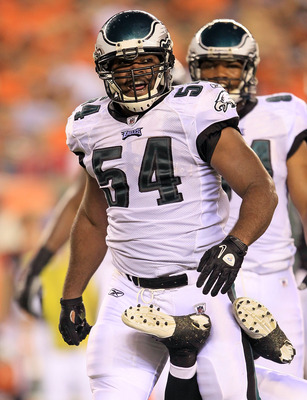 Andy Lyons/Getty Images
Here's the scoop on Brandon Graham: The Philadelphia Eagles traded up to select the University of Michigan standout defensive end with the 13th overall pick in the 2010 NFL draft, and the team hasn't gotten the rewards expected from such a selection.
Graham has three total sacks and one ACL tear in two seasons, and he's entering 2012 competing for time with Vinny Curry and Darryl Tapp as the backup to Trent Cole and Jason Babin.
Meanwhile, the New York Giants selected Jason Pierre-Paul two picks afterwards, and they have a 16.5-sack season and a Super Bowl ring to show for it. Graham better have a chip on his shoulder like you wouldn't believe. He's already being considered a bust in Philly, and rightfully so, as he's really done nothing to shed the bust label.
Graham is rumored to be in top-notch physical condition, having shed his weight from 285 to 265 in an attempt to be quicker off the defensive line.
There really can't be much more motivating Graham, as the Pierre-Paul comparisons have been frequent, and the Eagles even spent their first two picks in the 2012 draft on defensive linemen.
If Graham produces in 2012, he will go a long way to shedding the bust label. But if he isn't pushing for starting time—or at least regular playing time in the defensive line rotation—the Eagles may part ways with Graham.
Mike Patterson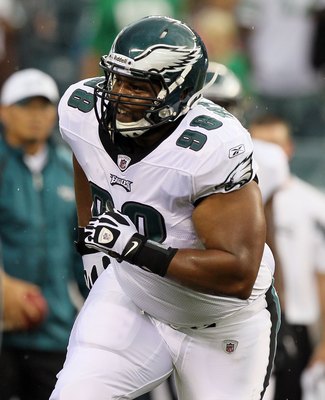 Jim McIsaac/Getty Images
Like Jeremy Maclin, Mike Patterson suffered a freak "injury" during last season's training camp, suffering a seizure that turned out to be a case of brain arteriovenous malformation, which is the tangling of blood vessels near the skull.
I'm not a doctor, but that sounds pretty serious to me.
Patterson rebounded to play 15 games in 2011, registering 35 tackles, 2.5 sacks and two forced fumbles. He has his work cut out for him in 2012, as the Philadelphia Eagles drafted Fletcher Cox out of Mississippi State University with their first-round pick.
Cox projects to be an All-Pro caliber defensive tackle, as he excels in both rushing the quarterback and stopping the run, and he even possesses the versatility to line up at tackle and end in a 4-3.
Patterson may find himself as a backup midway through the season if Cox is as good as advertised. Cullen Jenkins is a better player than Patterson, and I think the Eagles will be more likely to remove Patterson's starting position sooner than Jenkins', although it's probably more likely that Jenkins, Patterson and Cox form a three-way rotation at the tackle positions.
Regardless, Patterson better come into this year's camp hungry to produce, or he will see a hit to his playing time.
Nnamdi Asomugha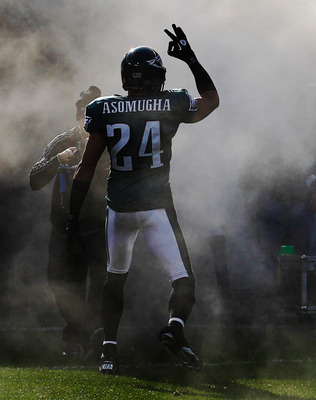 Rob Carr/Getty Images
The Philadelphia Eagles made a much-publicized signing of Nnamdi Asomugha in last year's free agency, inking the All-World cornerback to a five-year, $60 million contract that gave the Eagles two of the highest-paid corners in NFL history (Asante Samuel was in the midst of a six-year, $57 million deal).
Asomugha was used poorly by inexperienced defensive coordinator Juan Castillo in 2011, as Castillo tried to turn Asomugha into some sort of a hybrid corner/safety breed that really didn't suit Asomugha's skill set.
Asomugha was also beat in coverage more times than usual, namely against little-known (at the time) New York Giants wide receiver Victor Cruz and Miami Dolphins receiver Brandon Marshall on a jump ball in the end zone.
Asomugha is making a base salary of $11 million in 2012 and then another $15 million in 2013. He's also going to be 31 years old by the time this season starts, which puts him definitely in the later stage of his prime or even past it.
Asomugha has a full offseason now to learn the defense, and assuming Castillo plays him in the man-to-man coverage in which Asomugha thrives, he should rebound in 2012.
Dominique Rodgers-Cromartie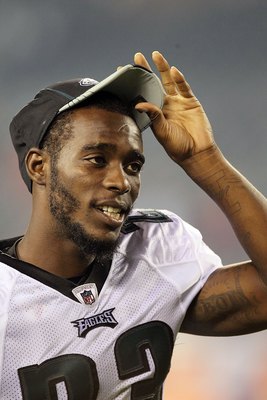 Jim McIsaac/Getty Images
The Philadelphia Eagles traded away perennial Pro Bowl corner Asante Samuel right before the draft, leaving Dominique Rodgers-Cromartie as the starting cornerback opposite Nnamdi Asomugha.
DRC was a Pro Bowl player in 2009, before suffering through a miserable season in Arizona as the starter in 2010. A change of scenery to Philadelphia didn't do much for him in '11, as he missed action with a high ankle sprain, struggled in the slot role, and saw limited snaps.
DRC has great size, and he should excel playing back on the outside.
The fact that Trent Cole, Jason Babin, Mike Patterson, Cullen Jenkins and Fletcher Cox will be placing pressure on the quarterback certainly will help DRC's game. Like Nnamdi Asomugha, DRC hasn't had a full offseason in Philly yet, and now that he is getting that experience, he has no reason not to produce like he is capable of in 2012.
Chas Henry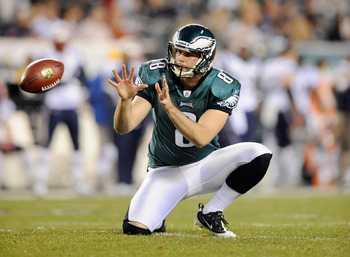 Patrick McDermott/Getty Images
Not much has been said about the Philadelphia Eagles' rookie punter from 2011, but Chas Henry was awful. He averaged just 42.9 yards per punt, 25th-best in the league, his net punting average of 37.5 was 26th in the league, and the 19 punts he dropped inside the 20-yard line was tied for 25th in the league.
Henry also turned in arguably the worst play of the year, when he flubbed a fake punt pass against the Chicago Bears that very well could have won the game.
Henry will be facing competition in rookie free-agent signee Ryan Tydlacka, a punter from the University of Kentucky. It's still very likely Henry will win the starting job, but an offseason of working his tail off might bode well for Henry, because he showed nothing in 2011.
Keep Reading

Philadelphia Eagles: Like this team?