WWE's Rendezvous with the Real Deal: I Am a Wrestler, Let Me Mark out for Myself
May 22, 2012

I recently had the pleasure of reading both of Chris Jericho's books, A Lion's Tale and Undisputed, back to back in a matter of five days and made an amazing discovery. It was more of my personal perception on a couple things which will now cause YOU to make an amazing discovery, Get It?
Wrestlers MUST mark out for themselves!
From both of his books, the first thing that caught my attention, which fit into my perception of things, was perhaps Jericho's constant "marking out" for himself. As a wrestler, as a performer, and as an entertainer.
The reason why I suggest that wrestlers need to do this is because most wrestlers are not lucky enough to get the gimmicks/characters they want to work with, and eventually have to work with the most ridiculous of ideas.
So, basically, you have to go out there and market nonsense to make a name for yourself, because let's accept it...that is the only thing you have got going for yourself.
Now, how are you supposed to sell yourself as a gimmick/character, if you yourself don't believe in it?
Picture this: Edge had to work with a laptop on an episode of RAW. The segment was pretty entertaining! Of course, Edge used the concept of K.I.S.S ("Keep It Simple Silly"), but the point is that he made the segment work.
At some point, one might have had to believe that they are actually inciting a WAR with an irritating and asinine laptop.
Coming back to Jericho's case, from his description of the time spent in WCW as a crybaby and as a heel in WWE, I gathered that Jericho really marked out for his character.
Jericho took pride in being a jerk to the audience. Thus, he gave us some really entertaining segments and cemented his place as a top star.
If a wrestler does not believe in his own gimmick, then how is he supposed to sell it to us? I think that is what separates true "legends" from those stars who don't manage to make a big name for themselves in the WWE.
Wrestlers, no matter what situation they are in should make the most out of what they do, because it's a tough business and there is a LONG line to get a push.
One needs to be a fan of his/her own wrestling. Regardless of how good or bad he might be, as long as he is a fan of himself, he will ensure that he at least lives up to his own personal standard, which should be high.
Chris Jericho also spoke in his books about how working with Chyna was one of the toughest points in his career, because Chyna was not easy to work with and she wasn't a happy-go-lucky kind of person.
It was Jericho's belief in his in-ring work, along with his confidence in being able to manipulate a crowd, ensured that on-screen, we got to see a rivalry worth watching.
Their very first match did not fare well in his eyes and since he was a huge mark for his own abilities, he wouldn't have the short end of the stick and gradually ended up getting two of the best matches of Chyna's career, along with intensifying his status as a heel, even though the crowd loved him and started cheering for him.
Another aspect that I really loved about his rise to the top is the amount of times he picked the brains of Vince McMahon, Ric Flair and others, knowing full well that they could make or break his future.
In Jericho's very first meeting with Vince, Jericho told him that he could be as valuable as The Rock if he were properly pushed. Whether he could have been that big or not, no one could have predicted, but at least he had that much belief in his abilities that he could make such a statement.
Hence why the wrestlers need to the BIGGEST marks for themselves.
By that, I don't ask for them to become self-obsessed with and not be open to options, but they should have so much belief in themselves that at least they have the confidence to make any angle work, given their abilities and professionalism.
I have never said this before, but other than John Cena (Spoiler Alert: every article of mine has to have some reference to him), one heel that I liked back in 2005 without knowing about kayfabe, was Christian.
I still remember that segment on RAW where Christian was cutting a promo and got interrupted by Vince McMahon, who asked Christian if he knew why Vince was on RAW that night.
Christian shot back, "You are here to congratulate me on my victory against Chris Benoit last week" and a heel Christian got a great crowd reaction.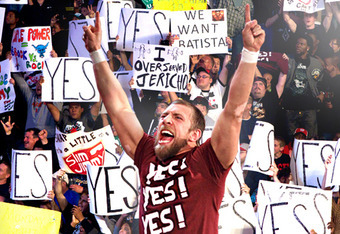 What I loved more than Captain Charisma's wit was the facial expression he gave after the crowd reacted to his words. I became a fan of him from that moment on, because I saw myself in him. That is exactly what I do myself: make light of matters and that is exactly what he did in that situation.
That's called marking out for yourself. And Christian did it perfectly there.
Zack Ryder really worked hard in getting himself noticed. While I don't really admire the character, I really started respecting him as a performer because he is out there making a name for himself just by calling his friends his "Broskis" and using terms which are in sync with the latest pop culture trends.
What I loved about his character was the way he sold things with a smile on his face. Let's accept it, the gimmick was not something extraordinary or groundbreaking, but Ryder sold it really well. He made it look cool to be Zack Ryder.
And that's what wrestlers need to do. Mark out for their abilities and sell it with a smile so that the audience is intrigued by your presence.
What do you people think? Do let me know in the comment section below, I will be ready!
FYI: The writer of this article marks out for himself, too. People might like or dislike him for that, but he is a very happy spirit because of it.
Follow me on Twitter, @SarkasmzDeal