Can Tim Lincecum snap out of his funk?
Thearon W. Henderson/Getty Images
May 22, 2012
As the San Francisco Giants make it around the track for the first time this season, they stare up at a different opponent in the standings, the dreaded rival Los Angeles Dodgers.
The Dodgers have relied on a white-hot start by potential league MVP Matt Kemp and continued their momentum with Kemp and his hamstring making an appearance on the disabled list.
Last year's division champion, the Arizona Diamondbacks, have had a few injuries, but the under-performance of their starting pitchers has been the key to their regression.
The Giants have been beset by injuries, losing All-Stars Brian Wilson and Pablo Sandoval at the start of the year.  Wilson is shut down for the year and just completed a second successful Tommy John surgery.  Sandoval broke the hamate bone in his other hand and will be returning in early-mid June.
However, the biggest mystery so far in the season is Tim Lincecum. 
Yes, his velocity is down and is relying more on his other pitches, but he still hasn't gotten out of his funk.  He is staring at a 2-4 record, an ERA over 6.00, and can't manage to stay away from the big inning. In six of his nine starts, he has allowed over 4 earned runs. 
Giants Manager Bruce Bochy thinks Lincecum is closer than other people expect. 
Pitching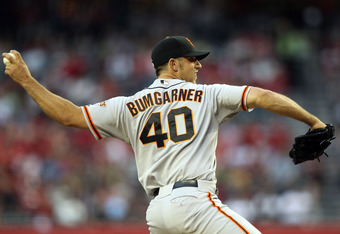 Bumgarner is coming into his own
Christian Petersen/Getty Images
Besides Lincecum, the rest of the pitching staff is remaining in tune with all starters having ERAs at 3.00 or lower and the bullpen holding their own again.
Starters
Madison Bumgarner excelled with 5 straight wins, but has lost his last two outings going into his start against the Brewers.  Bumgarner is looking like the future ace of the team and in direct competition with the steady Matt Cain.
Matt Cain is proving himself worthy of the large contract he signed and has a 3-2 record, once again because of lack of run support.  He is leading the team in strikeouts while posting a 2.67 ERA.  When he eventually gets the run support, his record will reflect his dominance.
Barry Zito is, dare I say the word, consistent. 
Yes, there is no way he is going to pitch up to the level he is being paid ($19,000,000 for 2012), but for the first quarter of the season, he has looked similar to the pitcher he was with the Oakland Athletics.  The positive thing about his performance is that he has come back with 2 wins after 3 low-scoring losses.
Bullpen
Sergio Romo has had to shoulder the Beard burden and he has done it with class.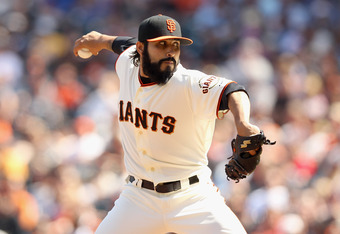 Sergio Romo has been dominant as a setup man
Ezra Shaw/Getty Images
Romo has been the definition of a setup man and has allowed only one earned run and has a WHIP and ERA under 1, primarily due to his dominant slider.
Javier Lopez has been nails so far this season and should best be remembered for holding Ryan Vogelsong's lead against the Dodgers on May 8th, when they finally beat Clayton Kershaw.  He induced Andre Eithier to ground into a bases-loaded double play and then made a save in the 5-hole to start the 9th inning against Tony Gywnn Jr.
Santiago Casilla was given the closer's role after the injury to Brian Wilson.  He has performed well in
closing 10 out of 11 games.  He has only struggled when he came in with the score tied.
The rest of the bullpen players, including Jeremy Affeldt, have held down the fort.
Hitting
The loss of Pablo Sandoval has definitely had a major impact on the Giants offense.  Runners in scoring position was not a phrase in the Giants lexicon, as they could not buy a hit when anybody was on base.  Sandoval was still the home run leader after being out since May 2nd until Buster Posey hit his fifth tonight.
Gregor Blanco and Angel Pagan have provided a spark in the outfield and have basically replaced Nate Schierholtz.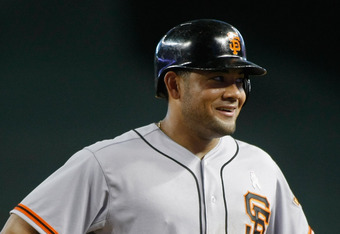 Melky Cabrera has been the most consistent this season
Ralph Freso/Getty Images
Melky Cabrera has been the most consistent hitter and is proving himself very worthy of the offseason Jonathan Sanchez trade.  A contract extension could be in the works in the very near future.
Brandon Crawford had some real up and down moments at the start of the season, especially in the field, but has settled in and is progressing nicely as a hitter. Brandon Belt has not realized his potential, but he is getting a lot more playing time as of late.
Buster Posey is slowly producing again, but not at the level we are accustomed. He ran into a horrible slump where his batting average fell from .382 on April 25th to .280 on May 12th.  He has slowly picked up the pace as of late with a lot of timely, run-producing hits. 
Joaquin Arias has filled in for Pablo at third and has made some amazing defensive plays with a few key hits here and there. Hector Sanchez has been a big improvement as the backup catcher, leaving open the possibility of a Posey to first base move permanent.
The weakest position by far is second base.  The platoon of Burris, Culberson, and the DL'd Theriot has not produced significant results.  Hopefully with the return of Sandoval, Arias can slide over to second base and maybe resolve the problem.
The bench players have provided little or no pop, except an occasional home run from Brett Pill.
The Giants have a surmountable lead to chase down to capture the division title, and they currently sit right in the chase for both of the Wild Cards.   Will they be able to find a groove and start producing? Can Lincecum return to form? Will Bochy find a suitable everyday offense?
The Giants have survived but in no way have they thrived this season. 
They have four consistent starters and that could turn into five if Lincecum finds himself.  Zito is the wild card as he has been very productive, but he typically reverts over the long season. 
The offense should start hitting, especially with the return of Sandoval and start producing enough runs to satisfy the dominant pitching staff. 
Quarter Grade: B
Like the new article format? Send us feedback!