Boston Red Sox: No Reason to Panic Because of Cody Ross Injury
May 22, 2012

Elsa/Getty Images
With Cody Ross headed to the DL for six to eight weeks with a broken foot, the Sox outfield has now lost all three of its projected starters due to injury. While this may seem like a catastrophic loss, this is no time to panic.
Take a deep breath, Sox fans. Your resurgent team will be fine.
Ross has undoubtedly played a huge role in the team's recent turnaround, driving in 10 runs and sporting a .962 OPS in 16 games this month. He has gotten a number of huge hits for the Sox, hitting .333 with two homers and eight RBI in close and late situations.
There's no mistaking that this is a big loss for a team that was just starting to hit its stride.
The Sox will not be able to replace Ross' production, at least not with internal options. However, the question really becomes: Do they need to?
The reality is that this team, even without Ross, has proven that they can score in bunches. In the three games since the versatile outfielder went down, the Sox have scored a total of 20 runs. Their top six hitters have produced all season, and there's no reason to believe they won't continue to do so.
While losing Ross' right-handed bat will hurt, it sounds like a contingency plan may already be in the works to maintain balance in the Sox lineup. Will Middlebrooks, who after a 3-for-5 performance last night against Baltimore clearly needs to stay on the MLB roster, may need to dust off his outfielder's glove.
GM Ben Cherington said yesterday that the Sox have "talked about" moving Middlebrooks to the outfield, something that a short time ago they were adamant about not doing. As a right-handed hitter, Middlebrooks would allow the lefty-heavy Sox to keep some semblance of diversity in their batting order.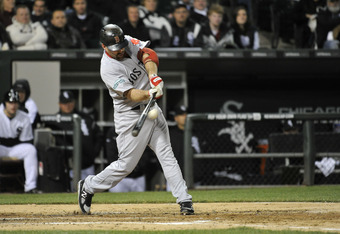 Brian Kersey/Getty Images
Furthermore, although the Sox may be losing Ross, they're also on the verge of getting Kevin Youkilis back. While counting on Youkilis to remain healthy can be a dubious proposition, he has the track record that warrants at least some leeway. Inserting Youkilis back into this lineup will more than offset Ross' injury, so long as the third baseman can stay on the field.
It's also important to remember that the rest of this lineup is not doing too badly, either. Mike Aviles, Ryan Sweeney, Middlebrooks and Jarrod Saltalamacchia continue to prove that they are very good offensive players, and it is because of their terrific starts that the Sox are currently second in MLB in runs scored, third in hits and third in OPS.
Without Ross, but with Youkilis, the Sox's ideal lineup projects as follows:
Aviles, SS
Pedroia, 2B
Ortiz, DH
Gonzalez, 1B
Youkilis, 3B
Middlebrooks, LF/RF
Saltalamacchia, C
Sweeney/Nava, LF/RF
Byrd, CF
That's a lineup that is going to continue to score a lot of runs. When combining their offensive pedigree with the fact that the pitching staff looks like it has completely turned it around, there's no reason to think that the Sox won't continue to win ballgames like they have over the last two weeks.
While it may be tempting to call for a drastic move to fill the hole created by Ross' injury, patience should rule the day. With the team at .500, just 5.5 games out of first and beginning to look like a real contender, now is not the time for Cherington to shake things up.