Philadelphia Eagles: Who's Next in Line for a Long-Term Extension?
May 22, 2012

Patrick McDermott/Getty Images
This offseason, we have seen the Philadelphia Eagles show tremendous loyalty to players already under contract.
Howie Roseman and the rest of the Eagles' front office realized that the future rests in the hands of players who have been making an impact for years, and it's no surprise that they have taken to extending players like Trent Cole, DeSean Jackson, Todd Herremans and LeSean McCoy long-term.
While the extensions bestowed upon current players have already exceeded expectations, there are certainly cases to be made for extending players who have a) outperformed their current deal or b) have an expiring contract coming up in 2013.
According to Rotoworld.com, wide receiver Jeremy Maclin is due a meager $993,250 in base salary in 2012. In 2013, Maclin's salary escalates to around $2.8 million, and he would become a free agent in 2014.
This March, we saw the electrifying DeSean Jackson receive a five-year $51 million deal. If Jackson is worth $51 million, what is Maclin worth? Many would argue that Maclin is indeed the superior receiver, possessing a more diverse range of skills than Jackson. Although Maclin has never amassed 1,000 receiving yards in a season, his value as an underneath supplement to Jackson's deep speed cannot be underestimated.
In just three seasons, Maclin has compiled 189 receptions for a shade under 2,600 yards, tacking on 19 touchdowns in the process. While Maclin doesn't possess the same big play ability as his speedy counterpart, Maclin can and should not be forgotten by the Eagles' front office in the coming months.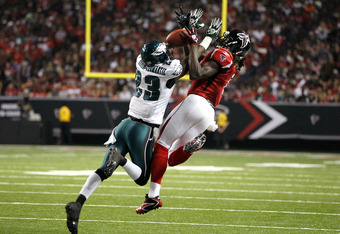 Kevin C. Cox/Getty Images
Another logical candidate for an extension would be cornerback Dominique Rodgers-Cromartie. After dealing Asante Samuel to the Atlanta Falcons in a salary dump, it appears that Andy Reid and the rest of the Eagles' personnel department have given DRC a resounding vote of confidence.
Although he didn't see the field as much as he would have preferred in his first year in Philadelphia, Rodgers-Cromartie will get every chance to make an impact opposite Nnamdi Asomugha in the Eagles' secondary.
Rodgers-Cromartie is in the last year of his rookie contract, and is due just $1.1 million this season, according to Rotoworld. Although it doesn't appear that signing DRC is crucial at this point, the Eagles would appear to have little insurance behind him on the outside.
Fourth-round draft pick Brandon Boykin was drafted to compete with Joselio Hanson in the slot, and Curtis Marsh would appear to be the next man in line behind DRC. In a contract year, expect Rodgers-Cromartie to be playing for a big pay day.