Just bringing in the world's best player isn't enough, apparently, to sustain a major soccer league in America. Pele couldn't save NASL, and Marta couldn't save WPS. So what is the answer?
Scott Heavey/Getty Images
May 21, 2012
With the announcement last Thursday that Women's Professional Soccer would cease operations, a second attempt at major league soccer for women in the United States has folded in the 21st century.
Both the WUSA and WPS failed to create a sustainable business model. Both folded after only three years of competition.
Although there were differences in the models, the tragic flaws were essentially the same: the inability to draw large-enough crowds and to attract large-enough sponsorships.
At the root of both, however, is the inability to capture the passions of an entire community in the way that other major league sports do. Hence, the solution lies first in finding a way to engage the entire community, not just the soccer community, in supporting the local team.
Market Selection
The solution to the problem is simple. Do the research. Find the markets that will most appreciate having a premier-level women's team, with a focus on smaller markets at first.
Market research should be done to identify the 20 markets most likely to support major women's soccer. Of those 20, a ticket sales competition can be held to narrow the field to eight. The charter members of the league would be those eight markets.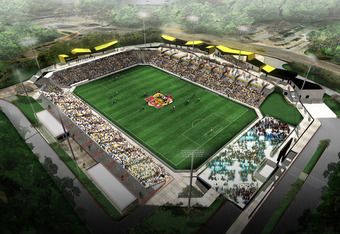 New venues, like this stadium build for the WPS Atlanta Beat, that balance scale and amenities with a major league look and feel will be necessary.
Venue and Amenities
Venue and amenities are also important. Everything about the fan experience and the play on the pitch has to have the look and feel of a major league. 
It is likely that stadiums will have to be built or significantly modified to create the right balance between scale and amenities to be optimal for the women's sport.   
The Player - Fan Connection
Increasing fan access to the players is something WPS did fairly well; however there is room for improvement. In smaller markets and in smaller venues, it is easier to create a sense of personal connection between fans and players.
Creative Business Models
New business models for team operations must also be developed. Western New York Flash owner Joe Sahlen created what may be the best model for a new league. He integrated the operations of his team with the operations of his company, creating significant efficiencies in so doing.
We would suggest that large companies be approached in each market to suggest an ownership or sponsorship role that would include integration of team and company operations.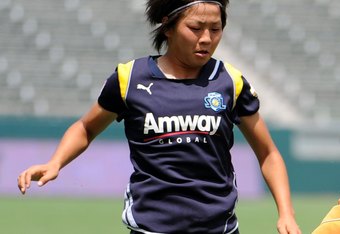 More and better sponsorships must be recruited, especially in the first few years while community support and fan bases are being developed.
Harry How/Getty Images
Creative Ownership Models
Finding ownership groups with deep pockets is crucial. The overhead is a small fraction of any other major league operation, so it should be relatively easy to attract owners who would like to be in major league sports but are priced out of the other leagues.
Joint ownership by fans, by the community, corporate interests, large investors and by players should be explored, looking for outside-of-the-box approaches.
The Importance of Sponsorships
Sale of sponsorships is crucial, especially in the first few years while the team identity is integrated into community identity and while the fan base is being built. It is unlikely that ticket sales will generate more than 10 to 20 percent of total operational costs in the first five years.
Creative Compensation Packages
Player compensation packages should include endorsements, U.S. Soccer compensation for those on the national team and incentives tied to performance and team revenue.
Creative Scheduling
Scheduling can be done in a way that maximizes the efficiency of travel, reducing the single largest expense after salaries.
Digging Deeper
In subsequent articles in this series we will deal with each category individually and in greater depth, illustrating why and how these strategies could create a major league women's soccer organization in America that will not only survive but thrive and grow.
Next article: Selecting the markets
http://bleacherreport.com/articles/1194391-finding-the-best-markets-for-major-league-womens-soccer
Like the new article format? Send us feedback!