Fantasy Baseball: Ranking Top 10 SP/RP Hybrids to Target in Leagues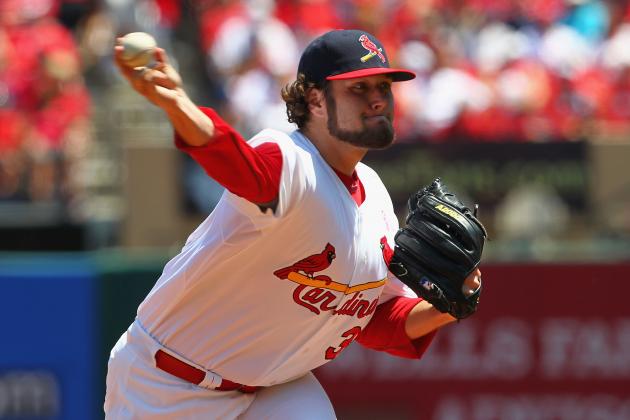 Dilip Vishwanat/Getty Images

A dual-eligible pitcher can be a huge asset in fantasy baseball.
By using a starting pitcher in a relief pitcher slot, you can guarantee yourself an extra start or two per week, which means more strikeouts and wins. And vice-versa, you can use a RP in a SP slot in an effort to improve your ERA, WHIP and if he's a closer, he'll obviously also help in saves.
Here are the top 10 hybrid pitchers that you should look to acquire.
(Eligibility qualifications from ESPN)
Begin Slideshow

»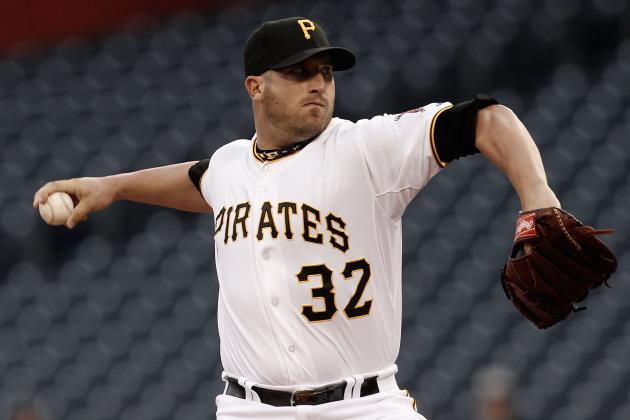 Jared Wickerham/Getty Images

Middle reliever Brad Lincoln sneaks in here at No. 10 because of how well he's pitched in 2012 and possible future opportunity.
He's struck out 23 batters in 22 innings with an ERA of 1.23 and a WHIP of 1.00.
Lincoln has started only one game, a spot-start because of an Erik Bedard injury, against the Miami Marlins. He pitched six strong innings of two-run ball.
If Bedard were to get injured again, and his track record suggests that's likely, or if any other Pirate missed time, Lincoln would enter the rotation and his value would receive a big boost.
But until then, Lincoln can still be effective enough in the bullpen to warrant ownership in deep leagues.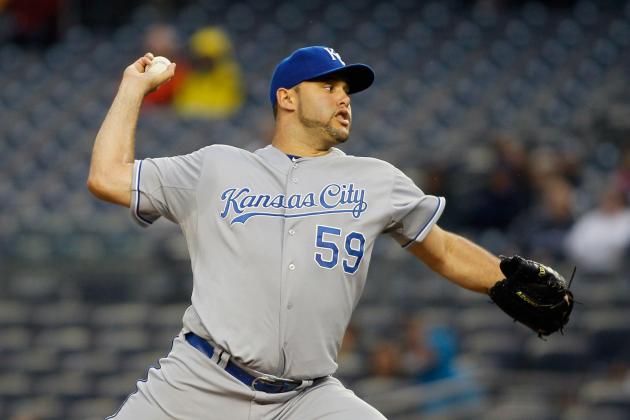 Mike Stobe/Getty Images

Felipe Paulino has been fantastic in 2012 thus far. In four starts and 25.1 innings, he's struck out 29 and won two games with an ERA of 1.42 and WHIP of 1.14.
Furthermore, he's been getting better as the season goes along, striking out 17 and allowing zero earned runs in his past two starts.
While Paulino's track record suggests there is little chance he continues to perform at such a high-level (4.46 ERA in 2011 and 5.11 ERA in 2010), he's simply too hot right now to ignore.
Plus, even if his ERA jumps a couple runs eventually, the strikeouts are absolutely legitimate (133 in 139.1 innings in 2011), so he will continue to hold some value.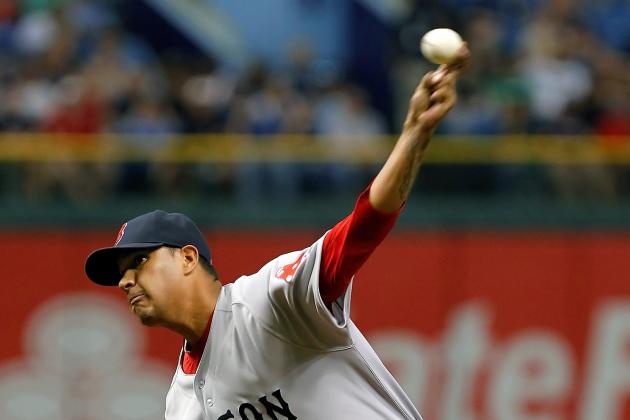 J. Meric/Getty Images

With an ERA of 4.09 and WHIP of 1.48, Felix Doubront hasn't exactly set the world on fire in 2012, but he's still been fairly useful in fantasy. In eight starts and 44 innings, Doubront has struck out 44 batters and won four games.
Also, considering what he's done in his past couple starts (two ER in 11.2 IP), there should be some optimism that he can continue to lower his ERA.
Still, Doubront's value primarily stems from his strikeout ability and that he can rack up wins because he pitches for one of MLB's best offenses (second in runs).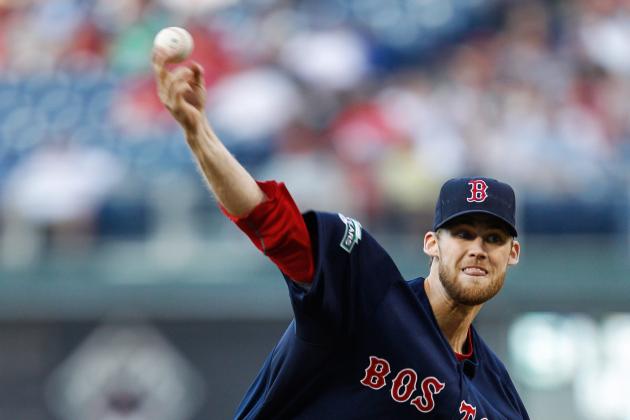 Brian Garfinkel/Getty Images

Fantasy owners had high expectations for Daniel Bard entering 2012, but unfortunately haven't seen much return on the investment. In 42.2 innings this season, Bard has already walked more batters (25) than he did last season (24) in 73 innings. His strikeout rate is also down from 9.12 to 5.48.
Still, given that Bard is making the transition from the bullpen to the rotation this year and the fact that he has been very effective in the past (2.88 ERA in first three seasons), fantasy owners should be patient with him.
He clearly currently has nowhere near the value he did on draft day, but if he can settle into his new role, Bard will be a great asset.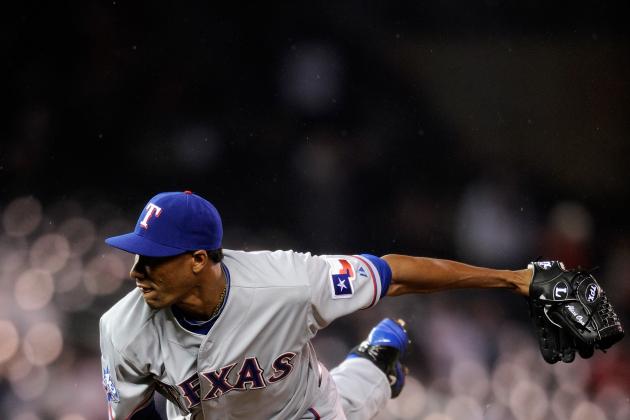 Hannah Foslien/Getty Images

After being an effective starter for the Texas Rangers in 2011, Alexi Ogando was moved back to the bullpen this season. And thus far, he's been nothing short of marvelous.
He's pitched 24 innings, only allowing three runs (1.13 ERA), 11 hits and five walks (.67 WHIP) while also striking out 25.
Ogando also could become a starter with Neftali Feliz currently on the DL.
He still provides great production out of the bullpen, but if he jumps back into the rotation he instantly becomes one of the top hybrid pitchers.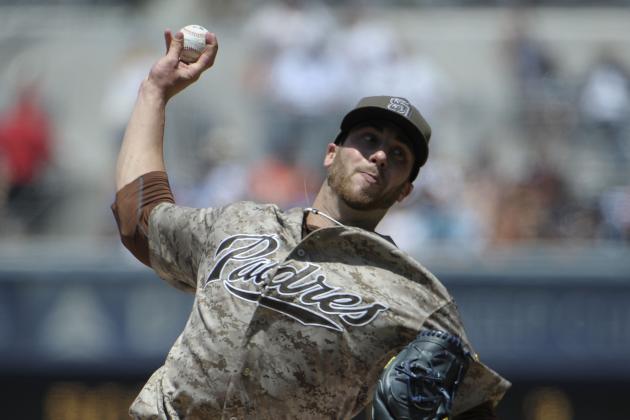 Denis Poroy/Getty Images

Anthony Bass has been absolutely fantastic this season. In 53 innings and eight starts, Bass has struck out 51 while posting an ERA of 2.89 and a WHIP of 1.15.
Further, Bass possesses the ability to sustain such great numbers. In 2011 during his first go-around in the big leagues, he pitched 48.1 innings with an ERA of 1.68 and a WHIP of 1.28.
The knock on Bass' fantasy value is that he's unlikely to amass very many wins playing for the San Diego Padres (29th in runs). But really, other than that, there's nothing not to like about the 24-year-old the rest of the way.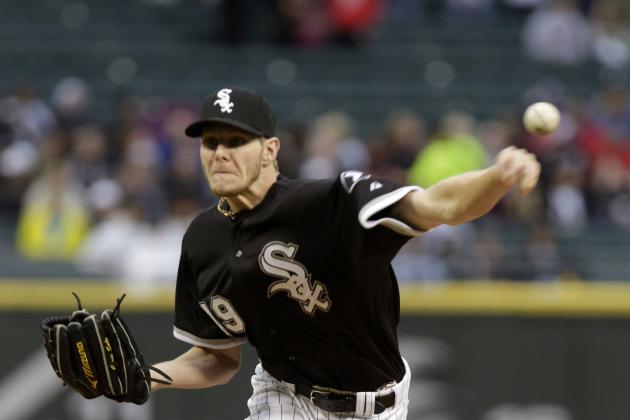 John Gress/Getty Images

After dominating in the bullpen in his first two years in the big leagues (1.93 ERA in 2010 and 2.79 ERA in 2011), the White Sox decided to move Chris Sale to the rotation this year, and the results have been great.
In 43.1 innings, Sale has won four games and struck out 40 batters with a 1.13 ERA and 2.91 WHIP.
And given his recent strikeout rates (12.34 K/9 in 2010 and 10.01 K/9 in 2011), it's clear that the best has yet to come from Sale (8.31 K/9 in 2012).
He's definitely someone to try and acquire now before he really heats up.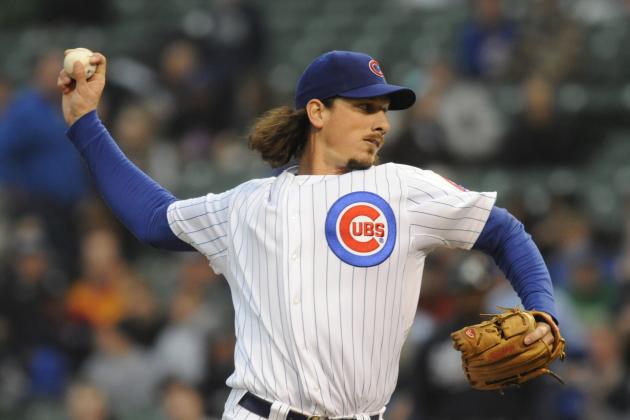 David Banks/Getty Images

Jeff Samardzija has been a four-category stud in 2012. He's struck out 53 batters and won four games with an ERA and WHIP of 3.00 and 1.16, respectively.
Samardzija was very effective last year as a member of the bullpen in 2011, posting an ERA of 2.97 and a WHIP of 1.30, but with the improved control and strikeout ability (3.31 K/BB in 2012, 1.74 K/BB in 2011), this year is looking like it will be the best of his young career.
While unlikely, if Samardzija is available in your league, pick him up immediately. And if he isn't, he represents a great trade target.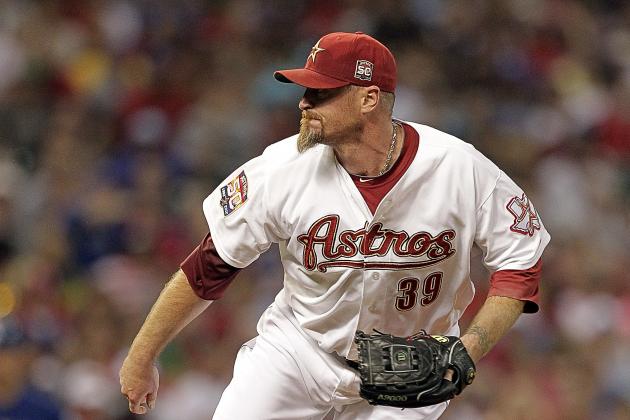 Bob Levey/Getty Images

The Houston Astros surprisingly named Brett Myers their closer before the season, and it definitely appears they made the correct move.
Myers has notched 10 saves while providing a great ERA (1.93) and an incredible WHIP (0.86).
Given Myers' career numbers (4.22 ERA and 1.33 WHIP), it's unlikely he keeps this high a level of production up. And there are also concerns from a fantasy perspective if he gets traded at the deadline and doesn't close for his new team.
But still, providing saves from a SP slot is extremely valuable and Myers will continue to do just that for at least the next couple of months.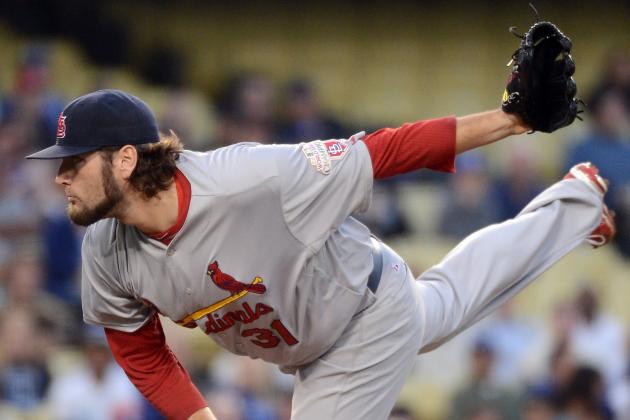 Harry How/Getty Images

Lance Lynn was given a spot in the St.Louis Cardinals rotation to start the season due to an injury to Chris Carpenter, and he has taken full advantage.
He's won six games (tied for first in MLB) and struck out 49 with a stellar ERA and WHIP of 2.31 and 1.01, respectively. Don't expect Lynn to slow down any time soon, either. He experienced similar success last season out of the bullpen (3.12 ERA and 1.04 WHIP).
And considering the Cardinals' potent offense (third in runs), the wins should keep on coming too.
Lynn should be a fantasy stud the rest of the way, and is the clear-cut top dual-eligible pitcher.