J.R. Hildebrand: Why Last Year's Failure Will Push Him Harder in 2012 Indy 500
May 21, 2012

Todd Warshaw/Getty Images
There's an old racing adage that says "nobody remembers who finishes in second place."
J.R. Hildebrand would probably scoff at the notion. There's an exception to the rule, he might argue, one that involves a last-lap pass or a really close finish or, heaven forbid, an accident coming out of the final turn to give the win away.
But forgive him if he doesn't want to talk about that last one.
Of course, that was the way Hildebrand's maiden Indianapolis 500 finished last May. His Panther Racing team, having finished second in the previous three editions of The Greatest Spectacle In Racing, had measured its fuel load perfectly to make it to the end of the race, while other competitors were forced to pit. All Hildebrand needed was to take an uncontested 200th and final lap around the 2.5-mile speedway without running out of fuel.
That's when the young Californian made the biggest mistake of his racing career.
Hildebrand came up on the lapped car of fellow Indy rookie Charlie Kimball, which was in the racing line. He attempted to pass on the outside coming out of Turn 4, but lost the groove and couldn't slow the car down enough to make the turn. The Panther car slammed the outside wall, and as the mangled piece of machinery continued to slide down the race track, Dan Wheldon—himself responsible for the previous two runner-up finishes for Panther—coasted by for a popular victory.
Thrill of victory, meet the agony of defeat.
Of course, second place is the greatest motivation for any true racer, and with last year's disappointment in mind, Hildebrand will come back more motivated than ever in this year's event. He'll have to do it from further back on the grid, qualifying 18th this year in comparison to 12th last year. But an extra year of experience can only help a driver get more accustomed to the track.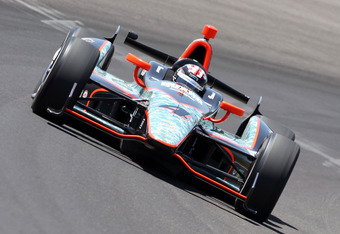 Andy Lyons/Getty Images
So far, Hildebrand has come out motivated. His practice speeds were consistent the entire week before qualifying, ranking him second on the charts on the first day and no worse than 13th in any of the seven sessions. On Fast Friday, he posted the eighth fastest time, as Chevrolets dominated eight of the top 10 positions on the charts.
But beyond that, he's got plenty of reasons to win.
For one, he wants to make up for last year's rookie mistake. Besides that, Panther's been the reigning Indy runner-up for an entire presidential administration now. And with a bill in Congress that may limit military spending on sports sponsorship, he may want to send the National Guard out with a high-profile win—and establish a high enough profile to attract replacement sponsorship.
That's enough motivation to push harder than ever this year, right?