Kentucky Basketball: Projecting the NBA Potential for Every Draft Hopeful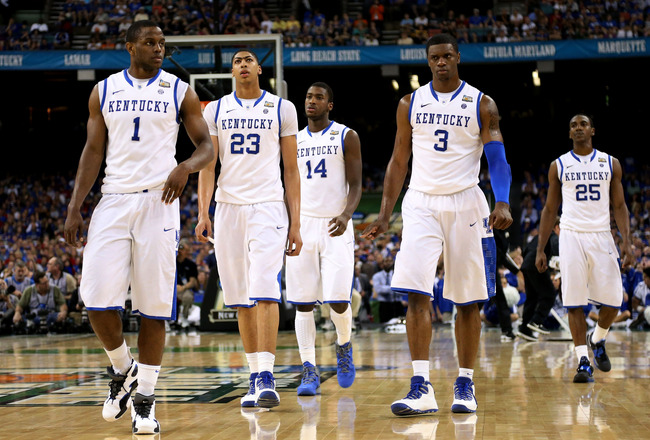 These Cats Are Primed and Ready For the 2012 NBA Draft
Ronald Martinez/Getty Images
After winning the 2012 NCAA National Championship, six players from the University of Kentucky have declared their intentions to chase their dreams of playing in the NBA.
The entire six-man rotation, which consists of Anthony Davis, Michael Kidd-Gilchrist, Darius Miller, Terrence Jones, Doron Lamb and Marquis Teague, is ready to hear their names called in the 2012 NBA draft.
Before projecting where they might fall in the pecking order, it is important to analyze what sort of future lies ahead for each of these draft entrants. Knowing what strengths and weaknesses each possesses will help project where each player could be selected in the draft, as well as which teams could best use their talents and personality traits.
Therefore, the following slides will analyze the maximum pro-potential for all six draft participants from the 2011-12 Kentucky Wildcats. Each player will also be given a pro comparison that illustrates the best-and-worst-case scenario for each, depending on their development in the league.
Enjoy the comparisons and let me know what you think of their professional prospects in the comments section!
Darius Miller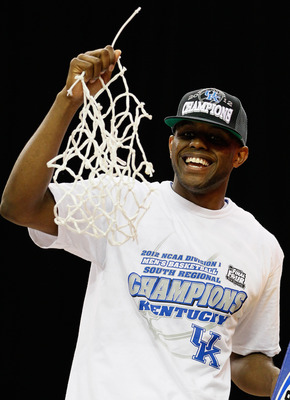 Darius might sneak into the first round.
Kevin C. Cox/Getty Images
NBA Player Comparison
Best Case Scenario: Luol Deng, SF Chicago Bulls

Worst Case Scenario: Ryan Gomes, SF Los Angeles Clippers

Most Likely Outcome: James Posey, SF (Retired)
As always, Darius Miller enters the NBA draft as the more underrated player in the group.
This has happened with him during his entire Kentucky career, as Miller has been the afterthought during each of John Calipari's first three seasons with the team. The coach has brought in hyped freshman classes that have taken away a lot of discussion and hype from Miller's game, and this seems to be continuing into the draft.
Shame on the teams that pass on Miller, because he has a chance to become an instant-impact player in the NBA.
Standing at 6'8" and possessing above-average ball-handling and shooting skills, Darius has the ability to defend four positions on the court. He did so during his days at Kentucky, when he often took on the toughest offensive players, regardless if they were a point guard or a bruising power forward.
Miller's versatility and size is what makes him such an intriguing NBA prospect.
Numerous teams would love to bring a player off of the bench who can score, defend and create from so many different positions. Therefore, I believe that he will fall to a playoff contender in the later portion of the draft and thoroughly surprise a lot of people with his play.
Darius' offensive arsenal is full of weapons.
He possesses excellent shooting touch from long range, as well as mid-range jump shots. Miller has also developed an underrated post game during his days as a Wildcat.
With all of this being said, Darius Miller will have to assert himself more than he has at Kentucky in order to reach his potential. If he does so, then he could turn out to be one of the best players drafted from this class.
Marquis Teague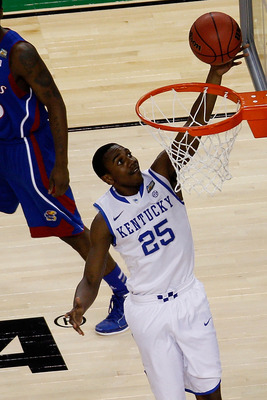 Teague should be one of the first point guards taken.
Chris Graythen/Getty Images
NBA Player Comparison
Best Case Scenario: Tony Parker, PG San Antonio Spurs
Worst Case Scenario: Jeff Teague, PG Atlanta Hawks
Most Likely Outcome: Mike Conley, PG Memphis Grizzlies
Marquis Teague spent the majority of his Kentucky career as an overly-criticized point guard who could not lead the Wildcats to the promised land. However, Teague ended his career by leading the Wildcats to a national championship.
Along the way, Marquis has evolved as a point guard and a floor general under the tutelage of John Calipari.
Teague has every bit of the elite athleticism that Brandon Knight and John Wall had. However, he tends to more of a distributor and less of a turnover-machine than those two players.
In the open floor, Teague can run from end-to-end with the best of them, and he drastically improved his jump shot throughout the season. Marquis also showed off an incredible first step and an ability to blow by defenders and finish strong at the rim.
If he can pull together his multitude of skills and continue to develop as he did at Kentucky, then Marquis Teague could become a star in the NBA. He is not likely to become an elite scorer. Rather, he should flourish in terms of distributing the basketball, playing tough defense and hitting big shots in clutch moments.
Doron Lamb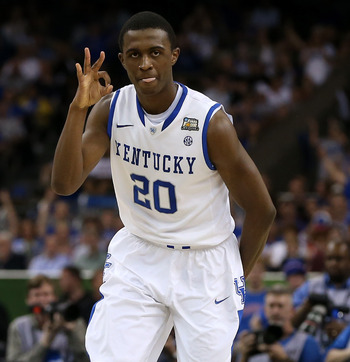 Lamb will likely become an excellent sixth man for a contender.
Jeff Gross/Getty Images
NBA Player Comparison
Best Case Scenario: Ray Allen, SG Boston Celtics
Worst Case Scenario: Daequan Cook, SG Oklahoma City Thunder
Most Likely Outcome: Jason Terry, SG Dallas Mavericks
Doron Lamb is one of the most NBA-ready guards in the 2012 NBA draft. In fact, his game is well suited for the professional ranks, and he has an excellent chance of becoming an impact player during his NBA career.
Lamb has good size for a combo guard, standing 6'4" and weighing 210 pounds. He possesses a great first step and can blow through traffic out in transition or in the half court. Lamb is also a strong finisher at the rim and has above-average upper body strength, allowing him to finish in a multitude of ways around the basket.
However, Doron's greatest strength is his perimeter shot.
He completed his Kentucky career with a three-point percentage of .475, which is one of the highest career rates in the school's long and storied history.
Lamb also excels in other areas of the court, as evidenced by his career field-goal percentage of .485 and free-throw conversion rate of .811 percent.
Lamb's ability to shoot will be the skill that earns him paychecks in the NBA, and he has the potential to become one of the better all-around shooters in the league. He reminds me a lot of Jason Terry, who has served as a spark plug off of Dallas' bench and gives the team an impact scorer in the second unit.
Terry might not start the game, but he usually ends up finishing it, and Lamb could fill the same role with a playoff contender.
Combined with his ability to effectively play backup point guard, Doron Lamb can become a valuable piece to a team's championship puzzle. He has high potential and should turn into a career NBA marksman.
Terrence Jones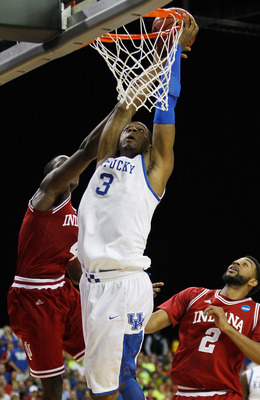 Jones has elite talent, but GMs aren't sold on his attitude.
Streeter Lecka/Getty Images
NBA Player Comparison
Best Case Scenario: Lamar Odom, SF/PF Dallas Mavericks
Worst Case Scenario: Al Harrington, SF/PF Denver Nuggets

Most Likely Outcome: Josh Smith, PF Atlanta Hawks
Terrence Jones might be the most polarizing draft prospect coming out of Kentucky.
NBA scouts are in love with his talent and skill set, but they are not sold on his attitude and hustle. This is why Jones' projection in the draft varies from late lottery pick to late first-round pick.
On one hand, Jones possesses an excellent frame for a mobile power forward.
Standing 6'9" and weighing in at 250 pounds, Jones has ideal size and strength at the position. He has always played tough in the post and has displayed an elite ability to finish through contact and convert and-one situations.
Jones can also handle the ball well, convert an occasional three-point shot and block shots on defense.
In fact, Terrence's shot blocking ability was lost in the shuffle of Anthony Davis' record-setting season. Jones completed his career at Kentucky by averaging 1.8 blocks per game and 1.2 steals per game, displaying active hands on defense.
However, Terrence Jones has also shown disinterest at times, including an atrocious outing against Indiana University that had fans questioning his commitment to the game of basketball and his teammates. This has occurred on multiple occasions during Jones' two seasons with the Wildcats.
With that being said, Jones finished the season with a strong run of games in the SEC and NCAA tournaments, and his maturity issues subsided while he led Kentucky to the national championship.
If he continues to improve his game and work on his motor, then he could develop into a Rasheed Wallace clone in the NBA.
Michael Kidd-Gilchrist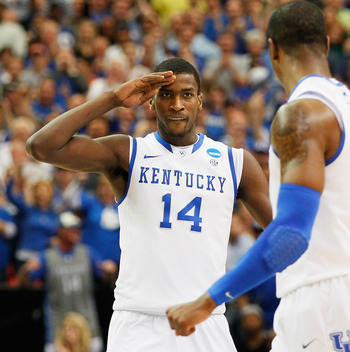 Kidd-Gilchrist will be a star from day one in the NBA.
Kevin C. Cox/Getty Images
NBA Player Comparison
Best Case Scenario: Scottie Pippen, SF (Retired)
Worst Case Scenario: Gerald Wallace, SF New Jersey Nets
Most Likely Outcome: Grant Hill, SF (Retired)
I fully believe that Michael Kidd-Gilchrist has the potential to become an NBA superstar.
However, I do not envision becoming an offensive superstar. Rather, I see Kidd-Gilchrist becoming a hybrid of Scottie Pippen and Grant Hill.
Yes, this is extremely high praise, and he has a long way to go to even approach these two NBA legends.
However, his skill set, excellent physical size, long frame, non-stop motor, elite rebounding and slashing, high talent level and leadership skills gives him near unlimited potential as a professional basketball player.
During his freshman season at Kentucky, Kidd-Gilchrist was the defensive stopper on the perimeter, often being assigned to guard the opponent's best player. This usually resulted in that player being held well below his season average across in scoring.
Another strength is his elite finishing ability.
Simply put, it has been years since I witnessed a college player with such amazing ability at attacking the rim, splitting defenders, bursting to the rim and finishing in a multitude of ways. This is a skill of his that is already at an NBA level and it will aid him while he develops his perimeter shooting.
Combined with his never-ending motor, Kidd-Gilchrist has all of the tools that makes NBA general managers drool.
He can develop into a multi-dimensional superstar on the next level who excels at defense, slashing, rebounding and team play, with a few blocks and steals sprinkled in for good measure. Only time will tell, but Michael Kidd-Gilchrist has a very bright future ahead of him in the National Basketball Association.
Anthony Davis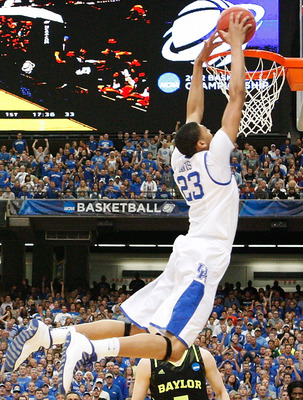 Davis will be an NBA superstar.
Kevin C. Cox/Getty Images
NBA Player Comparison
Best Case Scenario: Hakeem Olajuwon, C (Retired)
Worst Case Scenario: Tyrus Thomas, PF Charlotte Bobcats
Most Likely Outcome: Kevin Garnett, PF Boston Celtics
Two of the above names are either in the NBA Hall of Fame (Olajuwon) or are a future first-ballot Hall of Famer (Garnett). Those are big shoes to fill, and it may seem ridiculous to put these sort of comparisons on Anthony Davis.
However, I use the comparisons because these are the only two great players that have a similar skill set and build to Davis. He is such a unique player and there have been very few players that have the all-around potential that Anthony Davis does.
He stands 6'10" tall, has a 7'4" wingspan, runs the floor incredibly well, finishes strong at the rim, shows promise as a mid-range jump shooter, can handle the ball like a guard and has shown flashes of a developed post game.
Davis also lacks a strong frame and will rely mostly on agility and speed to excel, instead of raw strength.
He has a long way to go in his development as a player, but he shows promise as an elite-level defender. After all, he set NCAA records by blocking 186 shots during his lone season in college.
Because of his similar build, many comparison have been made to Kevin Garnett as a projection into the NBA.
This comparison seems to be much more likely than reaching Olajuwon's level of play, although the sky is the limit for Davis. Much of his development will depend on which team drafts him and how much burden will be placed on his shoulders.
If he can be given proper time to develop his all-around game and not be forced into carrying a team's offense, then Davis should flourish and turn into a NBA superstar. He will be a force and should certainly become the best player from this class of six Kentucky draft hopefuls.
Keep Reading

Kentucky Wildcats Basketball: Like this team?