Cubs 2012 Season Looking Less and Less "Sacred" to Epstein and Hoyer
May 30, 2012

Jonathan Daniel/Getty Images
Theo Epstein's introduction as President of the Chicago Cubs was impressive.  You won't see a sports executive as glib and articulate as the 38 year-old Epstein. When it comes to "winning the press conference," few have won as convincingly as he did.  Some six months later, what stands out most from that October morning is Epstein's proclamation that "every opportunity to win is sacred." 
At this point – having recently completed the franchise's longest losing streak in over a decade– 2012 appears to be the exception to Epstein's first promise to long-suffering Cub fans. 
Epstein and GM Jed Hoyer inherited bad players with awful contracts, there's no debating that.  They also inherited a group of players with the ability to contribute in 2012 and carry on the critical momentum from that late-October press conference. 
In addressing the recent 12 game slide, Hoyer said "we have guys with good track records that aren't hitting."  He's absolutely correct, the Cubs are not hitting.  When out of 16 National League teams, you're 14th in runs scored, 13th in on-base percentage and 9th in batting average, not only are you failing to hit, you're causing opposing pitchers to salivate.  Where Hoyer loses me, is when he talks about "good track records."  The much maligned Alfonso Soriano is sporting his best batting average since 2008.  Brian LaHair has exceeded the expectations of even the most optimistic prognosticator.  David DeJesus has raised his batting average by fifty points since last season, while Starlin Castro, Darwin Barney and Ian Stewart are all producing at a rate that follows suit with what they've done in recent seasons.  Cub hitters are doing almost exactly what their track records suggest they should.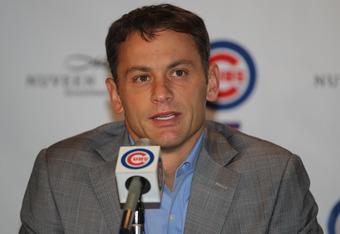 Jonathan Daniel/Getty Images
As much as Cubs brass might want to blame this on a struggling offense they had little control over, don't let them downplay the impact the bullpen has had on the season.  When the front office "dream team" took the reigns last winter, the bullpen was a strength for this ball club.  Sean Marshall, James Russell, Kerry Wood, Carlos Marmol, Andrew Cashner and Jeff Samardzija had all proven themselves capable of contributing at the big league level.  Somewhere around Christmas – and maybe you can chalk it up to the season of giving, maybe it was simple holiday cheer, maybe it was the eggnog – Theo and Jed decided to blow up the bullpen.  Sean Marshall was sent to the division rival Cincinnati Reds for the same Travis Wood who couldn't beat out Chris Volstad for a spot in the rotation.   Andrew Cashner was shipped to Jed Hoyer's old team in San Diego in exchange for top-prospect Anthony Rizzo.  Despite his tremendous upside, Rizzo is still an unknown, having fallen flat on his face in his only stint against big-league pitching. Samardzija was wisely moved to the rotation, but nothing was done to replace his power arm or his ability to eat up multiple innings per appearance.   Kerry Wood retired after 10 appearances and Carlos Marmol took up residence on the disabled list early in the season.  Durability issues should not have come as a surprise for either. 
Thus far, the Cub bullpen has blown 5 leads and lost another 5 games.   Even for a team 15 games under .500, eliminating half of those makes a substantial difference.  A 22-27 team is worlds away from a 17-32 team.  
For those wondering, Sean Marshall has 8 saves, 4 holds and 24 strikeouts in 17 innings of work.  Andrew Cashner – with a fastball that regularly reaches 100 MPH– has 24 strikeouts in 21 innings with a 3.38 ERA.  And yes, I know Tyler Colvin is hitting .300 in Colorado while Carlos Zambrano has a 3.00 ERA over 66 IP in South Florida.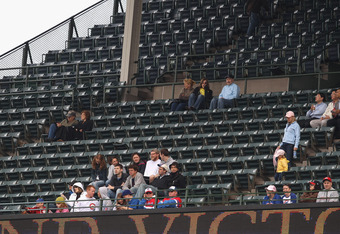 Jonathan Daniel/Getty Images
To Epstein's credit, he made no excuses for the team's abominable 12-game slide.  "The fans have a right to be upset anytime we aren't playing winning baseball, especially during a stretch like this. I understand it, I just think if we start making decisions based on it or scrap plans because of it, try to put band aids on it, we're doing the fans a disservice in the long run."    
What Epstein seems to have learned since October – and Hoyer quickly needs to- is that Cub fans have no tolerance for speaking out of both sides of your mouth.  If you say every opportunity to win is sacred, you better back it up.  Hoyer's excuse about Cub hitters not performing at a level consistent with their past history won't go far with this fan base either.  For example, they're well aware that Ian Stewart hit .156 with 6 RBIs in 2011, while the Cubs got 93 RBIs and a .306 average from their third baseman. 
While early returns on their first off-season are mixed at best, we have no idea how those moves will pan out in the long term.  Theo and Jed certainly deserve the benefit of the doubt based on their track records. 
We do know this:  The Cubs are not suffering from a group of proven hitters failing to perform and 2012 was not approached as a "sacred" opportunity to win.  If Theo and Jed plan to take up an extended residence at 1060 West Addison Street, the empty promises and soft excuses need to stop and their long-term bets need to start paying dividends sooner rather than later.