2012 MLB Mock Draft: 3 Studs Who Will Be Overlooked
May 22, 2012

As Sabermetrics' rise to prominence has shown, a player's worth or ability to impact a team is not always as it seems on MLB draft day.
While scouts will drool over top-tier college and high school prospects and the potential they possess, truly savvy front office operators will search out the overlooked and undervalued, looking for the bargain-bin prospect who can propel their organization without bankrupting their budget. 
With that in mind, we at Bleacher Report chose to highlight three potential draft-day sleepers who might be worth more than they appear come this June 4.
Travis Jankowski, OF (Stony Brook)
The stereotypical "late bloomer," outfielder Travis Jankowski has blossomed during his past three years in the smaller sections of college baseball and could be an attractive sleeper pick in this year's draft.
Undrafted and unrecruited out of high school, Jankowski's desire to play collegiate ball drove him to Stony Brook, the only Division I team to offer him a scholarship. He seized the opportunity and has put together an impressive career for the Sea Wolves, batting .350 for his career and stealing 75 bases in his time at the school. Jankowski's impressive junior season has caught scouts' attention, and he is currently ranked 33rd on MLB.com's prospect watch.
The biggest knock against Jankowski is his lack of hitting power, but his impressive size (6'3", 190 pounds) could mean his bat pop could still improve. Despite his lack of profile due to his small-school roots, Jankowski could be a very enticing prospect in this year's draft.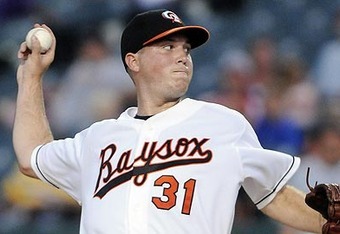 Stephen Johnson, P (St. Edward's)
Another small-time school prospect garnering buzz, Stephen Johnson has grabbed front office attention due to a staggering amount of arm strength. 
An ace for Division II St. Edward's University out of Texas, Johnson was ranked the No. 1 D-II prospect going into this year's draft and turned heads with his fastball, reaching speeds of up to 101 mph this year.
The big-armed right-hander posted an impressive 48 strikeouts and a 1.01 ERA in 26.2 innings as a closer for St. Edward's this season. Johnson also has outstanding size (6'6", 205 pounds) and has grown considerably in his time at St. Edward's.
While some of Johnson's stats may be affected by facing lesser-division talent, his big arm strength and size make him an enticing, lesser-known pickup for teams in 2012.
Jason Coats, OF (TCU)
After electing to forgo entering the league for the first time in 2009, Jason Coats will hope that his two more years of hard work will pay off with a higher selection in this year's draft.
Originally selected by the Orioles during the 12th round in 2009, Coats decided to return to TCU after having a standout sophomore season. He didn't have quite the leap some may have expected during his junior year, but Coats rallied with a strong senior campaign to make himself known to scouts once more.
While Coats had an impressive career at TCU, he never quite re-gained the deep-ball power he exhibited during his sophomore season (in which he went long 13 times), causing some scouts to question his potential.
However, Coats' consistency and ability to hit the gaps, combined with above-average speed, should make him an enticing option to teams in the middle rounds. If Coats can also rediscover his bat power, he could become a potential sleeper grab for a team down the line.