Juventus: Why the Old Lady of Turin Is Stubbornly Clinging to 3 Stars
May 22, 2012

Valerio Pennicino/Getty Images
In the aftermath of Calciopoli, Juventus were stripped of their 2004-05 and 2005-06 titles by the Italian Football Federation, bringing their title count down from 29 to 27. Thus, when Juventus beat Atlanta and claimed the 2011-12 Serie A season title, they officially had won 28 titles.
But Juventus were buying none of that. Once Juventus were mathematically crowned champions, Juve's general director Giuseppe Marotta proudly declared his pride in the club winning its 30th title:
It's our 30th title as far as we're concerned, and it's the reward of all the work done by everyone at the club, starting from [club president] Andrea Agnelli," Marotta was quoted as saying on the club's official website.

It's everyone's title, but above all Antonio Conte's. He's the true added value and has improved the work started last year. The team have fully responded to his management.
President Andrea Agnelli backed up his director's words, saying:
Next year, Juventus fans will be in store for some nice surprises on the shirt. We definitely won our 30 titles on the pitch. The prosecutor said our 2004-05 title has not been affected, and the one for 2005-06 was not investigated.
And even Juventus' players got into the act, with defender Paolo De Ceglie going so far as to paint his car with the colors of the Italian national flag and three gold stars in the front-center.
For Juventus, the agony experienced in the aftermath of Calciopoli, when the club were not only stripped of two titles but also relegated to Serie B with a nine-point deduction, is not a distant memory.
Whether the allegations of match-fixing are true or not—as Agnelli comments, they were never proven substantial enough to force the courts to take away Juventus' titles. That action was undertaken by the FIGC, Italy's football federation—the effect that the scandal had on Juventus was an effect that would hang around the club for years to come.
The 2005-06 Juventus squad was easily the one of the best Juventus squads in Juve history. The team won Serie A by a massive 15 points, losing only once and recording 27 victories.
The team boosted stars like Zlatan Ibrahimovic, Patrick Vieira, Fabio Cannavaro, Lillian Thuram, Gianluca Zambrotta, Adrian Mutu, Pavel Nedved, Alessandro Del Piero, David Trezeguet, Gianluigi Buffon and more.
However, when the 2006-07 Serie B rolled around, Juventus were left with a depleted team. Ibrahimovic, Vieira, Cannavaro, Thuram, Zambrotta and Mutu, among others, had all departed for greener pastures, and Fabio Capello left the team too.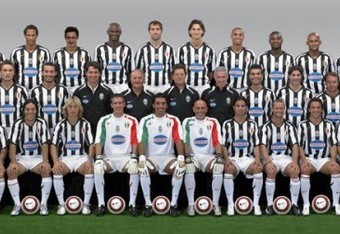 A number of loyal players, like Mauro Camoranesi, Nedved, Del Piero and Trezeguet would stay on, establishing themselves as Juventus legends in the process. But when the club returned to Serie A in the following season, the drop-off in quality was clearly evident.
A third-place finish in the 2007-08 season gave hope that Juventus might quickly recover from Calciopoli, as did the second-place finish in 2008-09, but consecutive seventh-place finishes in '09-'10 and '10-'11 exposed numerous flaws within Juventus, and showed just how far the club had regressed from the glory years of 2004 to '06.
It's no wonder Luciano Moggi and Fabio Cannavaro still hold tightly onto the titles earned during their spells with the club. With those titles comes memories of a Juventus team that, talent-wise, was among the best in the world, even if it did not perform especially well in Europe.
It may be a bit pessimistic to say this, but it's doubtful that Juventus will ever fully recover from Calciopoli, or at least that Juventus fans will ever fully forgot the event, even half a century from now.
Even though Juventus won the Serie A title this season, there will always be questions about how much could've been achieved with the players Juventus had in 2005-06, and where Juventus could be as a club if the subsequent years were spent consolidating the squad rather than rebuilding it.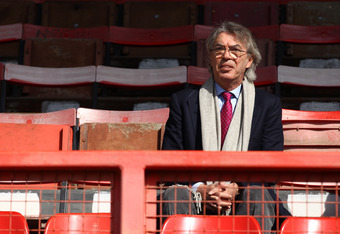 Julian Finney/Getty Images
There will also be big questions about whether Calciopoli was fair to all clubs involved. Indeed, a second scandal with phone call interceptions via Telecom Italy was uncovered that threatened to implicate Inter president Massimo Moratti, but Moratti was saved by the statute of limitations in Italy limiting prosecution to two years forward (the allegations stemmed from all the way back in 2002).
And then, as always, there a number of conspiracy theories or investigations that seem to indicate that Inter, among other clubs and figures, played a much bigger role in Calciopoli than they were accused of, and thus got off very easy.
Looking too deep back into Calciopoli is like walking into a labyrinth. There are so many hidden truths and elements to the story that we may never know who was involved in what and to what extent they were involved.
But the fact is this: Antonio Conte's return as a manager to the club, and his Serie A title victory in his debut season with Juventus, has brought relief and joy to a fanbase that has been suffering with disappointment and frustration for many years now.
The future is bright, and Juventus surely look like a club on the way up now. But for many Juventini, the pain and aftermath of Calciopoli is a memory that will never go away, and an injustice that the fans will never accept.