Indy 500 2012: Al Unser and the Most Impressive Victories in Indy 500 History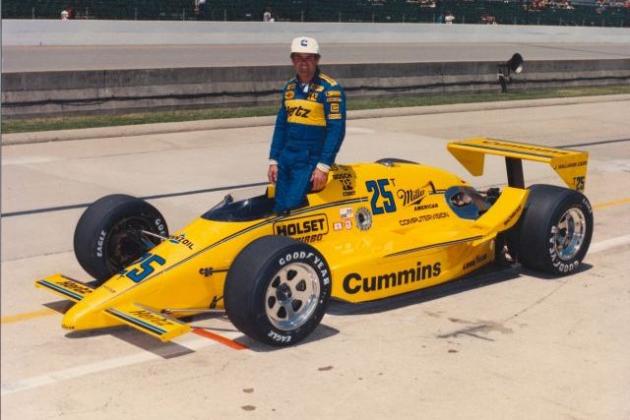 In human history, 100 years is a long time for any event to exist. It's also plenty of time to create some incredibly memorable moments, as any history buff of the Indianapolis 500 can tell you. The Indianapolis Motor Speedway has a distinct personality, a special pull that makes it unique to hundreds of the world's fastest race car drivers.
Sixty-seven drivers have seen their faces engraved into the Borg-Warner Trophy as Indianapolis 500 champion over the years. Though none of their names will ever be lost in history, some wins (and winners) have been more memorable than others. Since we don't all have time to take track historian Donald Davidson's college-level class on the history of the speedway, here's a refresher on ten of the most impressive wins in the history of The Greatest Spectacle In Racing.
Begin Slideshow

»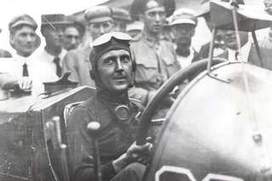 Nordyke & Marmon Company Wasp
Started 28th, led 88 laps
Of course, the first victor of the Indianapolis 500 holds a special place in history, which is why so many remember Harroun's name after 100 years despite the fact that he never ran the race again.
But Harroun's victory is also notable for other reasons: at 28th place, his remains to this day the lowest starting position for an Indianapolis 500 winner, and by eschewing the traditional ride-on mechanic, Harroun's was the first recorded use of a rear-view mirror.
Harroun had retired from racing at the end of 1910, but returned to Indianapolis for its first 500-mile event and the promise of a $10,000 prize. Though Cyrus Patschke relieved Harroun for 35 laps of the 200-lap event, and the Marmon Wasp had lost a tire about two-thirds of the way through the event, Harroun managed to regain the lead when Ralph Mulford made a pit stop.
Harroun finished the race in six hours, 42 minutes, and eight seconds, over a minute ahead of Mulford.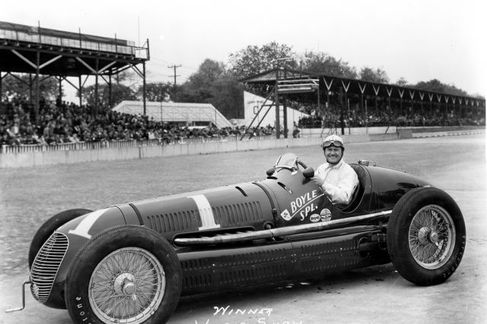 Boyle Racing Headquarters Maserati
Started second, led 136 laps
Louis Meyer was the first driver to win three Indianapolis 500s, in 1928, 1933 and 1936. Shaw accomplished the same feat over the course of four years, running his own car in 1937 and completing back-to-back wins with Boyle Racing Headquarters in 1939 and 1940.
Starting second, Shaw led 136 laps, a personal record for him in a race victory. The race was undermined by rain in the final stages, with the final 50 laps run under caution. But Shaw had gotten by polesitter Rex Mays, who led 59 laps himself, before the caution and thus became the first back-to-back winner in Indianapolis 500 history.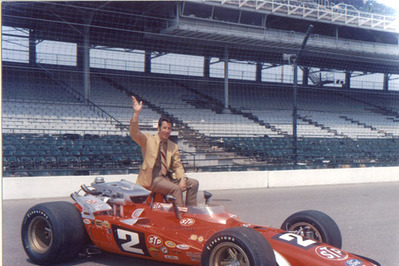 STP Corporation Hawk-Ford
Started second, led 116 laps
The names "Andretti" and "Indianapolis" haven't always seen eye to eye, with a series of spectacular failures limiting the family to a single win. That came in 1969, and under highly unlikely circumstances.
STP czar Andy Granatelli was forced to retire his turbine vehicles in 1969 after USAC sanctions rendered them uncompetitive. Thanks to Andretti's connections with Lotus, the team had planned to use a Lotus 64 chassis in that year's race, but a practice crash left Andretti burned and the car totaled.
Andretti would qualify a Hawk from the previous year on the front row, but twin brother Aldo was forced to stand in for the ceremonial front row photo due to Mario's burns. Come race day, no other driver came close to Andretti, who led a race-high 116 laps to score his only Indy win.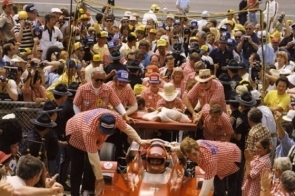 A.J. Foyt Enterprises Coyote-Foyt
Started fourth, led 46 laps
Louis Meyer, Wilbur Shaw and Mauri Rose had all preceded the great Foyt to three Indianapolis 500 wins, a feat which the Texan matched in 1967.
It took Foyt another decade to add the record-breaking fourth victory, in one of his more lightly recorded Indy attempts. Much of the attention was devoted to polesitter Tom Sneva, who broke the 200 mph barrier on two of his qualifying laps on pole day.
But Foyt, while consistent all race, didn't pose a serious threat until Gordon Johncock's race fell apart in the late stages. Johncock had a large lead on Foyt in the final 30 circuits, but began to slow due to dehydration and heat exhaustion; then, with 16 laps to go, his crankshaft broke and ended his day. Foyt maintaned the lead over Sneva in the race's final laps to score the unprecedented fourth victory.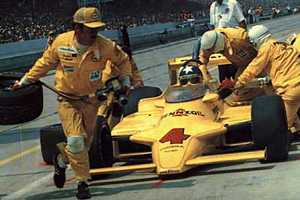 Chaparral Racing Chaparral-Cosworth
Started first, led 118 laps
Legendary car owner and chassis manufacturer Jim Hall inspired generations of subsequent IndyCar designs with his Chaparral 2K, which utilized the principle of ground effects to create downforce. Hall first utilized the theory to create competitive sports cars, but it was at Indianapolis in 1980 that Johnny Rutherford took a dominant victory for Hall.
Scoring the pole with an average speed of 192.256 miles per hour, Rutherford and second-place starter Bobby Unser battled for the majority of the event. When Unser dropped out due to turbo failure, Rutherford dominated much of the second half of the event, pulling away from Tom Sneva and winning by nearly 30 seconds. The victory led to a major shift in the design of IndyCars for years to come.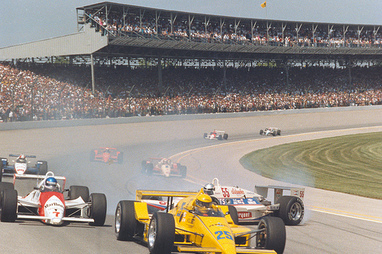 Penske Racing March-Cosworth
Started 20th, led 18 laps
Unser, a three-time Indianapolis 500 winner, scored his fourth, final and most unlikely race victory in 1987, matching A.J. Foyt for most victories all-time, after arriving at the track unemployed.
Penske Racing had released him in the offseason, but after a practice crash left Danny Ongais unable to race with a concussion, Unser received the call from his old team to qualify a year-old March chassis.
After climbing to third place in the late stages of the race, Unser was nearly two laps down to leader Mario Andretti. But Andretti suffered a failure of his fuel injection system on lap 177, and when Roberto Guerrero pit for fuel after inheriting the lead, a damaged clutch and broken third gear stalled him in the pits.
Unser led the final 18 laps of the race in what had been a show car at a Pennsylvania hotel just a month before.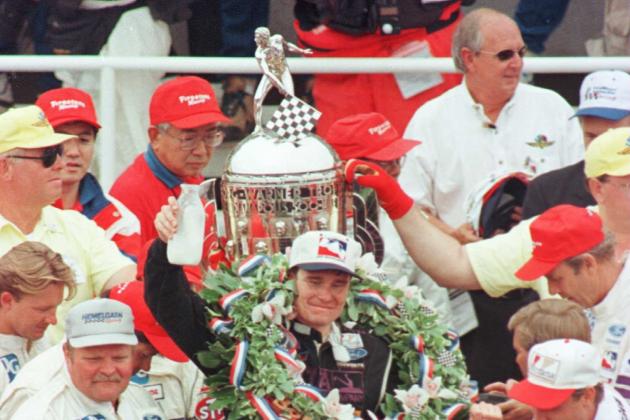 Andy Lyons/Getty Images

Hemelgarn Racing Reynard-Ford
Started fifth, led 43 laps
While the CART boycott of the Indy Racing League left the 1996 field looking like a group of replacement drivers, it's hard to discount the gutsy performance that Lazier put in.
Earlier in the year, Lazier had broken his back in an accident at Phoenix, and he was still recovering when Indianapolis came around on the schedule. Still, his Reynard-Ford was one of the strongest chassis and engine combinations at the speedway, and he qualified towards the front of the pack.
Lazier managed to lead laps early, but his car really began to stand out in the final few laps of the race. When leader Alessandro Zampedri began to suffer handling problems with 11 laps to go, both Davy Jones and Lazier got by. But Lazier's car was much faster than Jones', and he took the lead for good on lap 193.
An incident on lap 194 put the race under caution until the 200th and final lap, when Lazier held off Jones' challenge as Zampedri and two lapped cars crashed at the back of the field.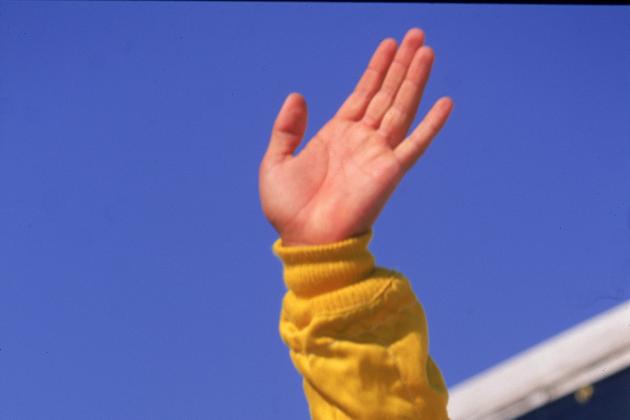 Robert Laberge/Getty Images

Chip Ganassi Racing G-Force-Oldsmobile
Started second, led 167 laps
The 2000 race may not have been a fair fight, as Montoya, teammate Jimmy Vasser and Chip Ganassi Racing were CART mainstays and had a budget much larger than most IRL teams. But their entry into the race was significant in that it opened the door for other CART teams to come back to Indianapolis, and was the first step in CART's eventual demise.
Montoya was out-qualified by Greg Ray, the defending IRL champion, but Montoya took the lead on lap 27 and Ray would never lead again. Pit stops would commence in the next few laps, but Montoya regained the lead on lap 33, and would not yield it again for the rest of the event, save for four laps led by Vasser due to Montoya's final fuel stop under caution.
Since leaving for Formula 1 the following season, Montoya has never run the race again, making him one of only two drivers (the other being inaugural winner Ray Harroun) to win in their only Indy 500 starts.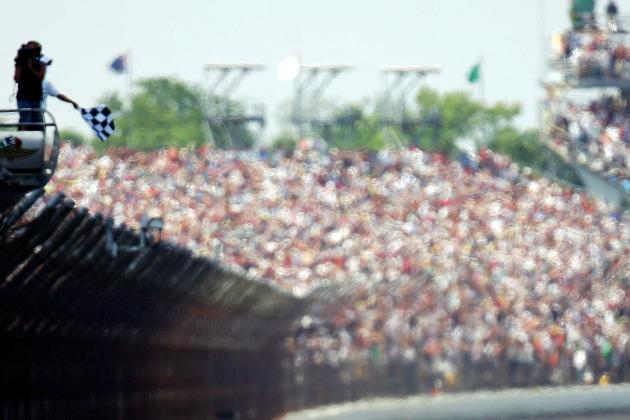 Donald Miralle/Getty Images

Penske Racing Dallara-Honda
Started first, led 19 laps
Hornish had won two IndyCar championships in 2001 and 2002, but both years had seen Penske Racing's Helio Castroneves take the Indy 500 victory. This year, Hornish was Castroneves' Penske temmate, and qualified on the pole. But defending race winner Dan Wheldon was a dominant force, leading 148 laps until a punctured tire forced him to yield the lead and pit early.
A late-race caution gave the leaders a five lap dash for victory, with the recently unretired Michael Andretti restarting first, his son Marco in second, and Hornish in fourth. Marco made the pass on his father and began to pull away with three laps to go, with Michael trying to block, but Hornish began to close on the lead with two laps to go. On the final straightaway, Hornish made a daring slingshot pass to beat the younger Andretti to the line by 15 feet, representing the second-closest finish and first last-lap pass for the lead in Indy 500 history.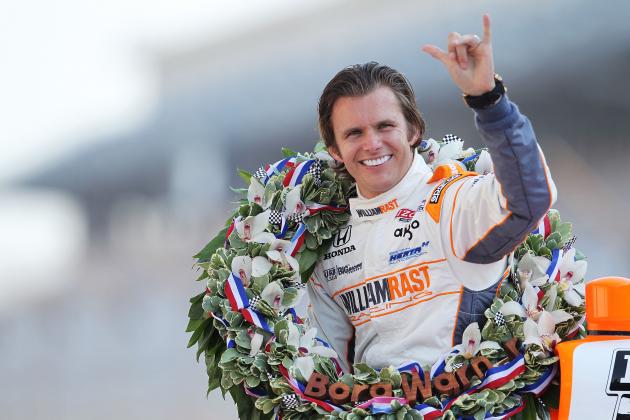 Nick Laham/Getty Images

Bryan Herta Autosport Dallara-Honda
Started sixth, led one lap
Last year's finish will go down as one of the all-time most memorable in Indy 500 history, and not just because Wheldon tragically lost his life at the end of the 2011 season.
The 2005 race winner and series champion had lost his ride with Panther Racing at the beginning of the year, but found an Indy-only drive with Bryan Herta Autosport. Supported by Sam Schmidt Motorsports, whose cars had found surprising speed on qualifying weekend, Wheldon qualified sixth for the race.
The race itself saw Wheldon as the benefactor of a stunning twist of fate. Many of the leaders were forced to pit for fuel, leaving J.R. Hildebrand in the lead for Panther. But coming off of the final corner, Hildebrand misjudged Charlie Kimball's lapped car, took the turn wide, and slammed into the outside wall.
Wheldon was able to pass the disabled Panther entry on the frontstretch and lead his only lap of the race in what would sadly prove to be his final IndyCar win.