Chelsea Transfer News: Is It Time for Fernando Torres to Leave Chelsea?
May 21, 2012

Mike Hewitt/Getty Images
Saturday's Champions League final was fraught with drama—no one sets a dramatic score better than commentator Martin Tyler, who was at his scene-setting best during the penalty shootout—but what  captured my attention most decisively during the proceedings was the introduction of Fernando Torres in the 84th minute, immediately following Bayern Munich's opening of the scoring.
Torres would say later he was "hugely disappointed" at being omitted from the starting lineup, but it is to his credit that once he did come on, he looked like the striker who'd once struck fear into the hearts of defenders all over Europe.
Arsenal's Robin van Persie was the toast of the English Premier League this season, his 30 goals the best tally among his peers. But it was Torres back in 2007-08, just his first season with Liverpool after arriving from Atletico Madrid on a £21.5 million transfer, who was the scourge.
The No. 9 Spaniard was near unstoppable for the Reds that season, tallying 24 league goals in just 33 appearances, a number that bloomed to 31 strikes in all competitions.
Not known as one to bedazzle viewers with winding bits of individual skill like a Lionel Messi, Torres instead displayed a predatory instinct around the goalmouth area that was nigh-inimitable. Few could turn nothing into something like he could.
But that was then. Since he scored the winner for Spain against Germany in the 2008 European final, Torres began to fall further and further off the incredible pace he'd set for himself.
Fourteen league goals in 2008-09, in Liverpool's last concerted push at a Premiership title, were admirable, but since then Torres has been a shell of his 2007-08 self.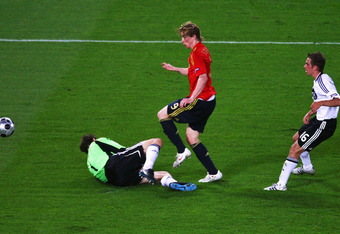 Clive Rose/Getty Images
That precipitous dip in form, along with a crippling slew of injuries—Torres was named to the 2010 Spain squad that emerged as winners of World Cup South Africa, but after scoring twice during the '08 Euros, he went scoreless in that competition—caused more than a few eyebrows to be raised when his £50 million transfer to Chelsea went through at the 2011 winter transfer deadline.
He failed to adapt to his new London surroundings, showing none of that instinctive finishing he'd become renowned for at Merseyside.
His misses became more newsworthy than his goals, which came few and far between. He looked like a fish out of water under the coaching of both Carlo Ancelotti last season and Andre Villas-Boas for most of the just-finished campaign.
One thinks his arrival at Stamford Bridge was likely influenced more by Blues owner Roman Abramovich than Ancelotti, and it goes without saying that the Italian boss had his work cut out for him trying to construct cohesive lineups with three out-and-out strikers (Didier Drogba, Nicolas Anelka and Torres) on his books.
Matters didn't improve much after Villas-Boas took over at the start of 2011-12—Torres scored just two league goals while AVB was manager—but after Roberto di Matteo took over in early March, the Spaniard looked reborn.
It was a resurgence shared by many of the senior players at Chelsea—take Ashley Cole, for example—but Torres's rise was near-meteoric.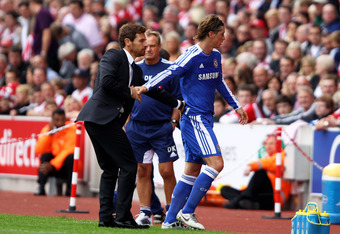 Clive Brunskill/Getty Images
Suddenly he was attacking the gaps in the final third with a vengeance not seen since those first Liverpool days. His inconsistency remained—after so many years of foundering, it's hard to shake that at a moment's notice—but he was far more dangerous than he had been. That much was evident.
And it was on show against Bayern on Saturday. Torres's work led to Chelsea's first and only corner on the night in Munich. That corner would lead to Didier Drogba's headed equalizer.
It was a vital contribution from the Spaniard, and it showed that, at 28, he can still play a decisive role on the grandest occasions. He's showed us that before, obviously, but we'd almost forgotten just how good this guy could be.
Now it appears he wants to continue his revitalization away from Chelsea. After being named to Spain's squad for the European Championships next month, he has revealed he will hold showdown talks with his current club in regards to his future.
Given how influential he was in the UCL final, any number of suitors would figure to be lining up to acquire his services.
But with Munich hero Didier Drogba set to leave Stamford Bridge this summer, and Anelka already gone, Torres could be the main striker for Chelsea next season.
Wouldn't that be a fitting scene for him to return to glory: the club he'd struggled so famously with at the start of his tenure. Almost smacks of a film script.