9 Reasons Why Ryan Giggs Deserved to Win Premier League All-Time Best Player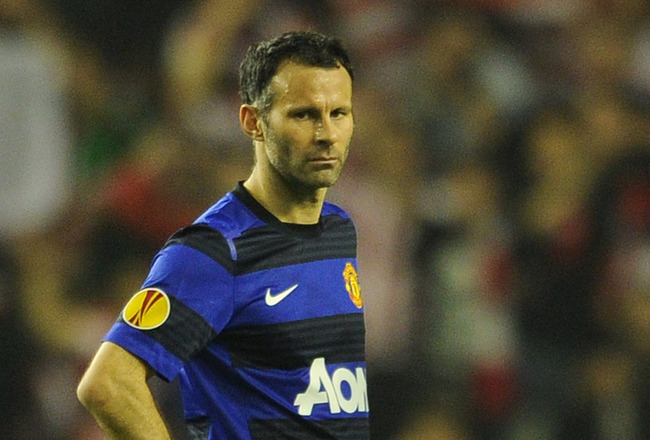 Jasper Juinen/Getty Images
Ryan Giggs is the only player in the history of English football to have played, and scored, in every Premier League season to date.
In those 20 years, Giggs has progressed from promising youth talent to seasoned pro, making a lot of friends, and enemies, along the way.
It's hard to imagine there ever being another player like Giggs, at least in terms of his sheer presence in the English game.
Love him or hate him, there are few who can argue that Ryan didn't deserve to be awarded the honour of all time greatest Premier League footballer.
Here are just nine reasons as to why the Welshman has been announced as the league's (current) greatest ever player.
Dedication to the Game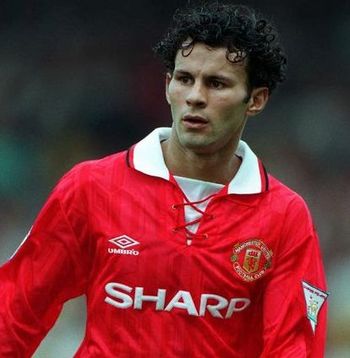 There aren't many footballers who will play at the top flight of a league system as challenging as the English one, that are content with the continuous struggle for first team football.
Ryan is one of these players.
At his age, it could have been very easy for him to give up on playing at the top level and settle for being a big fish in a small pond in the Championship, or even League 1.
However, rather than taking the easy option and choosing to bow out of the Premier League, Giggs has embraced the ever growing challenge of making it into the starting XI of one of the best teams in Europe.
That kind of attitude shows a real passion for excellence in football, the kind of passion that I'm sure the majority of us would like to see from more professionals these days, who seem to only care about their wages.
I'm sure many fans would have expected with the recent flux of players to the MLS—where players of notable lineage receive high sums of money to play in a division of the quality of League 1 or 2—that Giggs would follow the lead of former teammate David Beckham.
Not Giggsy! He wants to finish his career playing football at the best standard possible, like any true legend would.
Consistency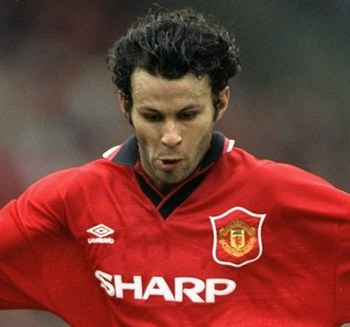 In relation to the previous slide, the key reason as to why Giggs has been able to stay fighting it out at the top of world football is because of his seemingly never-ending pool of talent.
As Giggs reached the age of 30, he, understandably, began to lose some of that pace that had been such an important part of his game as a younger man.
Was this the start of the end of Giggs as we know it?
At first, it seemed that it very well might be, with both he and trademark partner in crime Paul Scholes seemingly beginning to lose the talent that had once made them great.
It wasn't long, however, before those who had started to doubt Giggs would ever reach that level of excellence again were proved wrong.
With the insurgence of a United team led by Portuguese wonder-kid Cristiano Ronaldo in 2006, Giggs and Scholes both started to show the form of old that had won them a place in United folklore.
From here, each passing season seemed to become more fruitful for Giggs, who, despite now aged 38, still arguably plays at the same level of quality that he did as an 18-year-old.
Let;s put that into perspective for a moment.
Ryan Giggs is 38 years old and still plays in the first team of a side that came level on points with this years English League Champions.
What other player in footballing history can boast this level of consistent brilliance?
Loyalty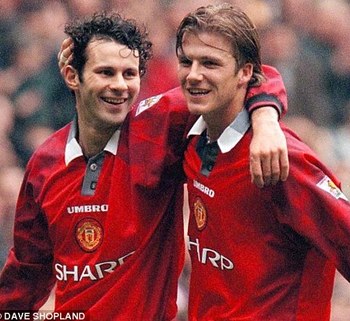 What's the difference between the two men in that photo?
Loyalty.
Yes, Beckham is a United legend, always has been and always will be.
But throughout the past 20 years, despite having the pedigree of being one of the best club teams in world football, United have made a habit of losing their best player to the temptation of foreign shores.
Beckham left for Madrid. Ruud left for Madrid. Ronaldo left for Madrid...can anyone else see a pattern emerging here?
Despite obvious interest from the likes of, who else, Madrid and Milan over the years, Giggs has always kept his feet firmly planted on the soil of Manchester.
OK, many people out there could put forward the very reasonable argument, "Of course he's loyal, Giggs has always played for one of the top teams in Europe; why would he want to leave them?!"
Unquestionably, this is a fair enough point to make.
But what man wouldn't be tempted by the pure white strip of Madrid or the famous Red and Black of Milan?
Aside from just the issue of the clubs involved, there's always the thirst for a new challenge in a different league that can tempt a man.
To show the dedication to United and the English league after all this time is something that a fan from any club should respect.
Giggs has been loyal not just to United, but to the Premier League as a whole.
Team Player
Jamie McDonald/Getty Images
Despite the fact that, for the majority of his time with the Red Devils, Giggs has been in the first team, there have, on occasion, been periods where he has had to settle for a place on the Old Trafford bench.
Rather than mope or moan about his lack of inclusion in the side, Ryan has always made it very apparent that the necessity to push youth talent—as he was once pushed—is crucial in the continuing success of Manchester United football club.
As such, this just serves as an ever greater incentive to Welshman, who uses it as an opportunity to better not only himself, but the abilities of those around him.
Friendly competition for places in the United first team—or the first team of any club, for that matter—are the exact sort of thing that help a set of players flourish.
What good would it do him, or those around him, if week after week, Giggs was selected, knowing there was no possible replacement for his role in the side?
The team would become sloppy and arrogant, and as such, would eventually begin to lose the skill needed to compete at the top of the division.
"Pick your spots, baby," Milton Berle once told fellow comedian Richard Pryor.
That's exactly what Giggs has done over the years.
When it is required of him, Giggsy has no problem sitting in the background and letting others take charge, but when need be, he will always be there to help United out of a jam.
Breathtaking Moments of Pure Quality
There isn't much that needs to be said for this particular slide.
We all know what this man is capable of pulling off at times, and this video demonstrates just a portion of the brilliance that Giggs has brought to the Premier League over the past two decades.
After all, Giggs is one of the best out-and-out players England has ever seen.
Sit back and enjoy the magnificence that is Ryan Giggs.
Big-Game Player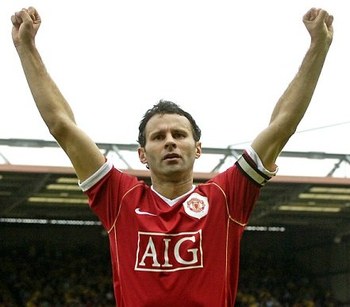 There has been an ongoing argument in football over the past half a decade or so as to whether or not a player can be considered one of the world's best if they do not live up to their expected potential in crucial fixtures.
Certainly, there is a cause for debate over this subject.
Nobody epitomises this inability to play to their full potential in big matches (especially finals) as Bayern Munich winger Arjen Robben.
Robben is the ultimate "semifinal" player, pulling off shows of utter brilliance in the semi—or previous rounds—of a tournament before falling flat in a final.
This week's Champions League clash against Chelsea, as well as the 2010 World Cup final, demonstrated this perfectly.
On both occasions, Robben was gifted several opportunities to win the game for his side, but failed to do so.
Who could forget his TWO one-on-one misses against Iker Casillas in South Africa, as well as the extra-time penalty miss last week in Munich?
Giggs, on the other hand, is generally the complete opposite of this. If you need to rely on a player to get the job done for you over 90 minutes, he is your man.
Its a shame really that Ryan decided to play international football for Wales.
His kind of temperament, not to mention ability, would have served the English team brilliantly over the years.
Without Gigg's crucial performances in big league games, United would undoubtedly have far fewer league titles to their name.
A Footballing Role Model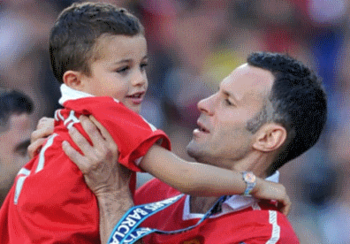 Unfortunately, until recently, the title of this slide could have just been labeled "Role Model" without the qualifier of "Footballing" before it.
The demise of Gigg's social image has been well-documented over the past year.
Nobody can condone the actions taken by Giggs, or have any excuse for them.
What he did was wrong and shows a lack of respect for his family and loved ones.
However, it is my view that a player's actions on the pitch should always be kept completely separate from those off it.
As such, it can still be said that Gigg's is a model professional for any young player looking to get ahead in the beautiful game.
Rarely will Ryan partake in the consumption of alcoholic beverages, and when he does, it is never in copious amounts.
A decent disciplinary record on the pitch is also a shining beacon of example for young players who are perhaps not so well-instructed on this particular subject by the likes of Paul Scholes and Roy Keane.
All this, on top of maintaining a level of peak fitness at all times, are character traits to hold in high esteem.
The self-control and effort put in by Giggs to ensure that he is able to play at the top level is nothing short of heroic.
If only he could have employed these same morals in his social life.
Making the Right Decisions in a Game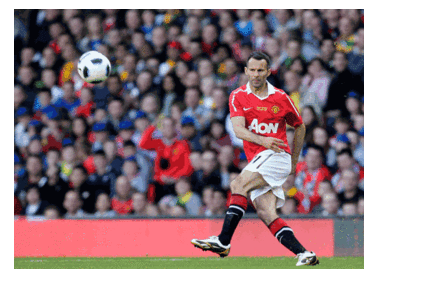 Too many times in recent years have we seen the type of the player that just wants to run at a defence and do all the work themselves.
Although this new crop of players often finds glory, for a short while at least, they can never escape the tag on of being "ball hoggers."
One thing that has always worked perfectly for Giggs throughout his career is his ability to know when to run with the ball at his feet and when to square a simple pass across the midfield.
I'm not saying it's wrong to test the defenders with a burst of pace and skill, but somebody like Nani—a talented player, no question there—will never achieve the same level of success as Giggs.
The rash, and somewhat self-centred, approach to the game that the likes of Nani and others implore lead for far more criticism and error than the clever playmaking styles of Scholes or Xavi.
What makes Giggs so impressive is his ability to blend these two completely contrasting styles.
Nowadays, 99 percent of teams have "wingers." Giggs is the last of a dying breed: the left (or right) midfielder.
Giggs was always the ultimate midfielder in his prime and is still one of the best at this natural role today.
As such, Giggs has always had an almost sixth sense for what to do with the ball.
Sometimes he knows a run down the wing is his best options, but equally, he is able to see when this would be foolish.
If more wingers had this kind of mentality today, we would see a lot more goals and a lot less silly "one man on a mission" runs.
Giggs Is an Icon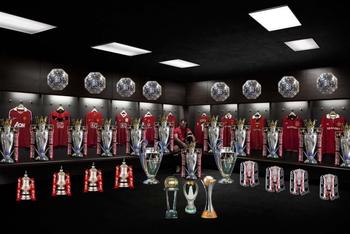 You're looking at the trophy cabinet of Ryan Giggs. Well, you would be if a personal copy of each title Giggs has won at Old Trafford was made for him!
Pretty insane, right?
If you were going to teach your kids about a player that knows how to be successful, then you would point them in this man's direction.
What other player in history could boast this kind of glory?
Although not quite at that iconic, and almost mythical status, just yet (due only down to the fact that he is still playing football and has not yet hung the boots up for good), Giggs will one day be touted as the one of the greatest players to have ever walked this earth.
Ryan has never been "The Best" in the world. But what he has been is constantly "one of the best."
No player will ever achieve in a lifetime what he has in 20 years of Premier League football.
My old school used to have a motto that I never understood properly at the time.
"Olim Meminisse Juvabit."
"One day, you will look back and remember."
Two years on, and I now know exactly what it means.
Keep Reading

Manchester United: Like this team?