UFC 146 & History's 10 Most Awesome UFC Promo Trailers Ever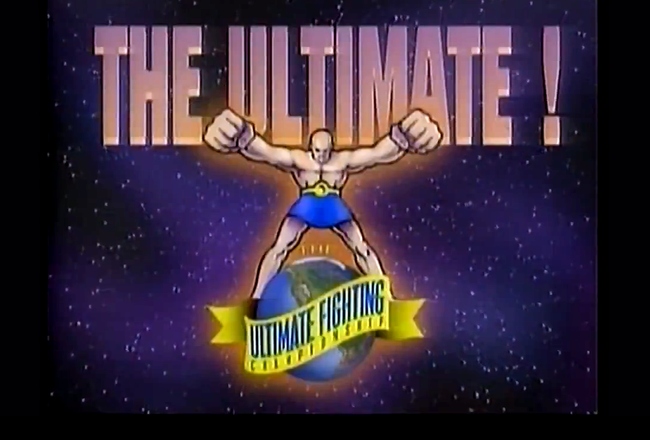 SATURDAY, SATURDAY, SATURDAY!

Hardcore UFC fans know that the Ultimate Fighting Championship has changed drastically in the last 10 years.
Not only is MMA now a mainstream sport, but the look and style of the UFC's promotion materials have slowly evolved from bright neon-colored fight posters to stylish TV commercials and YouTube videos. Even though mixed martial arts will never really shake elements like heavy metal and cheesy voice-overs, it is a welcomed change.
Still, it is fun to remember the UFC's past style—one can't help but laugh at Zuffa's most recent YouTube masterpiece, "SATURDAY, SATURDAY, SATURDAY!" to see that the promotion's marketing department is, as usual, amazingly on-point.
Before the big heavyweight bash this weekend, let's take a look at some of the UFC's most memorable "fan made" and official viral videos, from their most recent work to trailers from a few years ago.
Honorable Mention: UFC 143: Diaz vs Condit
Sometimes, the simplest approach works best.
No matter how badass you want to act, you had better check yourself if you ever see Nick Diaz walking towards you. Don't be scared, homie. Well, be a little scared. Because he can undoubtedly kick your ass.
Overall, the clip is a subtle and effective trailer, replacing the menacing Nick Diaz for the "scary black man" in this footage from Office Space.
Technical Notes: So, we couldn't get rid of the Showtime logo, guys?
10. The Return of the Dragon (UFC 123)
Does anyone remember when we all thought that Lyoto Machida was untouchable, destined to rule the light heavyweight division for years?
Well, we may have been wrong, but don't go completely revisionist. Machida is still one of the best fighters in the world and could someday very well become a UFC Champion again.
Even though Rampage (and possibly the judges) spoiled the return of "The Dragon," this promo does a great job of summing up Machida's character.
Technical Notes: There aren't many ways to make an Enya song sound badass, but this works.
9. Lebron James "Rise" Commercial & the UFC Response (UFC 122)
Even though there is more LeBron James than anything else in this trailer, the idea behind it is pretty damn funny.
In fact, this might be one of the rare occasions where the viral video was more entertaining than the event it advertised. Honestly, I don't even remember who fought at UFC 122.
Anyway, the message is simple—don't watch "King James" make an ass of himself on national television. Watch some free UFC fights instead.
Technical Notes: Diego Sanchez's appearance is as hilarious as it is nonsensical.
8. Will Ferrell Introduces the Fighters for UFC 144
In the run-up to UFC Japan, a handful of fan made viral videos hit the web (and Dana White's Twitter feed) in a suspiciously-timed fashion.
Of course, the obvious fact that these were Zuffa productions didn't hamper the enjoyment factor. When the UFC's marketing and advertising department starts thinking outside of the box, gems like this Will Ferrell trailer work really well.
Just think—if the UFC wasn't so anti-piracy and pro-SOPA/PIPA, this probably would've been an even bigger hit on national TV or their official channel.
Technical Notes: Not every joke here is fabricated. Jake Shields is actually a terrible dancer.
7. Frankie Edgar: The Rocky Balboa of the UFC (UFC 144)
Remember when I said that UFC 144's fan made videos were really a Zuffa project?
For whatever reason, the UFC's video and production teams were really churning out the YouTube clips that February. Maybe the promotion was afraid that no one would watch the fights if they were overseas.
No matter what the case may be, this trailer is an awesome character piece on Frankie Edgar. It will be even more awesome to see him in his rematch against UFC Lightweight Champion Ben Henderson later on this summer.
Technical Notes: Did the UFC really expect people to believe this was fan made? Only NickTheFace does polished cross-fading and audio editing like this.
6. UFC 146: SATURDAY, SATURDAY, SATURDAY!
Now, this is a trailer you will actually find on the UFC's official YouTube channel.
Keep in mind, that transparency is a good thing, because I don't think even the most gullible fight fan would think that some random person would edit this much footage together, and also cut so much original audio.
That being said, this is arguably one of the best UFC promos ever. It has all the gratuitous screaming of a Powerthirst commercial combined with the kind of hammy 90's-era special effects that you might see for a UFC 4 advertisement.
Technical Notes: Did ring girls really look like that in the 1990's? That's kinda HOT.
More Technical Notes: Nice call-out to The Simpsons.
5. UFC 133: Evans vs Ortiz Movie Trailer
Mark Wahlberg as Tito Ortiz? Cuba Gooding Jr. as Rashad Evans?
Now that is a movie I want to see.
Aside from the obvious humor in pairing up UFC personalities with actors that could play them, the in-jokes at work here are pretty good.
Mike Goldberg portrayed as the clueless, goofy broadcaster? Priceless. Arianny Celeste played as the ditzy eye-candy? Sounds just like Jessica Alba's specialty.
Technical Notes: Peter Dinklage is awesome. Speaking of which, you should really watch Game of Thrones sometime (if you haven't already).
More Technical Notes: Samuel Jackson as Dana White? Nah, I don't see it.
4. Lesnar vs Overeem at UFC 141
Among all the UFC 141 trailers and promos, this was by far the funniest.
If you are not familiar with the Internet meme, G.I. Joe's public service announcements have been parodied across the web by filmmaker Eric Fensler since 2003.
Someone at Zuffa is obviously a closet fan of his work, as this UFC 141 trailer follows the G.I. Joe PSA blueprint flawlessly.
If you missed the boat, you can watch and download every G.I. Joe PSA right over here.
Technical Notes: Wouldn't it be awesome if Hasbro made UFC toys or maybe UFC/Nerf toys? It's just too bad Zuffa does not do co-promotion.
3. Find Your Rhythm with UFC 125
Mike Goldberg may be "The Human Soundboard," but you cannot deny that his trademark quips don't make for a great mash-up track.
By far, this is one of the most successful UFC promo videos yet, and for good reason. Using the fight footage to cut together music was a stroke of sheer brilliance by the video editing team, and it even smartly showcases the frequent celebrity presence at UFC events.
Hell, I'm even surprised that they had highlight footage of Brandon Vera looking dominant against an opponent.
Technical Notes: Using Clay Guida's belching as a beat? Genius.
2. UFC Returns to Japan (UFC 144)
Rounding out the UFC 144 fan made viral videos, this odd-looking animation probably sold a few Pay-Per-View buys all by itself.
Ironically, this was the first YouTube video pushed by the UFC for their overseas event, shamelessly (and awesomely) ripping off South Park's "Let's Fighting Love" at the exact time that the promotion was making the MMA news rounds for their stance against pirated material in support of SOPA.
And as Ricky Gervais would say, "It's funny. 'Cause it's racist."
Yes, it is, Ricky. Yes, it is racist.
Technical Notes: Did anyone catch that clip at 0:23 in the video? It is totally taken from Goku and Vegeta's first fight in Dragon Ball Z.
1. UFC on FOX: Silencing the Critics
It may not have the most views on YouTube, but this might be the best promo that the UFC has cut together for a number of reasons.
One—Bob Arum's infamous interview with MMA Fighting's Ariel Helwani is smartly and pointedly cut to pieces when juxtaposed against the footage of the UFC's "homosexual skinhead" fighters.
Two—Each second of this video is essentially a middle finger to the famous boxing promoter, as the sport of MMA has greatly caught up to the sweet science in world popularity.
Three—When the UFC signed a deal with the Fox Network, it was even more groundbreaking than their buyout of rival company Strikeforce. Once we look back on this in the future, we will likely view the UFC/Fox deal as the bookend for Zuffa's struggle to keep mixed martial arts on the airwaves and satellite dishes.
Altogether, it's a memorable piece of editing work by the UFC's promotional team. One day, maybe they will buy the rights to the footage from Vox Media or AOL, and put a more polished version on television.
Technical Notes: Seriously, suck it Bob Arum. MMA is freakin' awesome.
Keep Reading