St. Louis Rams: Monday's Rams News and Notes at Noon
May 21, 2012

Welcome to Monday's St. Louis Rams "News and Notes at Noon," the one stop destination for all major Rams headlines and other items of interest for Rams Nation.
Rams Say Rebuilding Plan Is On Schedule
In this column from Jim Thomas for the St. Louis Post-Dispatch, St. Louis general manager Les Snead contends that the plan to rebuild the Rams is coming along nicely: 
From the time we got here, progress has been made. There's no doubt about that. So we're happy where we're at. We don't want to wait till 2014 (to turn it around). But what we do want to do is be improving, be competing, be thriving—where people can feel the momentum. And then you keep adding parts. Keep jelling as a team.
One of many other points touched on by Snead was the much improved defensive line: 
We've got two young ends (Chris Long and Robert Quinn.) We've added Langford. We've got Darell Scott coming back. Bam! You throw in Brockers, and all of a sudden that unit gets strong. Now the DL becomes a dominant unit.
For a look at other positions addressed in the offseason and many other thoughts and insights from Snead regarding the Rams rebuild, please read the column linked above.
Looking at the NFL's Recent Renovations and New Stadium Projects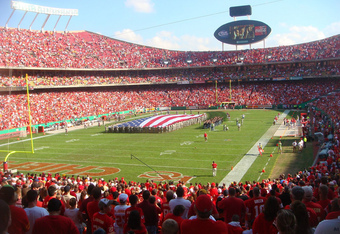 In a very interesting article at stloday.com, many of the most recent NFL stadium projects are analyzed. 
The article summarizes the costs of each new stadium or upgrade, how each project was financed and what some of the intricacies at each venue were.
Gil Brandt Says St. Louis Had the Top Undrafted Rookie Free Agent Haul 
According to this from nfl.com senior analyst Gil Brandt, the St. Louis Rams brought in the top group of undrafted rookie free agents. 
Of all the Rams UDFA's, Brandt likes former Duke safety Matt Daniels the best.  Brandt asserts that he has NFL caliber reaction abilities and speed, and loves the fact that he was a four-year starter. 
Two other NFC West teams crack Brandt's rankings, as you can read in the aforementioned article linked above. 
Ron Clements Offers a Plethora of Rams Info Via CBS Sports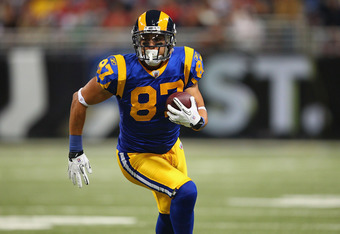 Dilip Vishwanat/Getty Images
Over the weekend, Ron Clements of CBS Sports served up a smorgasbord of Rams related information, found here. 
Among other things, Clements offered interesting quotes from the likes of Robert Quinn, Danny Amendola, Greg Salas, Lance Kendricks and Quinn Ojinnaka. 
Cooler Heads Must Prevail During Dome Talks 
According to Bernie Miklasz of the St. Louis Post-Dispatch, the city of St. Louis and its' leaders need to make sure they fully analyze the situation so they ultimately do the right thing regarding the lease with the Rams and the franchise's future in the Gateway City. 
In this column, Miklasz shares some terrific analysis and insight regarding the aforementioned lease between the Rams and the St. Louis Convention and Visitors Commission and suggests many things to consider when going forward from here. 
Media Member Feels For Danario Alexander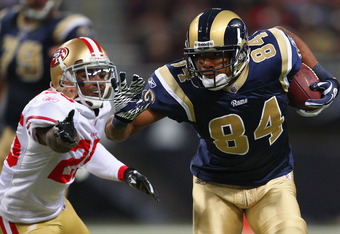 Dilip Vishwanat/Getty Images
Patty Hsieh shared a great deal of thoughts and analysis in regard to the often-injured Danario Alexander in this piece for 101sports.com.  
It is a very interesting read, one where Hsieh also commented on her surprising impressions of former Tennessee Titans cornerback Cortland Finnegan.  
D'Marco Farr and Brian Stull On the Rams Future in St. Louis

In a video interview found here, 101sports.com contributors D'Marco Farr and Brian Stull share their respective takes regarding the Rams future in the STL. 
Both Farr and Stull share some very interesting thoughts regarding the white hot topic of the Rams' lease in the above-linked video submission.  
Stull suggests that the nature of the Rams counteroffer leads him to believe that Rams owner Stan Kroenke may be willing to make meaningful monetary contributions to renovations at the Edward Jones Dome.
St. Louis Claims Tight End Brody Eldridge Off Waivers
According to this via Ron Clements of cbssports.com, the Rams have claimed tight end Brody Eldridge.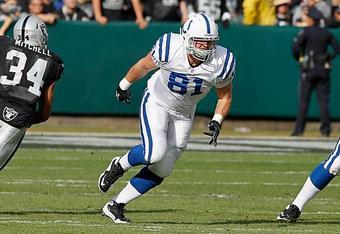 Interestingly, Eldridge is a former teammate of quarterback Sam Bradford while each played at the University of Oklahoma.  The 6'5", 265-pound Eldridge was selected by the Indianapolis Colts in the fifth round of the 2010 NFL Draft.  
Eldridge is primarily considered a blocking tight end at this point.  Over the past two years in Indianapolis, Eldridge totaled 14 receptions and averaged six yards per catch. 
Eldridge will likely battle free-agent acquisition Matthew Mulligan, formerly of the New York Jets, for the blocking TE role.
Jason Smith's Journey Back to Relevance
Former NFL executive Tony Softli offered up a terrific report on 2009 No. 2 pick Jason Smith at 101sports.com. 
In this piece, Softli shares how Smith and offensive line coach Paul Boudreau are working to iron out the rough spots, and what Smith learned through his multiple injuries. 
Smith sat down with Softli and shared numerous thoughts, including this: "One thing I did learn: that no man can control injuries. God has that power. Based on that, I understood it was something the Lord had me go through."
Among other things, Smith also talked about what he wants to accomplish in 2012:
 It's everything I have not done, to do it, and everything I want to do, to do it. On the field, playing football, not making the game harder than it already is. It's the NFL—it's hard. Like Mike (Jordan) says, just do it. No thinking, no wondering, no worrying about the other stuff—just do it, line up, study your plays, know where to go, play with your hands and your feet, keep your head out of stuff, wear your mouthpiece and really keep Sam (Bradford) clean.

I'm a tackle and that's what I really, really look forward to seeing out of myself, and I'm not concerned about anybody else's thoughts—just my own. In the run game, be where I'm supposed to be, move my guy around and make holes for Jack (Steven Jackson), get down field, keep guys off him.
Contract Details for Barry Richardson and Mario Haggan 
Howard Balzer breaks down the contracts of recent St. Louis free-agent additions Barry Richardson (offensive tackle) and Mario Haggan (linebacker) in this piece at howardbalzer.lockerdome.com. 
Besides breaking down the aforementioned players' salaries, Balzer says that the Rams currently have $6.3 million dollars in cap room. 
Shane Gray covers the St. Louis Rams daily as a Featured Columnist for Bleacher Report. You are encouraged to check out the rest of his work here. Gray also owns and operates stlramscentral.com.