MLB Rumors: Veterans Teams Should Take a Chance On
May 21, 2012

Brian Kersey/Getty Images
MLB trade rumors are quickly heating up as the trade deadline is a little more than two months away. Rumors will rise and fall swiftly and it is important to keep your eyes on the major trades. 
Veterans could provide experience, depth and leadership to a club that is heading into the home stretch so they will be important trade bait. 
Here a few veterans that teams should take a chance on. 
Roy Oswalt 
The 34-year-old right handed pitcher heard his name get back in the rumor mill over the weekend. He recently worked out for the Philadelphia Phillies and the Boston Red Sox. Both those teams are last place in their own divisions and would need help to finish out the year strong. 
Oswalt played two seasons in Philadelphia from 2010-2011 as he racked up 16 wins and 11 losses in The City of Brotherly Love. Boston expressed interest in picking up the free agent, who wants to be back on the mound by next month. 
Oswalt also worked out for the Texas Rangers, as Ken Rosenthal of FOX Sports reported. 
Sources: Oswalt threw for #Rangers yesterday. Rangers' issue same as it was in off-season: Oswalt wants to start and they don't have need...

— Ken Rosenthal (@Ken_Rosenthal) May 19, 2012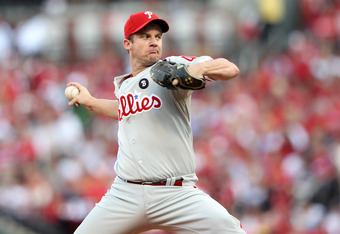 Jamie Squire/Getty Images
"His fastball was off a tick, but he'll get that up. He wasn't throwing too much secondary stuff, but he looked fluid. It probably would take him a few weeks to get ready, but everybody's going to need pitching a month from now, so it's a good investment for down the road" said one scout about Oswalt's sessions. 
It will be interesting to see where the veteran will land. 
The 33-year-old has been swirled up in trade rumors involving him leaving the Boston Red Sox. Earlier in the month, Youkilis suffered a back injury and was placed on the disabled list.
He was sent to Triple-A ball in order to recover and Youkilis is going to be back with Boston early this week as he will be re-evualted in Baltimore on Tuesday. 
But to make matters even more complicated, Will Middlebrooks has launched four home runs and 14 RBI in 58 at-bats in the Youk's absence. 
The Red Sox have a tough decision on their hands but there is still interest for the recovering veteran, as ESPN's Jerry Crasnick reports. 
#Indians and #Phillies are among the teams monitoring Kevin Youkilis in his minor league rehab, says a BB source. #RedSox
— Jerry Crasnick (@jcrasnick) May 20, 2012
Youkilis could still produce for a team if the "The Greek God of Walks" of old shows up. Cleavland and Philadelphia can both use a big bat in their lineup and it will be fascinating to see how Boston handles this saga. 
Joe Saunders
The Arizona Diamondbacks are off to a slow start this season as they are posting a 19-23 record to date with a .452 winning percentage. 
But the trade speculation surrounding the team is already at a high. The National League West isn't particularly strong and Arizona could make a run with a few more pieces intact. 
The club will hope to get those pieces by dealing veteran lefty Joe Saunders, according to Ken Rosenthal of FOX Sports. 
The franchise hopes to listen to offers regardless of their record and just wants to get rid of Saunders. Scott Coleman of SB Nation Arizona writes, "the return for Saunders would not be high, but the move could free up a little bit of salary space for another move."
With young pitchers such as Ian Kennedy, Daniel Hudson and Trevor Cahill showing flashes of brilliance in Arizona, the time for Saunders to part ways with the Diamondbacks will be soon approaching.