Tottenham Hotspur Should Make the Most of the UEFA Europa League in 2012/13
May 21, 2012
Clive Rose/Getty Images
If it wasn't for the overriding, jubilant sounds coming from Chelsea fans this past Saturday in the moments after Didier Drogba's Champions-League-winning penalty, folks throughout England would have probably heard what sounded like a collective sigh.
The noises and words coming from Tottenham Hotspur supporters at that point were probably not as polite-sounding, but symbolically at least, that collective sigh serves as an accurate metaphor for the disappointment felt by all associated with the club after events in Munich.
Chelsea's victory denied Spurs the opportunity to return to the competition their London rivals had just won and was yet another cruel dashing of dreams by the Blues (following the 5-1 FA Cup semifinal) that soured an otherwise very good season for Harry Redknapp and his team.
Instead, Tottenham must make do with Europa League football in 2012/13. It is testament to both how far the club has come in recent years and how devalued the competition has become—to English eyes, this is seen as a disappointment. 
The Way We Were
On the afternoon of Sunday, 30 April 2006, Tottenham Hotspur supporters were celebrating their club's return to European competition.
Spurs had just beaten Bolton Wanderers 1-0, and as is the tradition following the final home game of the season, the fans remained behind to applaud the players and vice versa. Ringing out around the stands of White Hart Lane that afternoon to the tune of The Beatles' "Yellow Submarine" was the delighted chant of "We're all going on a European tour!"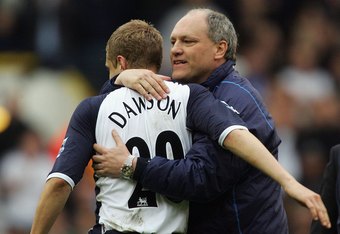 Mike Hewitt/Getty Images
Despite the events the following weekend that would see several Tottenham players fall ill on the eve of a crucial game with West Ham United, an occurrence that allowed Arsenal into fourth place to qualify for Champions League football at their rival's expense, there was still much to be celebrated—the Spurs were back in Europe.
The club's last venture onto the continent, in the 1999/2000 edition of the UEFA Cup, had come to a swift and disappointing conclusion at the hands of Kaiserslautern in the second round. It meant that as of 2006, Tottenham's last proper run in Europe had been in the 1991/1992 season when they were knocked out by Feyenoord in the quarterfinals of the UEFA Cup Winners' Cup.
To compete in the UEFA Cup once more in 2006/07 was an achievement in itself, and the response from both the fans and players suggested they wanted to make the most of the return of European nights at home and abroad.
Martin Jol's team thrilled on their way to the quarterfinals. Even their eventual knockout by Sevilla in the quarterfinals was something of a heroic failure, as the White Hart Lane crowd united in voice to inspire their team to an almost-comeback.
Experimenting with Youth
Tottenham returned to the competition in the following two seasons, by the second of which it had transformed into the Europa League.
In 2007/08 Spurs exited to PSV Eindhoven on penalties in the knockout stages. A year later a weakened side was fielded a round earlier in a loss against Shakhtar Donetsk.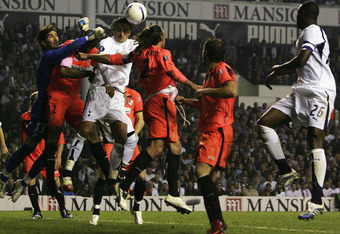 Clive Rose/Getty Images
That second leg against the Ukrainian side was a sign of things to come for Spurs (though not a trait unique to them), with manager Harry Redknapp deciding to field several youngsters in the game—a tactic he replicated in this past season's campaign throughout the group stage.
If it seems as though Spurs completely disregarded the competition on both these occasions, it should not be forgotten how close they were to prevailing regardless of this strategy.
Considering that their focus was elsewhere (with one eye on the Carling Cup final against Manchester United three days later) and that they had fielded youth players while others were out of position (Tom Huddlestone gave a good showing in central defence), Tottenham gave the eventual-champions Donetsk a game of it and, if they had been full-strength, would probably have beaten them. The Ukrainians were genuinely good too, make no mistake.
The youngsters fielded in this past season's edition performed very well, and it was actually a side full of first-team experience (even if some were not regulars at that point) that were below par in the crucial 2-1 home defeat to Greek outfit PAOK.
Learning from the Spanish
The inclination of Redknapp and his coaching staff this upcoming season may well be to approach the Europa League as they did in the campaign just gone: to ensure their best players are fresh and healthy for the Premier League and the hunt for a top-four spot again.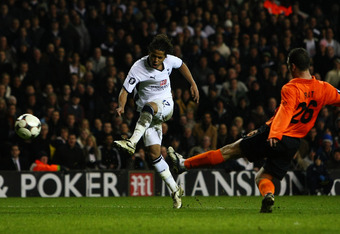 Clive Rose/Getty Images
That is understandable and, indeed, sensible. Should they qualify for the group stage, there will be games in which a second-string side is enough.
But rather than let another year go by in their desire for Champions League football, Tottenham would be smart to not neglect the Europa League entirely.
Whilst the majority of people in England tend to view Europe's second-tier competition dismissively nowadays, that is not the consensus viewpoint on the continent where it is still regarded as something worth winning—and not just when a team reaches the last eight.
The respective journeys of the competition's recent finalists showed as much.
By the time Atletico Madrid and Athletic Bilbao met in Bucharest, their respective sets of fans were desperate for their clubs to cap off memorable campaigns and win some silverware. The players responded with a passionate, well-fought and entertaining encounter with the capital club winning 3-0.
No one involved was under the illusion this was the Champions League, but they were well aware that beyond the necessary tedium of group stage games against Europe's lesser lights, there lie matches equally as challenging and rewarding.
Spurs know so much from their own successes and experiences in years past, even as recently as 06/07.
Those nights could be within their reach again if they want them. And they should, because Tottenham are a club that cannot afford to keep waiting for tomorrow.
With so many unknowns in football, at your own club and elsewhere, looking beyond the present season is a risk few clubs can afford to take.
Regardless of what transpires in the transfer market at White Hart Lane this summer, they have every right—with the level of talent that should be at the club come 31 August—to continue to aspire to the Champions League.
But should it not come, do Redknapp and company really want to look back on another year in which they passed by on realistic opportunities for what ultimately might just be a pipe-dream?