Chicago White Sox: Jake Peavy Among 3 Sox Who Deserve All-Star Berths
May 21, 2012

Mike McGinnis/Getty Images
The Chicago White Sox have only played .500 baseball so far in 2012 (21-21 record), but still find themselves in second place in the abysmal AL Central division.
Thanks to bounce-back seasons from a couple of veterans, the White Sox still have a chance to make the playoffs.
The veteran leadership on this team has them contending, and three of the Chicago vets probably deserve a trip to Kansas City for the 2012 MLB All-Star Game.
Let's take a look at who those three players are.
Paul Konerko
Konerko has been the White Sox's team captain since 2006, and has been rock solid every year since then.
He's currently hitting .367 with eight home runs and 23 RBI.
He's vastly outperforming other AL first basemen like Prince Fielder, Mark Teixeira and Albert Pujols, so he deserves to win the fan vote.
Unfortunately, he'll probably have to settle for being named to the team by the AL manager.
Adam Dunn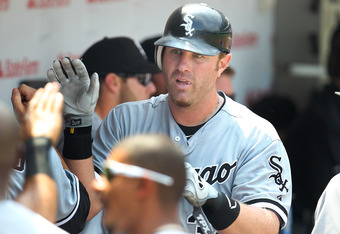 Mike McGinnis/Getty Images
Yes, you read that name correctly. Adam Dunn is actually deserving of an All-Star spot this season.
When it comes to designated hitters, Dunn has been the best in the league in 2012.
His 14 home runs, 32 RBI and .247 average are a far cry from his 2011 numbers, when he had one of the worst seasons in MLB history.
He's redeemed himself thus far in 2012, and deserves a trip to Kansas City because of that.
Jake Peavy
Peavy has anchored the rotation this season, and has been what the White Sox expected him to be when they acquired him via trade from the San Diego Padres.
He has a 5-1 record, a 2.39 ERA and 55 strikeouts in his nine starts. More impressively, he has pitched two complete games, including a complete game shutout against the Oakland A's.
If he can keep up this level of play until the All-Star break, there's no reason why he shouldn't be on the team.
He's been single-handedly making up for the ineffectiveness of the other Chicago starters and should be rewarded for it.