Jimmie Johnson Runs Away with Million Dollar All-Star
May 21, 2012

Jamey Price/Getty Images
Racin' with Russ 
After all the hype leading up to the start of this year's All-Star Sprint Cup race at Charlotte Motor Speedway, Jimmie Johnson ran away with the first 20 lap segment, then wrapped up the night by winning the final 10 lapper to capture the huge $1 million top prize.
The other uneventful segments were won by Matt Kenseth, Brad Keselowski and Dale Earnhardt Jr., who won the other 20 lappers and the $50,000 that goes along with it.
The final segment saw the winners out front, but no one had anything for Johnson, as the Lowe's Chevy was head and shoulders above the rest on this particular night.
Overall standings saw Keselowski, Kenseth, Kyle Busch and Dale Earnhardt Jr. grab the top five spots and money, but none bigger than Johnson's $1.2 million award. Two of Roush-Fenways Ford engine went kaboom long before the event was over, sidelining Carl Edwards and Greg Biffle.
The big buck win for Johnson was his third and seventh for Hendrick Motorsports.
Nationwide
The latest round of racing from Iowa found Ricky Stenhouse, Jr. taking the early lead and giving the rest of the field a driving lesson by running away with his third Iowa trophy in a row.
Elliott Sadler, Michael McDowell, Austin Dillon and Kurt Busch capped the top five finishers.
The race had a lot of passing behind Stenhouse in front of a packed house.
Danica Patrick dropped out of the race one third in after smacking the wall, netting a 30th place finish.
Stenhouse Jr. remains on top of the charts, now with a 28 point lead over Sadler and 43 points over Dillon.
Pick 'em Ups
Perhaps the best race of the weekend was at Charlotte, first-time winner Justin Lofton brought home his first NASCAR truck trophy by holding off the likes of Keselowski, Todd Bodine, Jason Leffler and multi-time champ Ron Hornaday.
Lofton now leads the point by only one marker over Timothy Peters and 16 points over Ty Dillon.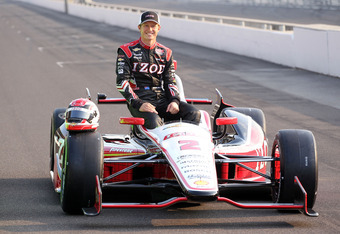 Andy Lyons/Getty Images
Indy Cars
The field was set for this year's Indy 500 over the weekend with Ryan Briscoe eclipsing James Hinchcliffe by the slimmest of margins, in fact, less than the blink of an eye.
Some notables include Rubens Barrichello starting in 10th and ex-F-1 pilot Jean Alesi, starting scratch on the field, some 16 miles per hour slower than the polesitter.
Odds on favorites this year have to be a driver in a Chevy, so pick a Penske driver such as Helio Castroneves or an Andretti hot shoe such as Marco Andretti or Hinchcliffe.
Don't miss it!
From Rumorville
Michael Andretti, a NASCAR Sprint Cup team owner? One of the biggest rumors circulating last week is the possibility of Indy Car team owner Andretti jumping feet first into a two-car operation with Dodge the major backer.
With Dodge down to one or two cars, they must be digging deep to land such a deal.
Further conjecture has Ryan Newman and Kurt Busch as the possible drivers. For me, yes they both have Dodge experience, but Newman has a solid ride with Stewart-Haas…or does he?
With Danica Patrick possibly going full-time next year, there may not be enough room at the Inn for Newman and Patrick.
For Busch, this would be a good fit. Now, if we could just calm him down in the car. Stay tuned.
Chevrolet is dragging their feet. It appears that Chevy is in no hurry to reveal their 2013 NASCAR model.
Latest reports indicate it will be much later this year before anyone will see what the new model looks like. Ford revealed their new model back in January and Dodge has already shown their latest look for 2013. It will be a Chevy SS, but may have an influence from the Holden model from Australia.
That's it for this week.
Next week, RWR will review the busiest racing weekend of the year. From the NASCAR 600-miler at Charlotte to the Indy 500 to the F-1 race on the streets of Monaco, it's a weekend where many race fans are glued to their TV sets.
If you only watch one Formula One race all year, this is the one to watch. The ambience of the Monaco streets, the presence of royalty watching the race, viewing race cars screaming through a tunnel….the whole deal is just awesome.