I have written about the decline and fall of Tim Lincecum before, and his loss against the Oakland Athletics this afternoon was a perfect microcosm for what has gone wrong for the former Cy Young winner in 2012.
After cruising through the first three innings, it all fell apart for Lincecum in the fourth.
Seth Smith lined a pitch back up the middle past the dive of shortstop Brandon Crawford for a one-out single. Smith's hit would be the hardest hit ball allowed during the four-run inning.
The next hitter, Josh Donaldson, flipped a soft liner into left field on a decent slider from Lincecum. After a walk, Kurt Suzuki hit a well-placed ground ball up the third base line for an infield single that would score the Athletics' first run. Then Collin Cowgill got jammed on a 3-1 fastball but flared it into center field for a two-run single.
The A's got four hits in the inning on the eight balls they put into play and only one of the balls was well struck. Lincecum has had bad luck on balls that have been put into play all year and that trend continued today.
If Smith's ball was hit 12 inches to the left, it's a routine play for Crawford. If the ball hit by Donaldson hung up a little bit longer, it's a routine fly-out to left. If the ball hit by Suzuki is 12 inches away from the line, it's an inning-ending double-play.
Alas, those balls did fine holes and Lincecum was knocked out after throwing 40 pitches in that tumultuous fourth inning. Yet the A's didn't hit any home runs or extra base hits, and they didn't string together a bunch of hard hit balls, either.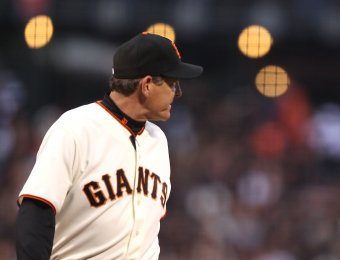 Jed Jacobsohn/Getty Images
The A's put eight men on base against Lincecum and half of them scored. In addition to bad luck on balls in play, he has had bad luck stranding runners after they reach base. The main culprit for that is the high batting average that he has allowed with runners in scoring position.
Stranding runners, preventing hits on balls put into play and preventing hits with runners in scoring position are examples of the bad luck that Lincecum has experienced through the first two months of the season. There really is no good explanation for it and the luck should eventually even out.
The bigger issues for Lincecum are his deteriorating fastball velocity and command. Those trends continued on Sunday. His fastball sat in the 89-91 mph range (as it has for most of the season) and his command was shaky again, particularly in the fourth inning when he issued two walks and threw a wild pitch that allowed the fourth run to score.
If he had not walked the weak-hitting Daric Barton with two men on base, the whole inning might have played out differently. If he had not fallen behind Cowgill, he wouldn't have had to challenge with a fastball in the strikezone
While I feel comfortable predicting that Lincecum will eventually have better luck in stranding runners and preventing hits, I am not certain that he will suddenly find his velocity and command. The Giants are nearly two months into the season now and Lincecum continues to show no signs of improvement in either of those areas.
Sunday was another day that left Giants fans wondering what exactly is wrong with Tim Lincecum. Through nine starts he has a 6.04 Earned Run Average and just one quality start.
The Giants need more from Lincecum, but at this point, they have to question whether or not they are going to get better results.