Tottenham Hotspur Would Be Foolish to Pass Up Newcastle United Striker Demba Ba
May 21, 2012

Stu Forster/Getty Images
After one unlucky result, Tottenham's season is now a wreck of what it once was.
Chelsea's shootout win over Bayern Munich has relegated the North Londoners to the Europa League next season.
The result means Spurs will be hard-pressed to hang onto the likes of Luka Modric, Gareth Bale, Rafael van der Vaart and many of the other players who helped the club to finishing their season in fourth place.
This is likely to have them set back for some years, and the main challenge moving forwards will most likely come in the guise of rebuilding well.
On the bright side, the likes of Bale and Modric should fetch fairly tidy sums and there is a new stadium on the way.
That kind of funding will go some way to bringing in a new generation of star players for the longer term, but for now they need a reasonably-priced core that can keep the club's results ticking over for the next few years.
As Newcastle United have shown, there are always cheap players available in Europe.
Good scouts can track down these players and know the best price at which to bring them in.
But what's available in England should not be ignored. Players who have proven themselves in the English leagues obviously won't have any troubles adjusting;there is a smaller unknown factor surrounding them.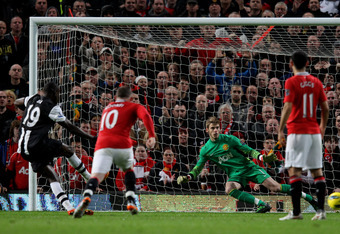 Alex Livesey/Getty Images
One such figure here is Newcastle's Demba Ba.
Passing up the Senegalese striker would be a mistake comparable to Liverpool's signing of Andy Carroll (which reminds me of a funny joke: Liverpool's transfer policy. Ha).
Despite his goal-scoring record (16 goals in just over half a season and a hat-trick at the Britannia Stadium, of all places), Ba has a release clause in his contract of a whacking great £7 million.
Those following the transfer window closely will note the dissatisfaction felt towards his current employers.
I don't honestly blame him. With the arrival of Papiss Cisse, Ba was relegated to more of a left-wing position opposite Hatem Ben Arfa. He's great but not in the same way as Ben Arfa.
To his credit, he kept working hard, but it was clear that in the latter half of the season he was being played out of position.
Now, he wants out and would make an excellent piece of business for whoever picks him up.
The problem is that Arsenal have Robin van Persie and Lukas Podolski already. Aside from having to compete for first-team football, Arsenal's 4-5-1 formation would struggle to fit Ba.
It's a similar story with Chelsea. Even assuming Didier Drogba leaves, Ba will still have to compete with Daniel Sturridge, Romelu Lukaku and Fernando Torres. The problem of formation comes up again, with Chelsea running a 4-3-3 style that would again struggle to place Ba in his natural position.
If he has problems with the way he's played at Newcastle, that is unlikely to change at Arsenal or Chelsea.
Tottenham, however, can easily use him as an out-and-out striker. Their lack of depth at the position also means they can easily guarantee him extended game time. Sure, Emmanuel Adebayor wants to hang around, but he can renege at any moment.
If Ba puts on a Spurs top next season, both parties will benefit. Spurs will be filling a need with a player they can easily accommodate, and Ba can be used in his natural position.