Tampa Bay Buccaneers: Best and Worst of the 2012 Offseason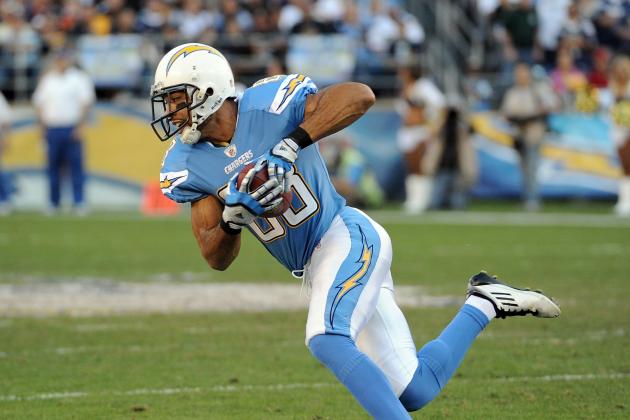 Harry How/Getty Images

As we enter the final phase of the 2012 offseason, it's time to look back the moves that have been made so far and how they will affect teams during the "onseason."
Sorry.
The Tampa Bay Buccaneers certainly made a huge splash in both the draft and the first wave of free agency, so this article will be mostly positive, aside for a few minor issues.
I only will count events that transpired after the Super Bowl as part of the offseason, which means that the hiring of Greg Schiano will not included.
So, let's take a look.
Begin Slideshow

»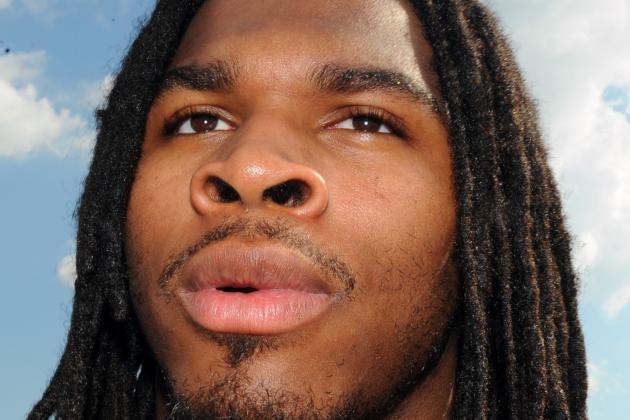 Al Messerschmidt/Getty Images

It all started when Tampa Bay moved back from fifth to seventh overall, in a trade with Jacksonville.
There, the Bucs made it clear that they had no intention of drafting WR Justin Blackmon or CB Morris Claiborne—two highly touted draft prospects who went fifth and sixth respectively. If the team really wanted Blackmon or Claiborne, it would have stayed put instead of moving down.
Instead of a corner, Tampa picked up the draft's best safety, Mark Barron. The Alabama man won two national championships and is just the kind of guy that Schiano wants on his team.
Twenty-four picks later, the Bucs traded up to acquire the 31 overall selection, which came from the Patriots via Denver. With the pick, they drafted the Muscle Hamster, aka Doug Martin the Boise State running back. Though short in stature, Martin plays like a power back twice his size, who can somehow run with the speed of a galloping stallion.
Come late second round, Tampa Bay trades up yet again, this time to grab LB Lavonte David, at 58. Lavonte David lacks height, but brings athleticism, intelligence and fantastic instincts to the table and should be a Week 1 starter—three trades, three knockout picks.
Nicely done.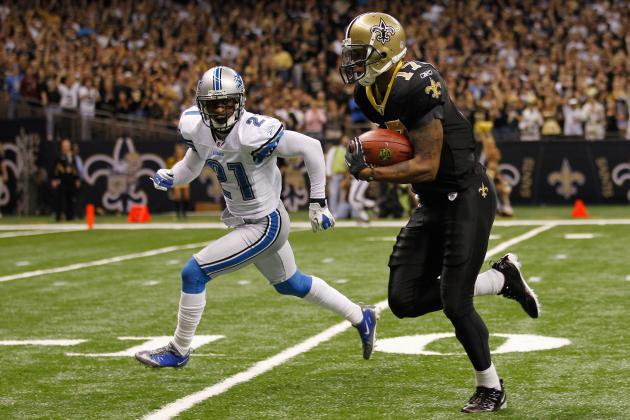 Chris Graythen/Getty Images

Don't get me wrong, I thought that signing Eric Wright was a great move. He's a fine cornerback, who will match up well with Schiano's defense. Wright brings physicality and four years of experience to the table.
What I don't like is the amount of money that went into signing him to the five-year contract. The total is $37,500,000 to be exact.
As I said, Wright is a fine corner, but he has not earned the privilege of being the fourth-highest paid corner in the league—yet.
Matt Miller, Bleacher Report's very own super scout, ranked Wright as the NFL's 56th-best corner. This should not qualify him to make more than players like Brandon Flowers, Joe Haden and Darrelle Revis.
Wright could end up being worth double the amount his contract guarantees him. If that happens, I will be happy to eat my words.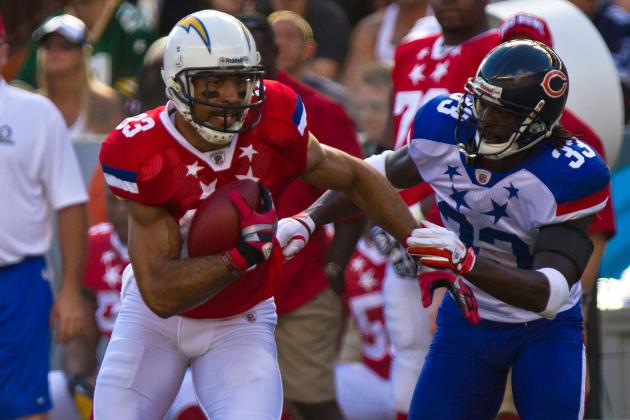 Kent Nishimura/Getty Images

One catchy catchphrase to sum up the Buccaneers' 2012 free-agent class?
Easy.
"Go big or go home."
When reviewing the 2011 season, the Tampa Bay front office must disliked what they saw in the offense. I say this with full confidence because the offense will be revamped for 2012.
The interior offensive line has been shuffled. Center Jeff Faine was cut, and guard Jeremy Zuttah will move to the middle to replace him. Who will replace Zuttah opposite Pro Bowl guard Davin Joseph? None other than the NFL's best interior lineman—Carl Nicks.
One of the Buccaneers' biggest problems was the lack of a true No.1 wideout—a receiver who can stretch the field and draw double teams, freeing up other guys to catch the ball. Signing superstar Vincent Jackson completely obliterated this issue, as he is everything a coach could ever want in a wide receiver, and maybe even more.
With new protection and new toys, Josh Freeman should have a much improved 2012.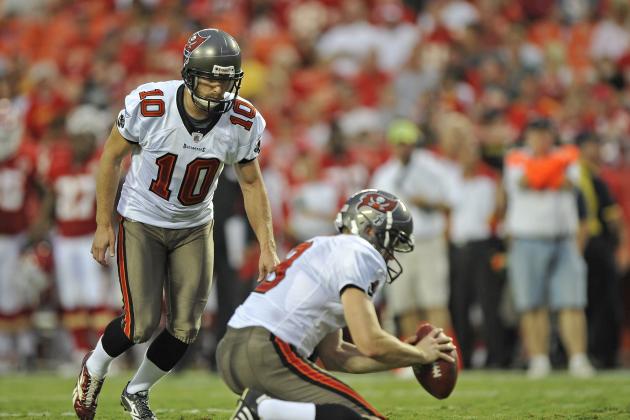 Peter Aiken/Getty Images

Although many people will disagree with me on this, but I think that kickers can be pretty vital to a team's success.
Would the Patriots have won three Super Bowls without the heavenly legs of Adam Vinatieri?
Though we may never know, it's still important for teams to have great kickers.
When the late, great Al Davis drafted Sebastian Janikowski in the first round of the 2000 draft, he thought that the kicker was the missing piece that would help his franchise make the next step. No word on whether Davis was senile just yet, the fact remains that a legend placed that much importance on the position.
Connor Barth's four-year contract will ensure that the Bucs have a quality kicker for the next several seasons, which means Schiano has one less position to worry about on a team that finished 4-12 in 2011.
The official website of the Tampa Bay Buccaneers provides the following stats:
Overall, Barth is the most accurate kicker in Buccaneers franchise history, making 63 of his 75 attempts for a success rate of 84.0%. He recently passed Bryant on that chart, as the former Buc and current Falcon was 98 of 118 from 2005-08. Over the past two seasons combined, Barth ranks as the fourth-most accurate kicker in the NFL, with an 87.5% success rate.
Of course, a kicker won't make or break a season, but a good one like Barth can make a positive impact.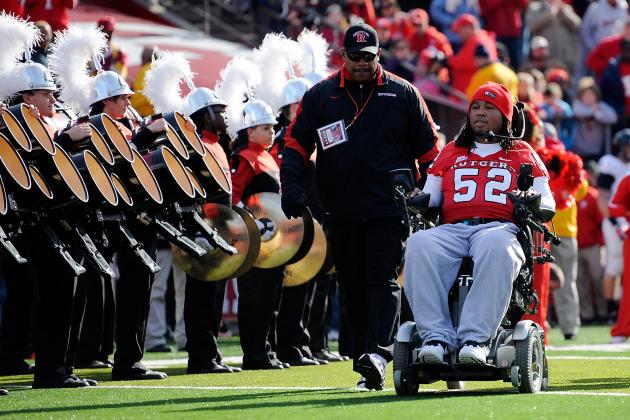 Patrick McDermott/Getty Images

I'm sure everyone has heard Eric LeGrand's story by now, but I enjoy imagining the sound of my own voice as I type, so I'll tell it anyway.
Eric LeGrand was a defensive tackle at Rutgers until he was paralyzed from the neck down during the Army game in October 2010.
Despite his paralysis, LeGrand continued his studies in broadcasting and has now been signed by his old coach, Greg Schiano, as a sportscaster for the Bucs.
His signing marked a turn in how the Buccaneers will make personal decisions. From now on, character will be the biggest factor in scouting and roster moves.
As Schiano himself said in a press release:
The way Eric lives his life epitomizes what we are looking for in Buccaneer Men.
Hopefully, LeGrand will one day walk again.