NBA Trade Rumors: Pistons' GM Joe Dumars Must Move Ben Gordon This Offseason
May 21, 2012

Kevin C. Cox/Getty Images
Detroit Pistons' general manager Joe Dumars has been walking on thin ice for the past few years after some questionable moves, but he can start making up for his mistakes by trading away Ben Gordon in the offseason.
If this sounds like music to your ears, Pistons fans, I can only imagine how happy you'll be reading these quotes from Bulls.com writer Sam Smith on a mailbag question he was asked regarding Gordon being traded:
I've been hearing that the Pistons believe they'll have something going for Ben this offseason. Do you wonder how often he thinks about what life would be like with $10 million less over five years that he hasn't dipped into yet, obviously, and having been able to stand across the floor from Rose being double and triple teamed. He'd have been Ben Jordan.
I believe this would be the proper time to strike up the Hallelujah Chorus.
Even though it seemed like a good move at the time—so it's hard to fault Dumars that much—signing Gordon to a five-year $55-$60 million contract was a mistake. A mistake only to be outdone by the signing of Charlie Villanueva for five years and $40 million, but that's a whole different article.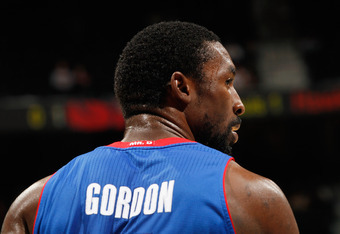 Kevin C. Cox/Getty Images
Gordon has done nothing but underachieve during his time with the Pistons, having gone from averaging 21.4, 18.6 and 20.7 points per game for the Bulls from 2006-07 to 2008-09 to averaging 13.8, 11.2 and 12.5 points per game in the past three years with the Pistons.
To be fair to Gordon, the Pistons haven't done a great job utilizing him, but he also hasn't produced anywhere near the level he was at with the Bulls.
All in all, Gordon has been a huge disappointment.
It's Time To Move On...
Anybody who knows anything about this team recently would tell you that they've been stuck in a battle of past versus present. The 2004 championship was eight years ago now, yet the organization is still holding on to the likes of Tayshaun Prince, maybe Ben Wallace and they undoubtedly held on to Richard Hamilton far too long.
The fear is that Dumars will make the same mistakes regarding Gordon and even potentially Villanueva, but it's rumors like this that should give Pistons fans hope.
This team needs to move forward with Greg Monroe, Jonas Jerebko, Brandon Knight and whichever young talent Dumars can assemble.
They won't be able to grow with Gordon taking time away from the young players and if Dumars can bring back some talent or even a few draft picks via a trade for Gordon, he would be very smart to do so.
Detroit basketball needs a change, so if this rumor is true, Dumars must do everything he can to move Gordon this offseason.