2011-12 San Jose Sharks: Patrick Marleau Report Card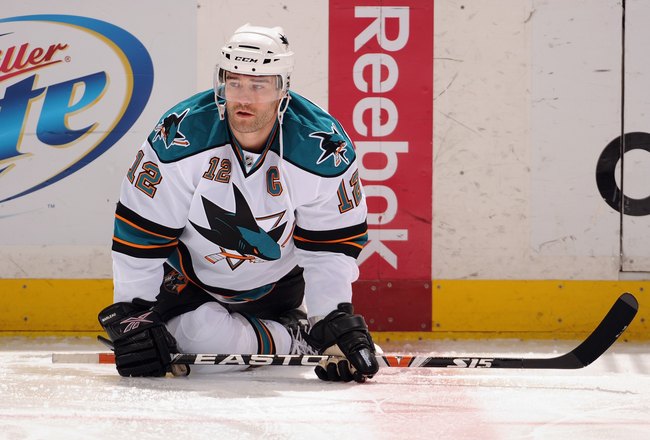 Patrick Marleau was the San Jose Sharks captain from 2004-2008
Harry How/Getty Images
Patrick Marleau is the San Jose Sharks all-time leader in almost every statistic imaginable. He is the player who has represented the franchise, from the skill and talent to the questioned drive and leadership to the low level of success.
That last one is not really even accurate.
Patty struggled in his first four playoff appearances. But since those were all before his 23rd birthday, I give them no credence.
After that, he either led or was within a goal and a point of the team lead in every playoffs but 2007 and 2009. No one did well in 2009, and while that is when a leader steps up and scores, Patty had given no trouble after having the "C" ripped from his sweater the year before because he was not the right player to lead the team.
That does not mean he is not worth keeping. But because like the franchise, his success is never quite enough.
San Jose has won more series than any other franchise but the Detroit Red Wings, dating back before the lockout. Those two teams and the Philadelphia Flyers are the only three to have three conference final appearances in that time.
But the Sharks are the only team in the three without a conference title. In fact, San Jose has won just three games in that round. After Marleau was held off the score sheet while the Sharks were dispatched in five games this April, the question on the mind of every follower of the Sharks is, "Will Patty be San Jose next fall?"
Here is my analysis of what he brings to the table, good or bad, and what to do moving forward...
The Good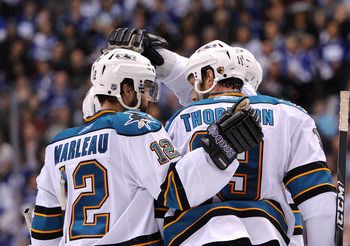 Harry How/Getty Images
Patrick Marleau is one of the highest scoring forwards in his era. One of the reasons has been his durability: Patty has not missed a game in three seasons and has averaged 80 games per season since entering the league in 1997.
This past season, Marleau was one behind the team leaders (Joe Pavelski and Logan Couture) in goals scored. He was tied with Couture for fourth in assists and third on the team overall.
And he has been absolutely clutch.
For instance, he responds with a good game after being called out by former teammate Jeremy Roenick. He had a goal after JR's statement this season, and when called "gutless" after a bad play during a scoreless first six games of the second round of the 2011 playoffs, he scored the series-clinching goal against the Detroit Red Wings.
He also had at least one point (seven total) in all five games in the conference final against the Vancouver Canucks. In 2010, he scored most of the San Jose Sharks' goals when his team was swept out of that round by the Chicago Blackhawks.
In the 2011-12 season, he led the team in game-winning goals with eight—three more than second place Couture. This brought his offensive quotient to 64, a close second to Couture.
He has corrected his once soft defensive focus and is after only Ryane Clowe in hits (84) among the Top Six forwards. His speed is something the Sharks no longer have in abundance. His teammates respect him, and he has had a great relationship with fans and the franchise.
It would be one thing to give up a player like this when he is 35. But Marleau is just 32 and still among the best skaters in the world.
If you are going to give up a commodity like Patty, you had better have someone to fill the hole.
The Bad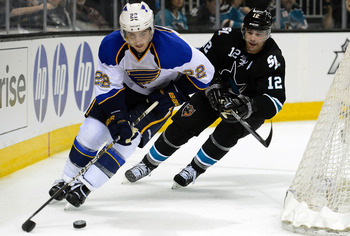 Thearon W. Henderson/Getty Images
Patrick Marleau has been more promise than delivery. He has had three subpar postseasons in seven seasons following the lockout.
Despite not being on the San Jose Sharks postseason injury report, he had no points in a five-game series in 2012.
He had one point outside of Game 5 of the 2009 first round, though both goals were the team's only two game winners.
And he famously pinched up after the Detroit Red Wings had pulled their goalie, allowing Robert Lang a clear path for a tying goal about a half-minute before the Sharks would have taken a commanding 3-1 series lead. They did not win another game, and Marleau went minus-five without a point in the series.
The following year, he was a team-low minus-21, failing to notch either 20 goals or 50 points. He lost the captaincy after the Sharks lost more games than they won that postseason, and Ron Wilson lost his job behind the bench.
That was when I began calling for the Sharks to trade Marleau before his no-trade clause kicked in. After he bounced back in 2008-09 and began to put effort out in his own end, I ate crow. He had three very good seasons and looked like a bargain at $6.9 million.
Now, the team may be looking to move him again, but they are unlikely to get equal return for him for several reasons.
That contract clause will complicate negotiations and drive down his value in a trade. Much as was the case with Dany Heatley last offseason, general manager Doug Wilson has suggested several Sharks thought to have no-movement clauses can still be moved. But even if they merely have veto power, that limits Wilson's options.
At 32, Marleau has a lot of good hockey left. However, his play is more likely to wane than maintain or improve, and that makes him a less-valued commodity, especially to a team like the Columbus Blue Jackets looking to move a younger player in Rick Nash.
But his age and contract clause are not as big in devaluing Patty as his other baggage. He has never played anywhere else and appears all too comfortable in San Jose. He lacks intensity and that becomes a problem with his inconsistency—when a player is not producing, you want to think it is killing him.
Whether he deserves the underachiever label or not, it drives down market value. And while he is putting out defensive effort and hitting the opposition, he is still not a good all-around defender: Marleau averages less than one takeaway per 44 minutes—easily worst among Sharks forwards—and his one block per 50:51 is second worst.
The Ugly Truth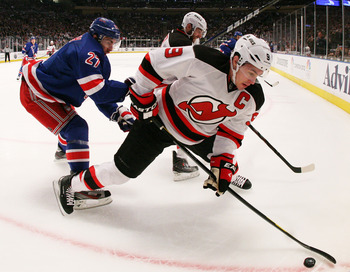 Bruce Bennett/Getty Images
There is no way the San Jose Sharks get anywhere near equal value for Patrick Marleau in a trade. But they can force him to waive any contractual obstacles the same way the Tampa Bay Lightning did with Dan Boyle before moving him to San Jose—threaten to waive him.
Of course, since they may want to make him part of a package to acquire Rick Nash, the threat of the Columbus Blue Jackets grabbing him on waivers offers the Sharks no leverage. They may actually have to follow through with it if they cannot find a trade suitable for all parties.
Why get nothing for a player whose peers voted him among the Top 50 in the world? Because instead of using him as part of a package to get Nash, they can use his cap room to get a free agent like 2010 Team USA hero and current New Jersey Devils captain Zach Parise.
What better way to shake up a dressing room than to dump the face of the franchise and a likely future Hall of Famer?
The reality is Marleau represents a team that lacks passion and playoff success. Eventually, the Sharks cannot rest on being just one of the playoff teams, but they must win games in the second half of May.
Maybe dumping Marleau changes the culture of the team and leads to success before the window closes. If not, it helps them move to the rebuild that will become necessary, anyway.
Keep Reading

San Jose Sharks: Like this team?