St. Louis Cardinals: Whose Injury Hurts Team the Most?
May 20, 2012

Jeff Golden/Getty Images
The St. Louis Cardinals have had some terrible luck with injuries this season.
Pitcher Chris Carpenter, center fielder Jon Jay and first basemen Lance Berkman and Allen Craig have all spent time on the DL so far. 
With injury-prone players like David Freese and Carlos Beltran on the roster, the Cardinals need to get healthier in case of an injury to one of those stars. So far, Beltran and Freese have been healthy and productive, but they are going to need some help to pull the Redbirds out of their recent slump.
They won't be getting any help from the players currently on the DL anytime in the near future though, and there's a chance Berkman might be out the whole season, pending Sunday's MRI.
So which injury hurts the Cardinals the most?
It's not the injury to Jay. Though the team certainly misses his defense in center field and his improved bat, Skip Schumaker and Shane Robinson can shoulder the load for a couple weeks. Robinson isn't as good as Jay at the plate and Schumaker is a little bit rusty in the outfield after becoming primarily a second baseman, but they're holding up just fine.
It's also not the injury to Chris Carpenter. Though his last two outings have been disappointing, Lance Lynn has more than picked up the slack for the Cardinals rotation. Lynn has a 6-1 record with a 2.31 ERA and 49 strikeouts so far this season. While he's still not on the same level as Carpenter, he should be able to hold down that rotation spot until Carp comes back around the All-Star break.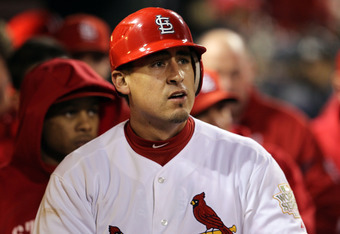 Jamie Squire/Getty Images
So that leaves the two first basemen. Who do the Cardinals miss more: Craig or Berkman?
Surprisingly, it's Allen Craig. In his two weeks of healthy play this season, he's hitting .373 with five home runs and 19 RBI. He's becoming one of the best young power hitters in the game and his hit a couple of monster home runs.
But, his inability to stay healthy is hampering his development. Hopefully, he can get healthy soon and stay healthy for the rest of the year.
If he can stay on the field, the sky is the limit for Craig. The Cardinals certainly could use him in the cleanup spot in the order.
Berkman is certainly still a player the Cardinals will greatly miss, but Craig has more upside at this point of their respective careers.
Without Craig in the lineup, the Cardinals aren't quite as intimidating to opposing pitchers.