Lucian Bute Needs to Fight in Vegas to Prove He Is Pound-for-Pound Top 10
May 20, 2012
Scott Heavey/Getty Images
For any boxer with championship and pound-for-pound aspirations, fighting under the bright lights of Las Vegas is the ultimate proving ground.
Las Vegas has been home to some of boxing's most significant fights, and the hallowed names that have invaded the strip for marquee matchups run the gamut from Archie Moore to Floyd Mayweather—with basically every significant champion in between having graced boxing's Mecca, longing for glory.
Given Las Vegas' stature as boxing's capital city, it is evident that Lucian Bute needs to fight there to prove that he is unquestionably a top-10 pound-for-pound fighter.
Because of its joyfully excessive ambiance and rich, contemporary tradition, Vegas has become the locale where global champions who have outgrown the confines of domestic followings fight for a truly world audience.
Lucian Bute (30-0, 24 KOs), at 32 and as the reigning IBF super middleweight champion, is more than ready for this challenge.
Bute has been the recipient of somewhat understandable criticism because he has fought all of his championship-level fights with some sort of domestic advantage. In his 10 championship fights, Bute, who is now a Canadian citizen, has fought seven times at Montreal's Bell Centre, twice at the Pepsi Coliseum in Quebec City and once at the Romexpo in Bucharest, Romania (Bute's native country).
Bute has garnered a rabid following in Canada, and he routinely packs the Bell Centre and the Pepsi Coliseum to the tune of 16,000 people (or more). This comfort has undoubtedly given Bute a discernible psychological advantage over his traveling opponents, and he has developed a comfort and confidence through fighting in Canada.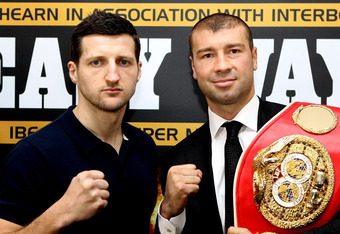 Scott Heavey/Getty Images
While many scoff at Bute's domestic advantage, his progression as a fighter looking to land marquee, Vegas-type fights will actually be helped by the protection he has received thus far.
What most people fail to realize is that routinely fighting in front of a raucous home crowd with a singular expectation carries tremendous pressure. In handling the assumptions that he must win—and impressively so—Bute will be better prepared for the transcendent moment of fighting in Las Vegas where the intensity of the pressure is as much implied (through worldwide coverage) as it is present in the arena.
Fighters from outside of the United States are often intrinsically tied to their adopted or native city. In order to ascend to championship status and economic viability, it has made sense for Bute to fight primarily at home in order to enhance his drawing power and interest from American television networks.
With his Showtime contract, Bute has now reached a broader audience. And people who criticize Bute for having fought almost exclusively in Canada need to realize that marquee networks would not have cared about fights against the likes of Brian Magee, Jesse Brinkley, Librado Andrade and others without the excitement of these fights taking place in large stadiums with an intriguing undercard.
Bute has also been gradually increasing his level of opposition, and this has prepared him for his upcoming clash against Carl Froch (28-2, 20 KOs), as well as future bouts against, hopefully, the pound-for-pound elite.
Froch has questioned Bute's level of opposition and was recently quoted as saying, "It's not just the noise. It's the feel and the vibrations on your chest. The Bell Centre's a reserved crowd. The atmosphere in Nottingham won't be."
This was said when commenting on Bute's strategy of training with loud speakers blaring crowd noise to prepare for the atmosphere in Nottingham.
Clearly, Froch has never been to the Bell Centre or has been watching fights held there on mute.
While the English are wonderfully fanatical in support of their fighters, Bute is used to fighting in electric atmospheres, and his fights in Montreal and Quebec City have become deafening and intimidating for opposing boxers. This is the type of experience that will prepare Bute for Froch and eventual fights in Las Vegas.
What we must not forget is that Bute was left out of the Super Six World Boxing Classic. He has shown a desire to fight the best, and his wins against the likes of the aforementioned Andrade, Edison Miranda and Glen Johnson (to name a few) are credible. Don't get me wrong, Bute will only truly have faced an elite fighter when he tangles with Froch, but to say that Bute is avoiding certain fighters or hasn't proven himself is ridiculous.
This desire to fight the best and attain greatness is where Las Vegas comes into the equation more specifically. In choosing to fight Froch in the Englishman's hometown of Nottingham, Bute is taking another step towards fighting in Las Vegas.
This willingness to travel demonstrates that Bute is not afraid to fight on the road, and looming tilts against, say, Andre Ward or Chad Dawson would likely have to take place at a neutral site.
When you arrive at the pinnacle of boxing, there is no way to lure someone of Ward's credibility to Canada for a fight, largely due to the fact that Ward, as a champion himself, has no reason to concede the hometown advantage to his opponent.
What Bute fighting in Vegas boils down to is the desire to see him pitted against elite American fighters.
In order to fight the most talented Americans and hopefully further unify titles, Bute needs to expect to fight in Las Vegas, which, as any sensible person should know, is the only real place a fight with the magnitude of Bute-Ward could take place.
One of the many admirable things about Bute is his unwillingness to rest on his laurels and rack up meaningless title defenses in his home country against weak opposition.
After his fight against Froch, which Bute should win, it is time for "Le Tombeur" to take his talents to Vegas where they can shine brightest. Then, and only then, will he silence his critics and lure elite American fighters into long overdue showdowns.