Cal Football: Which Former Player will have the Best Rookie NFL Season in 2012?
May 21, 2012

Ezra Shaw/Getty Images
Heaps of criticism has been directed at Eagles quarterback Michael Vick after Philadelphia's lack of success last season.
The defense was just as responsible, however, and that is exactly why linebacker Mychal Kendricks is one of the better picks of the entire 2011 draft.
When Vince Young opened his mouth and dubbed the 2011 Philadelphia Eagles the "Dream Team", lofty expectations were placed upon the immensely talented football team.
Last season was a disappointment for the Philadelphia Eagles due to the failed Juan Castillo experiment and the lack of quality players at the linebacker.
Castillo grew into his role as the season progressed, but the linebacker spot was a weak spot during all of 2011. That is where Kendricks fits in perfectly.
Kendricks played inside for the Golden Bears but will look to unseat Jamar Cheney on the strong side relatively soon.
Kendricks was the Pac-12 defensive player of the year last season and he began his time at Cal as just another undersized linebacker.
He played in all 51 games during his four years in Berkley and started 29 of those during his last three seasons.
As a freshman, Kendricks played so well on special teams and as a reserve that he earned a starting spot in his sophomore campaign.
During his three years as a starter, Kendricks was a versatile play maker that had over 40 tackles behind the line of scrimmage. He showed his ability to make produce in space as well and added seven recovered fumbles and four interceptions to his resume.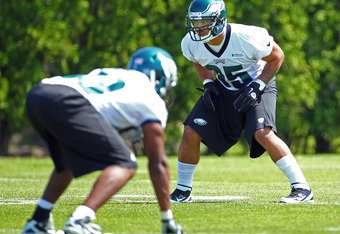 Rich Schultz/Getty Images
When his collegiate career was finished, he was the most decorated player on the team and Kendricks will be counted on heavily to do the same things for Philadelphia.
So far, Eagles brass has been very impressed with the former Golden Bear and you can include head coach Andy Reid in that group as well.
I told you when we took Mychal that it's one of his strengths. He was really good at that in college. You can get a guy coming off the tight end side or the strong side and you feel comfortable with speed, agility, and the ability to adjust to make the tackle when he's moving fast and furious to go forward.It was good to get him introduced to it, and we'll see how he does once we get the pads on.
The Eagles have been in somewhat a rough place lately at the linebacker position, but with the selection of Kendricks and the acquisition of DeMeco Ryans, things are shaping up in a hurry.
Ryans is prototypical thumper who will help solidify the middle of the defense. With a seek-and-destroy linebacker like Kendricks next to him, Philadelphia turned a major position of need into one of strength in a short time.
Kendricks joins defensive tackle hybrid Fletcher Cox, as well as fellow second-round pick Vinny Curry and the trio will help the Eagles front seven be one of the league's best this season.
The defense in Philadelphia was expected to be one of the best in the NFL last season, after they signed Nnamdi Asomugha and traded for Dominque Rodgers- Cromartie.
Now with elite talent at just about every position on defense, the Eagles are primed to return to the playoffs.
After an off season in 2011, when they attempted to hit the free agent market with fury, Philadelphia took a different approach this year. They are building through the draft while setting up for future success, and Kendricks is a huge part of that.