Lionel Messi, Cristiano Ronaldo and the Rest of This Year's World XI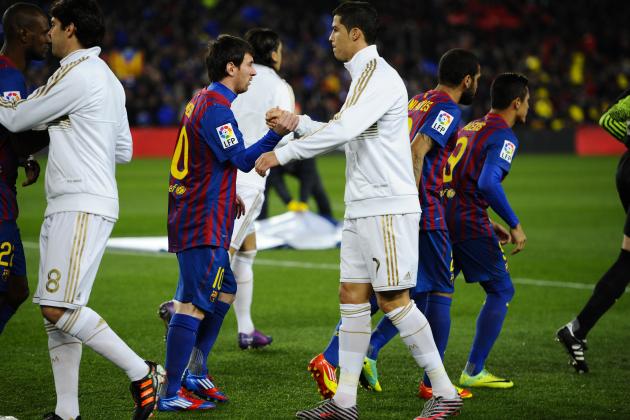 David Ramos/Getty Images

This past year of world soccer has seen some spectacular play, from Messi and Ronaldo's scoring race, to Manchester City's dramatic victory in the EPL and Peter Crouch's wonder goal—and that's only touching on the domestic cups.
We can't forget the Champion's League. Chelsea displayed a "different" style of play and was able to snatch a spot in the final away from Barcelona and then break Bayern Munich's hearts.
None of this would have been possible without some of the greatest players in the game today. Messi and Ronaldo have goal scoring ability that is simply unmatched in the game today. Also, Petr Čech and Manuel Nueur displayed sublime goalkeeping ability. From play-making to defending and scoring goals, there was some true quality in world soccer this past season.
Without further adieu, here is one take on this year's best XI...
Begin Slideshow

»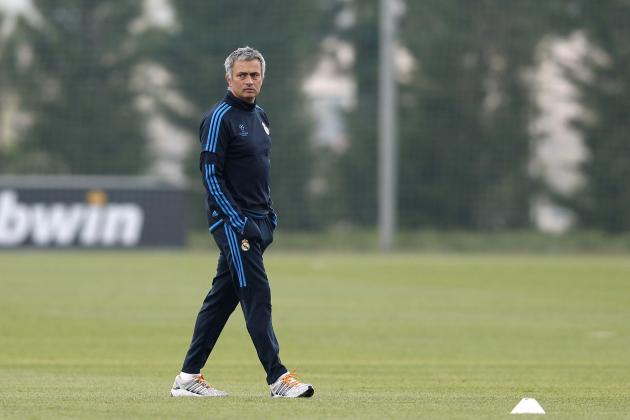 Angel Martinez/Getty Images

In order to decide on the perfect lineup, one must first choose the perfect formation. It's very difficult to decide on the best formation to fit a certain style of play. The formation itself depends on whether or not the focus of the team is on possessing the ball, attacking or defending.
If the focus is on possession, the obvious choice for formation would be Barcelona's 4-3-3 style. Barca specializes in the "tiki-taka," offense which often leads them to 70% possession or more. This offense is made possible by the brilliance of Xavi spraying passes in the midfield.
If the focus is truly on defense, one could try to "park the bus" like Chelsea in the Champion's League. However, with the amount of talent in an all-world starting XI, there would be no reason to ever do this.
It really comes down to possession or attacking, and when there is this much talent on one team, attacking should be the priority. This World XI will utilize Real Madrid and Jose Mourinho's 4-2-3-1 attacking formation and will blow teams off the field just as Los Blancos have done so many times this season.
FORMATION: 4-2-3-1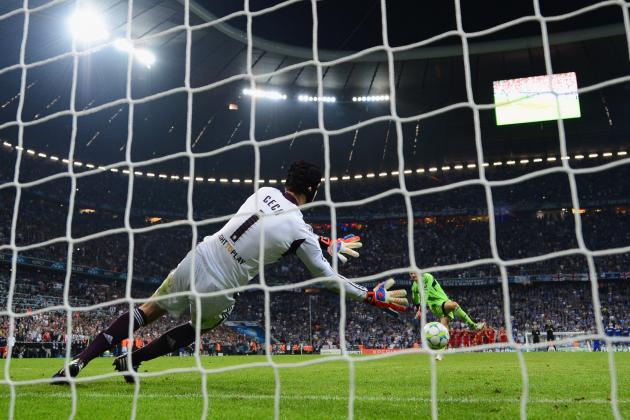 Mike Hewitt/Getty Images

The decision for top goalkeeper this season is a three man race. It comes down to the seemingly invincible Iker Casillas, the young Manuel Neuer and the dependable Petr Cech.
Casillas is the typical choice but, taking into account the dramatic Champion's League, Neuer and Cech beat him out. This past year, it was hard to go wrong with either of these two keepers in the lineup. When they got a chance to go head-to-head in the final, both were still in top form.
Cech had the slight advantage head-to-head, as he made a few more impressive saves, although that does have something to do with the fact that Chelsea was out-shot 43 to 9.
GOALKEEPER: Petr Cech (Chelsea, Czech Republic)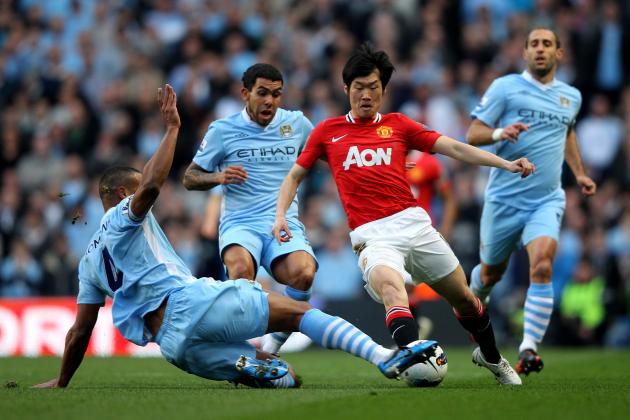 Alex Livesey/Getty Images

The attacking formation calls for two solid center-backs who possess the ability to push forward and two speedy fullbacks who can bomb down the wings.
The first choice at center-back has to be Vincent Kompany. He has arguably been the best defender this season and proved his worth on the offensive end with his brilliant goal against Manchester United a few weeks back.
After Kompany, the selection becomes a bit trickier. Sergio Ramos and Thiago Silva both have strong cases for the second slot. Ramos wins out in this matchup due to his offensive prowess (3 goals, 5 assists) compared to Silva (2 goals, 0 assists). Picking Ramos is as simple as never allowing him to take another penalty-kick.
The fullbacks are a tough choice as well. There are many big names like Ashley Cole, Dani Alves, Marcelo and Philip Lahm as well as a few lesser known players like Kyle Walker and Bacary Sagna.
Lahm has to be the pick at right-back because of his leadership and great form on the field. At left-back, it comes down to the older and absolutely dependable Cole and the younger, flashier Marcelo. In a few years, the pick may be Marcelo. For now, Cole is still the top choice, especially when considering his performance in the Champion's League Final.
CENTER-BACKS: Sergio Ramos (Real Madrid, Spain) and Vincent Kompany (Manchester City, Belgium)
FULLBACKS: Ashley Cole (Chelsea, England) and Philip Lahm (Bayern Munich, Germany)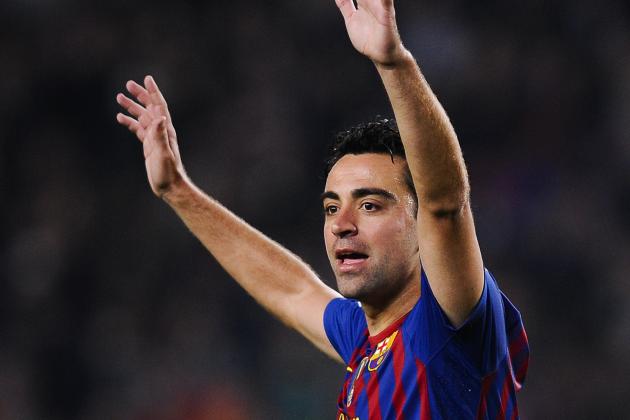 David Ramos/Getty Images

In the central midfield, there will be one offensive minded player paired with a more defensively minded, ball-winning sort of player.
The picture on this slide shows that the offensive pick is obviously Xavi. He is simply the best at his trade in the world right now.
The defensive player is a much tougher choice. One could choose the wonderful Bastian Schweinsteiger or the lesser known Scott Parker. Other choices could be Sergio Busquets or maybe even Sami Khedira. In the end, penalty mishaps against Chelsea aside, Schweinsteiger has been the best of the bunch all season long.
CENTRAL MIDFIELDERS: Xavi (Barcelona, Spain) and Bastian Schweinsteiger (Bayern Munich, Germany)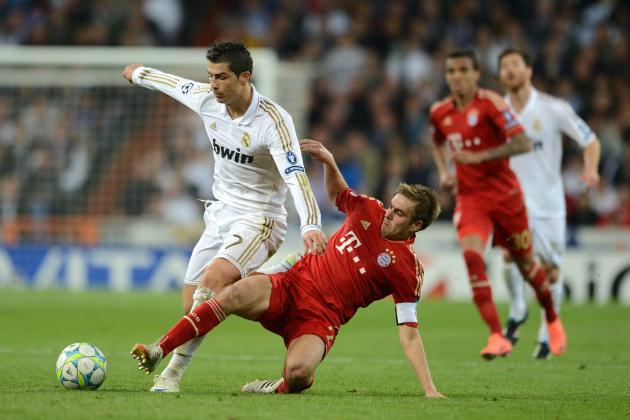 Jasper Juinen/Getty Images

Cristiano Ronaldo scored 71 goals (including 7 for Portugal) this past season. Even considering not having him as the left-winger is pretty silly, although Gareth Bale of Spurs does deserve to have his name mentioned at the very least.
That leaves the team with two slots to fill in the midfield. One central attacker who will support the striker and be the mind behind many of the team's goals and one right-winger who will accompany Lahm down the flank.
The central attacking midfielder or CAM is a tough choice. It depends on style, whether or not you want more of a goal scorer like Wayne Rooney or a creator like David Silva or Mesut Ozil. The choice at striker also affects this decision. For now Lionel Messi will be the choice, as he is used to playing deeper than many strikers and would be brilliant as the CAM in this loaded team.
Right-wing is a decision between the dependable Dutchman Arjen Robben and lesser known, but still very talented players like Antonio Valencia and Juan Mata. The easiest and best choice is Robben, who showed off some wonderful form in the Champion's League despite the loss (and missed penalty) in the final.
LEFT-WING: Cristiano Ronaldo (Real Madrid, Portugal)
CAM: Lionel Messi (Barcelona, Argentina)
RIGHT-WING: Arjen Robben (Bayern Munich, Netherlands)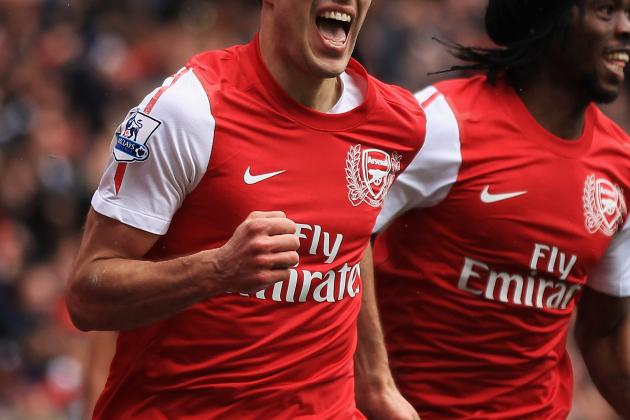 Bryn Lennon/Getty Images

If Messi had not been the choice at CAM, then he would obviously be the choice at striker. However, with his name already on the roster, this choice becomes a bit more difficult.
There are currently a plethora of world-class strikers. The list includes Robin Van Persie, Wayne Rooney, Edinson Cavani, Sergio Aguero and even Neymar.
Van Persie beats out both Rooney and Aguero, as he proved himself to be the best player in the English Premier League this year. That leaves him, Cavani and Neymar.
Cavani is a great player, but does not have quite the talent of either Van Persie or Neymar; this is really a two many race in the end. The more conventional choice is Van Persie, but Neymar has all but proven that he is the real deal.
When it comes down to it, Neymar can't find himself in the World XI until he makes a move to Europe and proves himself in one of the top leagues.
Therefore the pick is...
STRIKER: Robin Van Persie (Arsenal, Netherlands)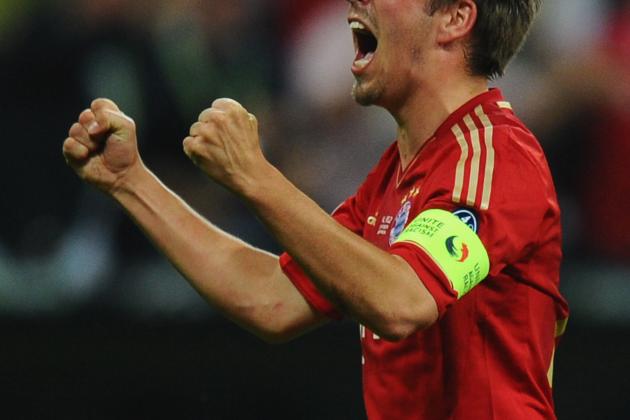 Mike Hewitt/Getty Images

GK: Petr Cech (Chelsea, Czech Republic)
LB: Ashley Cole (Chelsea, England)
CB: Vincent Kompany (Manchester City, Belgium)
CB: Sergio Ramos (Real Madrid, Spain)
RB: Philip Lahm (Bayern Munich, Germany) (Captain)
CM: Xavi (Barcelona, Spain)
CM: Bastian Schweinsteiger (Bayern Munich, Germany)
LW: Cristiano Ronaldo (Real Madrid, Portugal)
CAM: Lionel Messi (Barcelona, Argentina)
RW: Arjen Robben (Bayern Munich, Netherlands)
ST: Robin Van Persie (Arsenal, Netherlands)
Jasper Juinen/Getty Images

When choosing a World XI, it is painful to leave off so many great players. Here are some of those great players:
GOALKEEPERS: Manuel Neuer (Bayern Munich, Germany), Iker Casillas (Real Madrid, Spain), Joe Hart (Manchester City, England)
DEFENDERS: Johnny Evans (Manchester United, England), Kyle Walker (Spurs, England), David Luiz (Chelsea, Brazil), Dani Alves (Barcelona, Brazil), Gerard Pique (Barcelona, Spain), Maicon (Internazionale, Brazil), Thiago Silva (A.C. Milan, Brazil), Bacary Sagna (Arsenal, France)
MIDFIELDERS: Andres Iniesta (Barcelona, Spain), David Silva (Manchester City, Spain), Juan Mata (Chelsea, Spain), Frank Lampard (Chelsea, England), Mesut Ozil (Real Madrid, Germany), Clint Dempsey (Fulham, United States), Cesc Fabregas (Barcelona, Spain), Sergio Busquets (Barcelona, Spain), Xabi Alonso (Real Madrid, Spain), Sami Khedira (Real Madrid, Germany), Antonio Valencia (Manchester United, Ecuador), Gareth Bale (Spurs, Wales), Yaya Touré (Manchester City, Ivory Coast)
STRIKERS: Wayne Rooney (Manchester United, England), Edinson Cavani (Napoli, Uruguay), Neymar (Santos, Brazil), Sergio Aguero (Manchester City, Argentina), Karim Benzema (Real Madrid, France), Didier Drogba (Chelsea, Ivory Coast)