Rangers vs. Devils: Game 4 TV Schedule, Live Stream, Spread Info and More
December 3, 2016
Bruce Bennett/Getty Images
With Game 4 of the New York Rangers vs. New Jersey Devils Eastern Conference finals series Monday night, it's time to break down exactly what it will take for a team to gain the definitive edge in this series.
As much as the Devils do have a chance to tie the series, the Rangers are the better team and they are playing lights out.
New Jersey is in serious trouble.
Where: Prudential Center in Newark, N.J.
When: Monday, May 21 at 8 p.m. ET
Watch: NBCS, CBC
Listen: ESPN NY 98.7 FM (New York) and WFAN 660 AM (New Jersey)
Live Stream: CBC.ca
Betting Line: (Covers.com)
Over/Under: 4.5, Spread: New Jersey -1.5
With this battle being for New Jersey's playoff life, I think the defensive style that got both teams to the big dance will be tossed out the window. I see the Rangers winning and seven goals being scored in total. So feel comfortable taking New York with the points and the Over.
Injuries (via TSN)
Rangers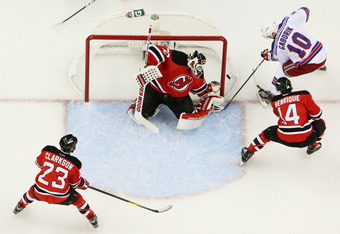 Jim McIsaac/Getty Images
Chad Kolarik: on injured reserve, out indefinitely
Michael Sauer: on injured reserve
Mats Zuccarello: out indefinitely
Brandon Dubinsky: out indefinitely
Devils
Henrik Tallinder: on injured reserve, out indefinitely
Jacob Josefson: expected to miss four to six weeks
What They're Saying
Sportsnet NHL insider Nick Kypreos is reporting on Twitter about the possible disciplinary action against the Rangers' Brandon Prust:
#SNPlayoffs Confirmed #Rangers Brandon Prust will be have a hearing tomorrow morning with #NHL regarding his elbow on #Devils Volchenkov

— Nick Kypreos (@RealKyper) May 19, 2012


The Broadway Hat says exactly what the NHL fans have been thinking during this series:
Remember when the Devils were an offensively minded team and we were worried about the Rangers scoring goals? Me neither.

— The Broadway Hat (@TheBroadwayHat) May 19, 2012
Player to Watch: Henrik Lundqvist
With two shutouts so far in this series, there is no bigger x-factor in this Game 4 than New York's star goalie Henrik Lundqvist.
If the popular goalie can take over the game and hold the Devils down, his offense may just have enough in the tank to bury New Jersey. All eyes will be on the New York netminder Monday.
Key Matchup: Ilya Kovalchuk vs. Marc Staal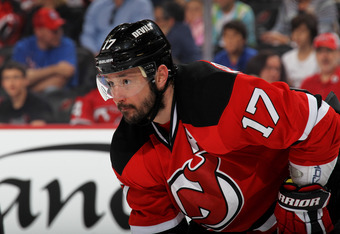 Bruce Bennett/Getty Images
With New Jersey realizing that their chance to get back into this series is now, they will be pushing hard for Ilya Kovalchuk to take more shots and drive the offense.
New York must counter this by draping Marc Staal all over the sniper. The winner of that battle will help his team win the game and gain the series momentum.
Prediction: New York 4, New Jersey 3
After a brutal game, the Rangers will take the 3-1 series advantage and steal all the momentum. With New Jersey's spirit broken, it's just a matter of time before New York puts their Atlantic Division rivals away for good in the 2012 NHL playoffs.
Check back for more on the National Hockey League as it comes, and check out Bleacher Report's NHL Page to get your fill of all things hockey.