Zach Parise Shuts out the Media After Game 3 Loss, Father's Comments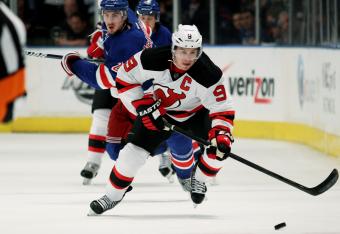 Zach Parise will be the most sought-after free agent in the NHL this summer
Bruce Bennett/Getty Images
Zach Parise is typically one of the most personable, talkative members of the New Jersey Devils. As the team's captain, one of its superstars and arguably the face of the franchise, he's typically the most sought-after interview in the dressing room. He's been badgered about his plans following this season, when he becomes an unrestricted free agent, as well as every nuance of the Devils team.
For the most part, Parise handles the questioning with the professionalism one would expect from a team captain.
A curious thing happened yesterday, though, as he refused to talk to the media following New Jersey's Game 3 loss to the Rangers.
Speculation why Parise refused to talk spanned from frustration after the Devils loss to him not wanting to answer the myriad of questions concerning his father's recent comments about where his son could fit in next season. Devils head coach Peter DeBoer had his own opinion on the subject:
"I don't know anything about that, if he didn't (talk to the media), he's got a good reason," DeBoer said in the postgame press conference. "I don't have anything to say about that. Do you have a question about the game?"
When DeBoer was asked if he thinks Parise is getting frustrated, he responded, "No."
Turns out, it was probably a bit of both. Parise told Tom Gulitti of the Bergen Record that he didn't speak to the media because he "was just frustrated about how the game went. I probably would have said something I regretted."
Parise's was certainly a smart approach when dealing with the New York, New Jersey and national media, but the question remains as to how much his father's comments factored into his decision not to speak to anyone after Game 3.
Will Zach Parise stay in New Jersey after this season?
J.P. Parise, never one to shy away from a controversial comment, ignited an uproar with New Jersey's fan base last week when he said of the Rangers and their head coach, John Tortorella:
"Zach likes Torts a lot, Zach knows how to work, he doesn't shy away from the discipline part of it. He'd fit right in there."
They were curious comments from the elder Parise, particularly coming while the Devils are in the thick of a tough Eastern Conference Final series with the Rangers. Some saw it as a "shot across the bow" of Lou Lamoriello and the Devils organization.
J.P. Parise went on to praise the New York fans, including the Rangers and Islanders faithful.
"I never wanted to come to New York. I thought it was a dirty, ugly place," he said of his time before coming to play for the Islanders for the 1974-75 NHL season. "I spent three years there and it was terrific, the fans there, Islanders and Rangers, they're so passionate, it's hard to see that in a lot of other places."
Conspicuously absent was praise for the New Jersey fans.
Meanwhile, Zach Parise has continued to deflect any questions regarding his contract situation, which will undoubtedly be complicated by the Devils' troublesome financial situation.
"We've done a good job of concentrating on what we have to do and not allowing these underlying stories to take over what we're trying to accomplish," the younger Parise said last week, undoubtedly referring in part to the drama over his status after this season.
Right now, the Devils are in a 2-1 hole in the Eastern Conference finals to the Rangers. Their attention is obviously focused on the ice, but as soon as the playoff run ends, Parise's status will become the center of the Devils universe.
This article is
What is the duplicate article?
Why is this article offensive?
Where is this article plagiarized from?
Why is this article poorly edited?

New Jersey Devils: Like this team?