Bayern Munich vs. Chelsea: Plays That Will Go Down in Champions League History
May 20, 2012

Laurence Griffiths/Getty Images
Chelsea defeated Bayern Munich in what will undoubtedly go down as one of the most memorable Champions League Finals in history.
It took penalty kicks, a few lucky moments and a few heroes to make it happen, but when all was said and done the Blues are able to call themselves the kings of European soccer, while Bayern Munich can only think of what could have been.
It's truly a fascinating dichotomy, isn't it?
It was an incredible match that saw more than its fair share of epic moments, but which of these moments will be the ones that fans talk about for years to come?
Here are the plays that we will always remember:
Thomas Muller's Goal for Bayern Munich to Break The 0-0 Tie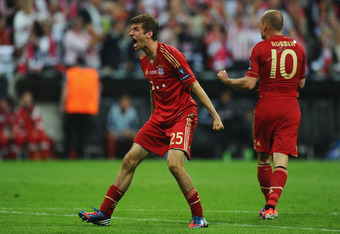 Mike Hewitt/Getty Images
This was the point in the match where the tide changed for both teams, so it is arguably the most important point. Mueller put in a nice header to break the stalemate and put all the pressure on Chelsea.
Honestly, it felt like Bayern Munich had won the match at that point, as Chelsea and its fans seemed deflated. All Bayern had to do was play good defense and run out the clock.
Little did we know...
Didier Drogba's Header To Force 1-1 Regulation Tie and Extra Time
Drogba will go down as the hero of this match, and it all starts and end with this beautiful header. He was able to track down the corner kick and rocket the ball into the top corner of the net, which in turn gave Chelsea new life and forced extra time.
Without this goal, we'd be talking about Bayern Munich as the winners and Chelsea the team with missed opportunities.
It will undoubtedly be a moment that both Chelsea fans and fans of football in general always remember.
Arjen Robben's Extra-Time Penalty Kick Blocked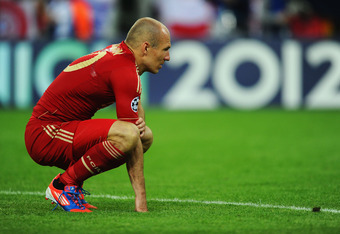 Mike Hewitt/Getty Images
One team will look back on this moment fondly, while the other will most likely have nightmares about it.
Robben had the chance to essentially put the pressure right back on Chelsea and perhaps set his team up for the win after a yellow card on Drogba in the box. All Robben had to do was dupe out Chelsea keeper Petr Cech, but Cech guessed right and blocked the shot.
It was heroic play from Cech, and it will be a blocked penalty kick that goes down in history.
Drogba's Penalty Kick To Win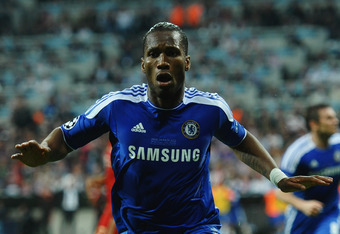 Laurence Griffiths/Getty Images
How does one adequately describe this moment? It was beautiful, it was poetic and it was just. It will be an image that goes down in Chelsea history, Champions League history and football history.
Which moment will you remember the most from the 2012 Champions League Final?