FC Bayern München: A Look Back at the Champions League Final and the Season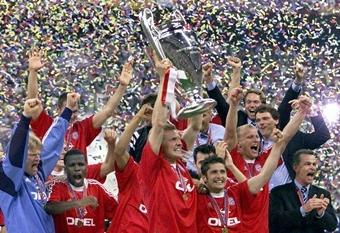 Stefan Effenberg and the 2001 clan

Here is a new nickname for my team: "The Chokers."
We all know Dutch players are some of the biggest chokers in the world. When Arjen Robben steps up to take a penalty, you know he will choke. In my honest opinion, though, it was really one of the calmest Germans who choked: Jupp Heynckes.
If there was any lesson to be learnt after 1999, it was this: Never substitute your best player. Otmar Hitzfeld did so and lost a final they were winning. This time around, Bayern lost a final they should have won three times over.
There is no excuse for not being able to hold onto a lead for seven minutes. There is no excuse for missing a penalty in extra time. And finally, there is no excuse for losing a shootout in which your keeper scores but a striker and a midfielder fail to find the target.
Neuer had previously said that penalties are all down to luck. He was definitely on the money there. In 2010, Bayern deservedly lost the final. Inter Milan scored two goals in regulation time and fended off Bayern.
Bayern should have been awarded a penalty, but yesterday, Bayern should have taken their chances. I have never in my life as a Bayern fan seen Bayern receive 20 corners, of which almost none went into the penalty area.
I have never seen Robben play as poorly as he did with the ball at his feet as he did yesterday. Mario Gomez missed a sitter, and Müller had a horrendous miss earlier in the game. In extra time, Daniel Van Buyten didn't even run to put the ball into the back of the net.
I will say this, though: Bayern was the better side and deserved to win. Previously, it was always said that Spanish teams were underachievers. They were great teams without luck on their side. I think the same can now be said of Bayern and the German teams from 2006 to now. They are talented sides falling by the wayside.
As Roy Makaay put it, nobody remembers the losers. That is true of every final except that of 1999. For all Bayern fans who watched that final, I am sure that this defeat was inevitable. For all of us who did not watch it, this is the most painful by far. 2001 is all we have to hold on to in terms of a victory in this competition.
Tonight, I was wishing Giovanne Elber or Makaay was on the pitch. Nonetheless, I thought Philipp Lahm, Anatoliy Tymoshchuk, Thomas Müller, Manuel Neuer, Diego Contento, Bastian Schweinsteiger and Franck Ribery all had great matches. Toni Kroos and Jerome Boateng did not perform too badly in their first-ever Champions League final.
And now that all is said and done, I will say this: Even today, I would never swap a red shirt for a blue one, or for that matter a black and yellow one. This hurts a lot—I would be lying if I said it didn't. One Chelsea fan wrote that he would be supporting us next year. We have won a lot of hearts with our displays, but once again, we have not returned with the trophy.
As far as the whole season is concerned, we have managed to pull off a "Neverkusen." But we have come a long way from last season. We had a good season in the Bundesliga and recorded more points than we had in the past three seasons.
The Pokal final defeat hurt, but again, we lost in the semifinals last year and came one step better this year. In the Champions League last year, we were knocked out in the Round of 16 by Inter and came three steps better this year.
As an Arsenal fan once said, she would take qualifying for the Champions League every season over a dark period such as the one Liverpool are going through now. I would rather finish second in the league rather than sixth and, of course, I would take these results over the results we had between 2006 and 2009.
Next season, not too many things will change. We will have the same squad with the additions of Tom Starke, Dante and the marvelous Xherdan Shaqiri. Ivica Olic is leaving, while Hans Jörg Butt is retiring.
Spare a thought for Butt, who has now lost three Champions League finals. Butt started in two of those—2002 with Leverkusen and 2010 with Bayern.
Of course, next season, a barren run is to be expected with the Euros just around the corner. Last night, I honestly felt that I would not watch the Euros.
Football has given me a lot of aches considering that I support Germany and Bayern. But it has given me plenty of good days, too.
Just before I sign off, let's take a look at some of the great wins of this season:
Bayern 7-0 Freiburg
Bayern 5-0 HSV
Bayern 2-0 Manchester City
Bayern 7-0 Basel
Bayern 7-1 Hoffenheim
Hertha 0-6 Bayern
Bayern 2-1 Real Madrid
Bayern 0-0 Gladbach (Bayern won on pens)
And here is a look back to some of our best wins over the last three years in the Champions League alone:
Bayern 2-1 Real Madrid
Bayern 7-0 Basel
Inter 0-1 Bayern
Bayern 2-0 Roma
Bayern 2-1 United
Juventus 1-4 Bayern
This defeat will take a lot of time to get over. But as many former players pointed out, if we hadn't lost the 1999 final, we wouldn't have won in 2001. Let's hope with a team that will remain unchanged and will in fact increase in quality, Bayern comes back to the final in 2014 and claims it in someone else's stadium.
Finally, if Chelsea fans want to celebrate their victory, I would like them to comment on another article and not this one. Comments are welcome from any Bayern fan and from any Chelsea fans who don't want to gloat as well as any neutral.
This article is
What is the duplicate article?
Why is this article offensive?
Where is this article plagiarized from?
Why is this article poorly edited?

FC Bayern Munich: Like this team?