Bayern Munich vs. Chelsea: 6 Things We Learned from the Champions League Final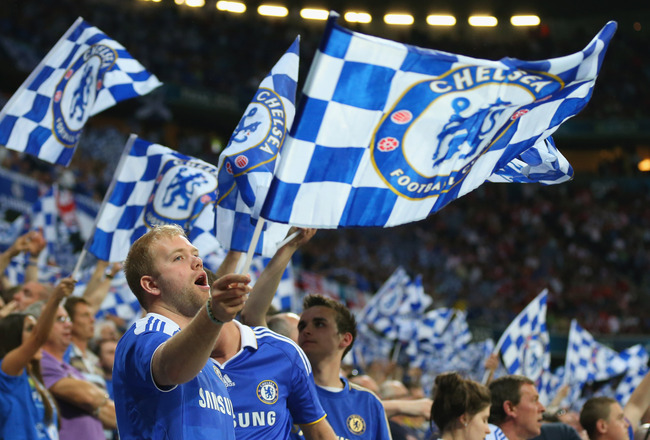 Alex Livesey/Getty Images
Chelsea are the champions of Europe for the first time.
Roberto Di Matteo's men claimed the club's first European title by beating Bayern Munich 4-3 in a penalty shootout Saturday in Munich.
The Blues' final match in a memorably wacky European campaign largely followed the script they had written all spring. First, Chelsea erased a 1-0 deficit late in regular time. Then, they survived a Bayern Munich penalty in extra time.
Chelsea's fans will point to the heroic performances of Ashley Cole and Didier Drogba. Critics will point to the endless millions of Roman Abramovich.
Regardless, only one London club can call themselves European champions today. That club is Chelsea.
Here are six things we learned from Saturday's final.
Fluke? Destiny? Deserved?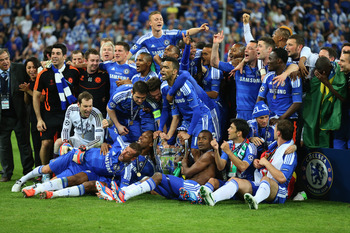 Alex Livesey/Getty Images
Some would call Chelsea lucky, champions by way of fluke.
Others would call Chelsea opportunistic, a team destined to win.
Their fans, of course, would call Chelsea deserving champions, the best in Europe by point of fact.
The truth, as usual, probably lies somewhere in between. As we attempt to sort it out, let's consider these facts.
Other Chelsea teams in the Roman Abramovich era have been better. Much better.
And other teams played better than Chelsea in head-to-head matchups this season, from Napoli to Benfica to Bayer freakin' Leverkusen to Barcelona to Bayern Munich.
But none of them could beat Chelsea when it really mattered.
When it really mattered, Chelsea refused to lose. And what's more, they didn't seem capable of losing.
Even when they trailed Barcelona 2-0 in the Camp Nou. Even when they trailed Bayern 1-0 in the closing minutes of the final and in the early stages of the penalty shootout. Even when Arjen Robben took his ill-fated penalty early in extra time.
As much as I hate to admit it, Gary Neville was right when he repeatedly (and gleefully) proclaimed during Saturday's telecast that something out of the ordinary was going on with Chelsea.
Not much about Chelsea's run to Europe's most prestigious club title made sense. But sometimes football doesn't have to make sense.
That's why we watch.
Great Man Theory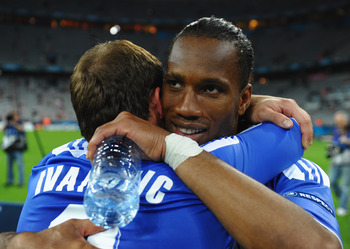 Laurence Griffiths/Getty Images
Those who took a few history courses during their post-secondary education will probably remember the so-called "Great Man Theory" put forth by professional codger and economics enthusiast Thomas Carlyle.
For those who luckily avoided it, the theory claims that much of human history can be explained by the outsized influence of certain "great men." These truly great dudes bent the wills of others and shaped the very course of world events by means of their irresistible personalities and power.
Julius Caesar. Muhammad. Luther. And now, if you watched any of the Champions League knockout stages this spring, Didier Drogba.
I wrote in the last slide that much of Chelsea's run to the Champions League title didn't make sense. But the unstoppable power of Drogba made perfect sense. Forgotten under former manager Andre Villas-Boas, Drogba stormed back into the limelight under caretaker boss Roberto Di Matteo.
And when he did return, Drogba made it clear he wasn't going to leave without doing something special.
All spring, we saw the Didier Drogba of old. He terrorized overmatched defenders with power and pace. He held up play, linked up play and created opportunities all his own out of nothing.
Without him, Chelsea could not have beaten Barca in the semifinals. And without him, Chelsea would have lost 1-0 to Bayern Munich on Saturday.
First, Drogba scored the unlikely equalizer—a bullet header into the top near corner mere minutes after Bayern had finally broken through. It came on Chelsea's only corner of the night. Then, he stepped up to take the decisive penalty.
There was no way he was going to miss. And now there's no way Chelsea can let him go this summer.
Give Him the Job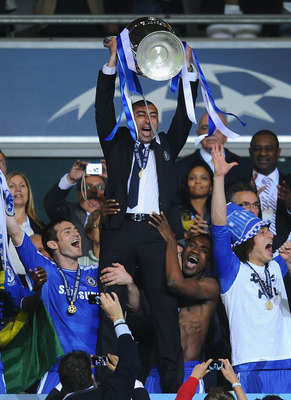 Mike Hewitt/Getty Images
Likewise, there's no way Chelsea can let Roberto Di Matteo walk this summer.
After the final whistle, Bayern Munich manager Jupp Heynckes heaped praise on Di Matteo by saying the Italian deserved a three-year contract with the London club.
Di Matteo deserves at least that much.
The 41-year-old Italian took over from Andre Villas-Boas in March and turned a struggling, scuffling team into FA Cup and Champions League winners. That's my idea of getting things done, and in the world of football, managers are judged on results.
Not even Jose Mourinho won the European title with Chelsea. Roberto Di Matteo just did it.
Chelsea owner Roman Abramovich would be foolish to look anywhere else for Chelsea's next full-time manager.
Even Germans Can Miss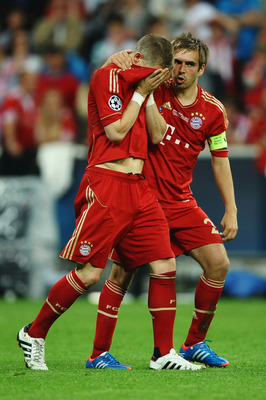 Laurence Griffiths/Getty Images
Everybody knew Germans don't lose penalty shootouts.
Now, everybody is searching for answers.
It seems almost unthinkable that a German club could lose a penalty shootout in a major final, and it seems even more unthinkable that an English club could be responsible.
Believe it.
Robben Choked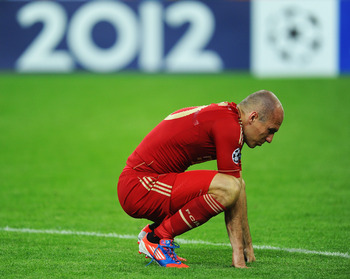 Mike Hewitt/Getty Images
Arjen Robben had the chance to complete a dream final. Instead, he's now living a nightmare he'll never forget.
Bayern's No. 10 had a penalty early in extra time that would have all but sealed a victory against his former team.
Instead, the Dutchman choked. Robben will never forget his poorly placed penalty, nor how it most likely would have proven the match-winner.
What's worse, though, is the fact that Robben was nowhere to be found during the penalty shootout.
Surely a No. 10 should have been there for his team.
Abramovich on Top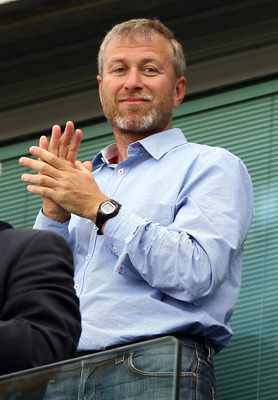 Ian Walton/Getty Images
When a Russian oil tycoon and shady businessman named Roman Abramovich took over Chelsea in 2003, the London club hadn't won a league title in nearly 50 years.
Nine years later, his endless millions have taken the Blues to the pinnacle of the European club game.
It will sound like sour grapes to any Chelsea fan, but it's worth pointing out that fans own 82 percent of Bayern Munich.
Whether or not you're happy about Saturday's result probably reveals your rooting interests, but that's beside the point. The point is that Chelsea are probably just the first mega-money club to work their way to the top. More are coming, and they won't be denied.
Manchester City won the title in England this year thanks largely to the heavy investment of their foreign owners. Meanwhile, in France, PSG are pushing for the Ligue 1 title behind a similar setup.
Unless Financial Fair Play rules suddenly start living up to their name, get ready for more new-money champions, whether it's fair or not.
Keep Reading