Bayern Munich vs. Chelsea: UEFA Champions League Final Tactical Analysis
May 20, 2012

Mike Hewitt/Getty Images
A frantic game at the Allianz Arena saw Chelsea overcome German giants Bayern Munich on penalties, lifting the UEFA Champions League trophy for the first time in the club's history.
When the game went to extra time, almost every tactical thought from both managers went straight out the window. There was almost no structure to the game and it's a genuine surprise there were no more goals.
In fact, it's crazy to think why it took us 83 minutes to see a goal in the first place. This game was oozing with opportunities, and I'd like to show you two scenarios—one for each team—in which it looked likely a goal would come at some stage. This game should have been 3-3.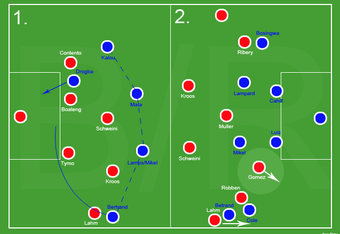 We'll start with Chelsea.
With Holger Badstuber absent, Bayern picked up exactly where Barcelona left off—showcasing their incredible fear of Didier Drogba so the whole world could see.
It was amazing to see a top-tier European side commit so many bodies and even change shape to allow themselves three or even four players to mark the Ivorian striker should he receive the ball.
The Drogba Fake (Figure 1)
Chelsea found success on quick counterattacks, moving the ball out and switching it to the wings with haste. Drogba would cleverley position himself between the far-most central defender and the full-back, attracting both their attention along with the backtracking defensive midfielder's too.
With Bayern expecting a cross into the box for Drogba to compete for, the midfield area was completely open. Toni Kroos is not a defensive midfielder and, while only filling in for Luiz Gustavo, was positionally poor when adjusting to help double-cover the winger.
Bastian Schweinsteiger, who is positionally perfect, was sucked back further than he would have liked due to Drogba's presence on the far post. Should the striker take the ball down away from the goal, it was his responsibility to be snapping at his heels.
As such, a simple passing lane opened, going from Ryan Betrand through the midfield, and finally out to Salomon Kalou on the opposite flank. Kalou had just one shot, but it was a scorcher taken from acres of space that really tested Manuel Neuer.
Chelsea weren't quite accurate or quick enough to create this situation enough to grab a goal out of it, but Bayern's obvious fear of Drogba allowed this to become a real opportunity to bag one from open play.
Overzealous Marking (Figure 2)
Let's get this out of the way first—I am about to suggest Ashley Cole's performance was not perfect.
In the same way the fear of Drogba caused Jupp Heynckes to alter his tactics, so too did the threat of Phillip Lahm for Roberto Di Matteo.
Clearly worried about the overloading capabilities of Lahm and Arjen Robben, Di Matteo deployed an auxiliary left midfielder in Ryan Bertrand, who plays left-back usually, to counter the threat posed.
The two did a good job nullifying the threat and restricting the Bayern duo to long shots and speculative crosses.
What they didn't do well is play in relation to their teammates. They were both happy to chase their men up the line, but football is played in relation to everyone else and they left David Luiz in a really tricky spot.
Luiz's transitions from central defence to wide cover is shaky at the best of times, but coming back off an injury only made it worse. With Chelsea overcommitting on the left flank, a pocket of space would frequently appear for Mario Gomez to drift into.
You might recall Gomez's awful, ballooned effort from around the 18-yard line. This is what we're talking about, and it's not the only time that pocket opened up. In fact, it appeared three times in the opening four minutes of the second half.
Conclusion
Congratulations to Chelsea. The defensive solidarity shown throughout the tournament deservedly won them the title and I've never seen Roman Abramovich look so happy.
While these are genuine talking points from the game, it's important to remember the real story of the night. It's not the unprecedented but laughable level of fear Drogba was shown by his opponents, nor the question marks around the Blues' defensive strategy in certain particular areas.
It's that Chelsea should celebrate winning the cup and they did so in spectacular fashion.