Indiana Basketball: 10 Reasons Why the Hoosiers Could Win It All in 2013
Jed Jacobsohn/Getty Images

Indiana University basketball may have taken a couple years detour, but Tom Crean has the Hoosiers ready to challenge for the Big Ten and NCAA titles in 2012-13.
Through hard work, determined patience and excellent recruiting, IU has returned to being one of the premiere teams in college basketball.
This past season, Crean's crew went 27-9, advancing to the Sweet 16 for the first time since Indiana made it to the NCAA Finals in 2002.
Here are 10 reasons why the Hoosiers could win it all in 2013:
Begin Slideshow

»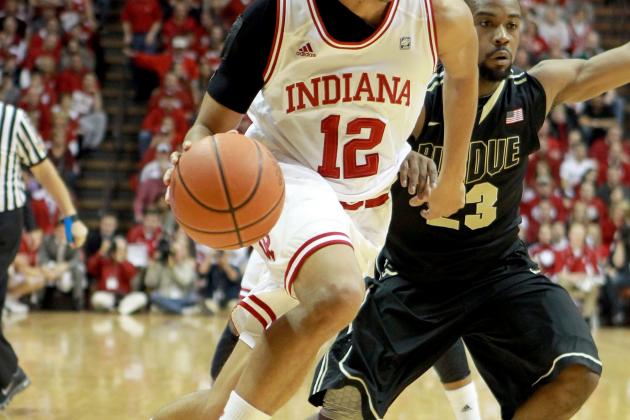 Andy Lyons/Getty Images

Verdell Jones III (pictured) is the only player IU loses that played 10 minutes or more per game last season.
VJ3 was a good on-the-floor leader and the No. 2 assist man on the team (3.2 apg).
But, other than his departure, the Hoosiers will be a veteran club, most likely starting two seniors (Christian Watford and Jordan Hulls), two juniors (Victor Oladipo and Will Sheehey) and a sophomore (Cody Zeller).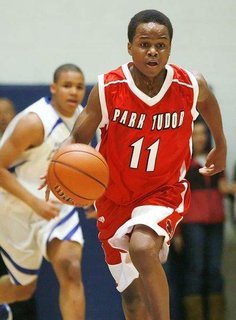 Indiana's class of 2012 recruits are the most highly rated group of players that Tom Crean has brought in since his arrival in Bloomington in April of 2008.
Three of his five incoming freshmen (PG Yogi Ferrell, SF Jeremy Hollowell and PF Hanner Mosquera-Perrea) are 4-star/ESPN Top 100 recruits.
All three of these players will compete for significant minutes and will make a great contribution to this year's title runs.
Ferrell (pictured) is an excellent creator/facilitator off the dribble and should make an immediate impact.
When Crean goes to his bench, there will be no drop-off.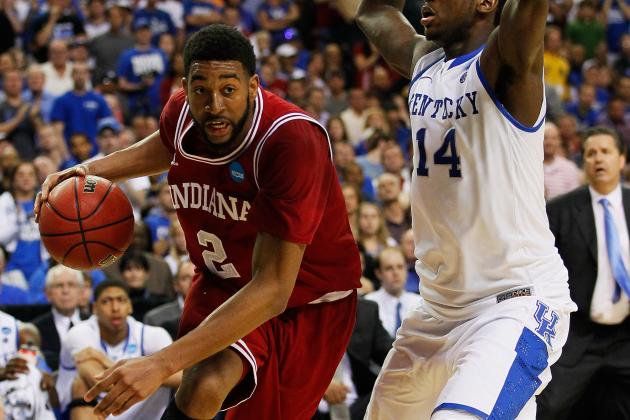 Kevin C. Cox/Getty Images

One of the keys to success in any sport is for the individuals who make up the team to accept their role in the grand scheme of things.
Without this buy-in taking place, talent is neutralized and the team underperforms
Tom Crean has done an excellent job of orchestrating the team dynamics in terms of where everyone fits best.
Cody Zeller's celebrated arrival last season could have been an issue.
Lots of credit goes to a player like Christian Watford (pictured). In 2010-11, Watford was IU's leading scorer. He dropped in 16 points per game as a sophomore. Last year, Watford was the No. 2 scorer on the team (12.6 ppg) behind Zeller.
He could have copped an attitude, but he seemingly took it all in stride.
As Crean welcomes this year's group of incoming freshmen (ESPNU's No. 10 Recruiting Class), he will again need to work on the whole idea of team chemistry, team dynamics and playing time rotations in order to maximize talent and minimize discontent.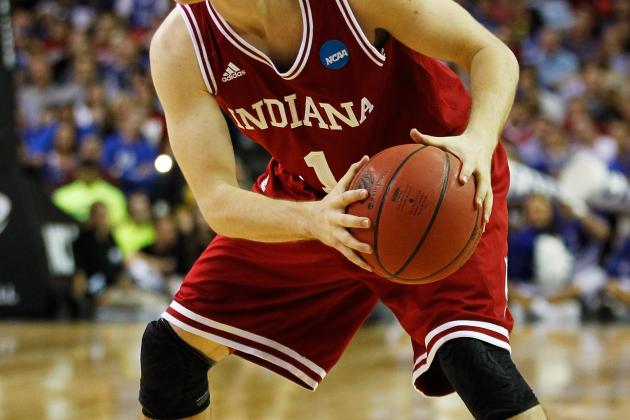 Streeter Lecka/Getty Images

The Hoosiers are not a conservative, slow-it-down team, and yet they take good care of the ball.
Last year, Indiana only committed 463 turnovers on the year (12.9 TOs per game).
Along with that, they handed out 487 assists for a solid 1.05 assists-to-turnover ratio.
Jordan Hulls (pictured) was the team leader in assists. He handed out 3.3 apg
This may not be a super-strength for IU, but it helps when you are not giving away a lot of possessions through bad ball management.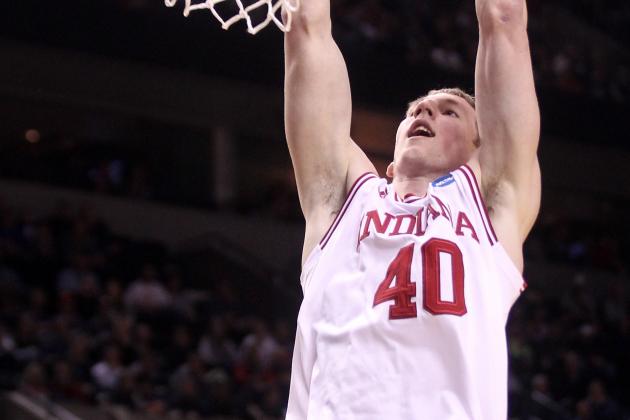 Jed Jacobsohn/Getty Images

The Hoosiers were the No. 5 field goal shooting team in '11-12, knocking down 49.2 percent of their FG attempts.
Cody Zeller hit an amazing 62.6 percent from the field (No. 14 in the nation).
Will Sheehey, a skilled slasher, dropped in 50.5 percent of his shots.
Even though half of Jordan Hulls shots were from beyond the arc, he still shot 50.4 percent from the field.
As long as Indiana continues to make good decisions concerning shot selection, they will put themselves in a place to be in or win every game during '12-13.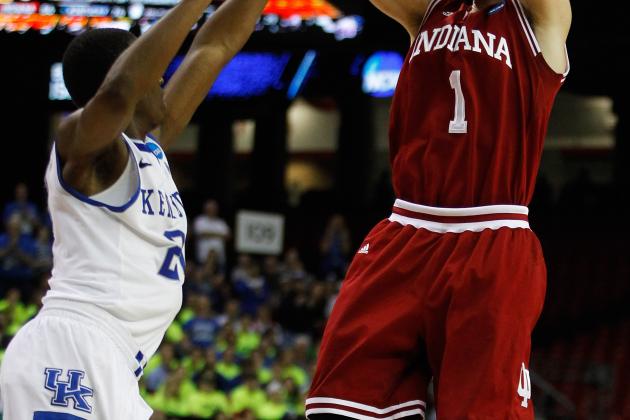 Streeter Lecka/Getty Images

Indiana was also an outstanding shooting team from beyond the arc.
The Hoosiers dropped in 43.1 percent of their three-pointers (No. 2 in the nation).
Jordan Hulls (pictured) knocked down 49.2 percent of his shots from downtown, good for No. 6 in the nation.
Christan Watford may be one of the best three-point shooters in the country among big men, hitting 43.7 percent.
Hulls and Watford accounted for over half of the Hoosiers' made threes.
This is actually an area that the Crean might push more going into the 2012-13 season.
While Indiana shot very well, they only attempted 531 threes (No. 229 in the nation).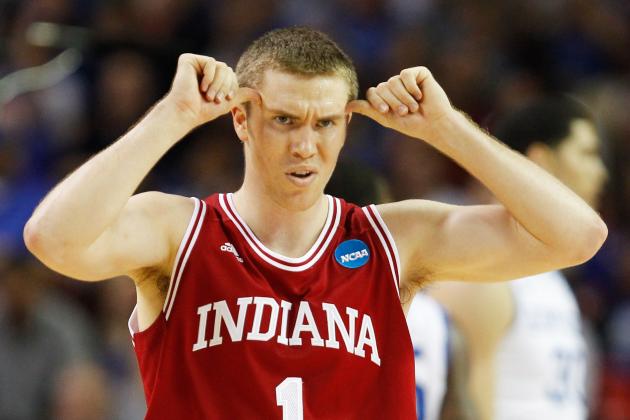 Streeter Lecka/Getty Images

Indiana was aggressive at taking the ball to the hole in 2011-12.
When they did, they were particularly good at getting to the line and making their opponents pay by knocking down their free throws.
Last year, Indiana shot 858 free throws (No. 12 in the nation), connecting on 655 (73.6 percent; No. 11 in the nation).
There were no weak links from the line in the Hoosiers' rotation (those that played at least 20 minutes per game). Everyone shot at least 70 percent.
It sure helps when your primary post player (Cody Zeller) connects on 75.5 (163-of-216) of his FTs.
Jordan Hulls (pictured) led the Hoosiers, dropping in 90 percent of his shots from the charity stripe.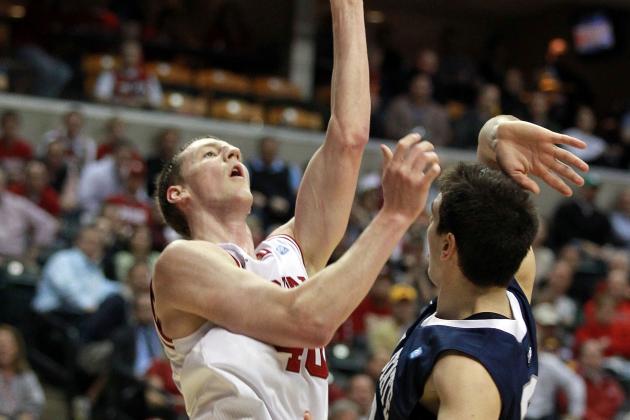 Andy Lyons/Getty Images

Checking out a team's points-per-possession is one of the best ways to find out how efficient a team is.
The Hoosiers scored 1.15 ppp, good for No. 5 in the nation.
As has already been mentioned, Indiana combines good shooting from the field and line with a low turnover count to make the most of their possessions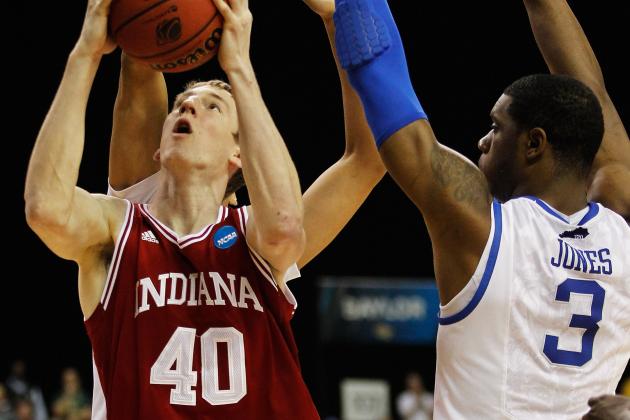 Streeter Lecka/Getty Images

The Hoosiers are not a one-man show.
Last season, four players averaged double-figure scoring:
Cody Zeller (pictured; 15.6 ppg)
Christian Watford (12.6 ppg)
Jordan Hulls (11.7 ppg)
Victor Oladipo (10.8 ppg)
All four of these players return for the 2012-13 season.
Add Will Sheehey (8.6 ppg) and a talented incoming freshman class, and you create a difficult situation in which IU's opponents must face.
This balanced attack helped IU be one of the nation's top scoring teams in '11-12 (77.3 ppg; No. 16 in the nation).
You can't just single out one Hoosier and attempt to shut him down.
If you give too much attention to one player, another one will have a heyday.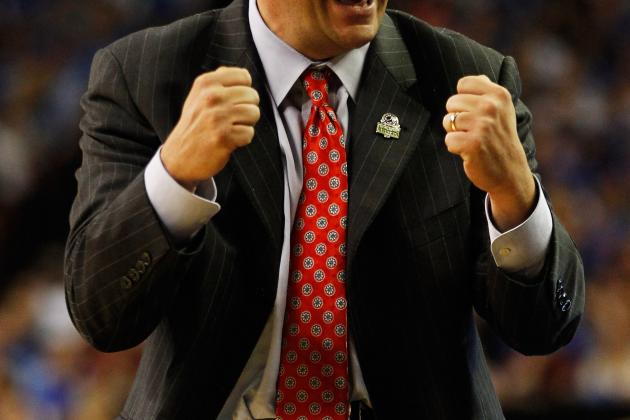 Streeter Lecka/Getty Images

Most college basketball coaches excel at either getting their teams ready to play or making adjustments in the middle of games based on what's happening.
Tom Crean is excellent in both game preparation and in-game decision making.
He consistently puts his team in the best position to win and helps the Hoosiers be ready to face practically anything that they might encounter from their opponents.