Tactical Review and Ratings: Chelsea Inspired by Drogba to Champions League Win
May 20, 2012

Alex Livesey/Getty Images
Chelsea have won the UEFA Champions League for the first time ever after Didier Drogba scored the decisive final penalty of a shoot-out.
The match had finished 1-1 after extra time with the Ivorian scoring with what could be his last ever kick for the Blues, having equalized with an amazing header just two minutes before full time.
Bayern Munich had dominated proceedings and had taken the lead through a late Thomas Muller goal before Chelsea pegged the German side back and forced the dramatic tie into extra time.
In the end, there was nothing to separate the sides and the game moved towards a penalty shoot-out to split the difference with Drogba scoring the decisive spot kick.
In truth, Chelsea deserved their win.
They showed great spirit and temperament and while Munich had three clear chances to win the trophy, first when Muller scored to take the lead then when Robben had a penalty to put his team ahead in extra time and then again, when they were two goals ahead on penalties and the German side, quite unnaturally, showed a lack of bottle to force their game over the line.
Going into the game, all the omens were with the London side, the last two teams to knock out Barcelona had lifted the trophy and each and every previous final in Munich had been taken by a club winning the trophy for the first time.
In times like these, fate has a strange way of working out and lady luck will give you her kiss when you deserve it least and take it away when you need it most, and sometimes it is the other way around. And then, there are the times you have to make your own luck, and Chelsea have made theirs this season.
Suspensions had taken their toll on both teams, the Blues were missing four important first-team players, while Munich were missing three.
These enforced changes had a huge affect on both managers as Di Matteo was forced towards a defensive set-up with reserve left back making his debut in the competition.
Jupp Heynckes, however, went on the front foot by bringing in Thomas Muller as Toni Kroos dropped slightly deeper to help the irrepressible Bastian Schweinsteiger.
The selections and tactics chosen by the respective managers had a huge effect on how the game turned out. Bayern dominated the opening stages through clever interplay and smart off-the-ball running by Thomas Muller, Mario Gomez and Franck Ribery in particular.
While at the back, Bayern were hunting in packs and easily dealt with the Blues' long and hopeful balls. On the plus side for Roberto Di Matteo was the assured start by Ryan Bertrand, who passed Phillip Lahm inside every time the full back threatened to overlap.
That good defensive start was almost undone after a quick throw by Arjen Robben caught the entire Chelsea defence flat-footed and only the poor control of Toni Kroos and a miskick by Jose Bosingwa denied Bayern the opening goal.
Munich continued to dominate the first half and created the vast majority of chances. Mario Gomez was Bayern's chief culprit and was guilty of missing the target on numerous occasions when scoring seemed easier.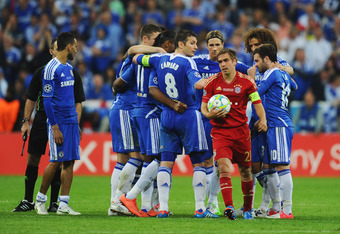 Mike Hewitt/Getty Images
Chelsea, on the other hand, may have been happy to keep the score at 0-0 but they would have to improve their attack greatly if they were to have a say in this match.
The second half began as a more open affair with Chelsea showing a little more adventure in attack-minded situations but it was Bayern who, again, forced the tempo and the pace of the game.
The "home side" then thought they had scored the opening goal when Mario Gomez's deflected effort bounced into the path of Franck Ribery, who calmly slotted the ball home, only for the goal to be disallowed for a fractional offside.
With the game wearing on, the Pensioners continued to hold Bayern at arm's length with none other than Didier Drogba epitomising the work rate and fantastic defensive effort by all Chelsea players on show.
Those hearts were to break with just eight minutes to go when Thomas Muller's header at the back post went in off the cross-bar and all of a sudden Munich were in the lead.
Arjen Robben's deep cross found Muller in a mismatch against Ashley Cole and won his challenge easily but Petr Cech really should have done much better with the shot. His late reaction to Muller's effort cost his team a decisive goal.
Roberto Di Matteo immediately introduced Fernando Torres and changed his formation to a 4-4-2, but changing the formation and changing the approach of a team are two very different things.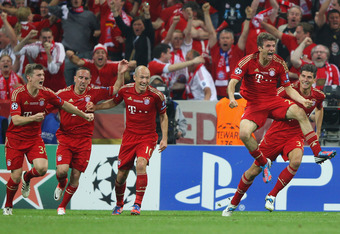 Alex Livesey/Getty Images
However, Jupp Heynckes played right into Di Matteo's hands and upon seeing Chelsea go on an attacking foot immediately changed to a defensive set up with goal scorer Muller making way for Daniel van Buyten.
With his team handing all their impetus to Chelsea for the closing minutes, it came as no surprise to see Didier Drogba score his sixth goal in eight Champions League games this season with an absolute bullet header into the top corner.
It was all the Ivorian deserved after a thoroughly selfless display. It is also important to note that Chelsea scored from the very first corner of the game while Bayern had wasted 16.
Munich's lack of maturity, refusal to take responsibility and Jupp Heynckes making a schoolboy error in handing the impetus to his opponent meant that we entered extra time with the Blues looking more likely to win the match.
Sensing blood Chelsea went straight for the jugular from the off with both Lampard and Mata forcing blocks on the edge of the box after some good work by Torres on the right flank.
Football can be a cruel master though and just when Chelsea looked at their strongest; Didier Drogba made a ridiculous clumsy challenge on Franck Ribery to give Munich a penalty.
Ribery was taken from the pitch in some distress; he would be replaced by Olic, which left Arjen Robben having to wait some two minutes before he could take the spot kick.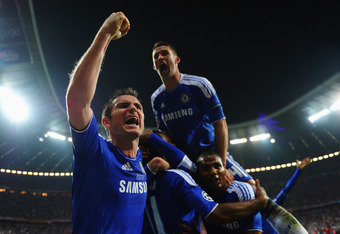 Laurence Griffiths/Getty Images
In the end, Cech produced some brilliance when it mattered most and made up for his earlier error and Drogba's mistake all in one go with a fantastic save to keep his team very much in the competition when all looked lost.
As tiredness began to take its effect on the Blues, after a monumental effort, Munich carved out a number of chances and only profligate finishing, poor passing and last-ditch defending kept the scores level.
The game moved into penalties with both managers moving amongst their teams looking for the brave souls who would put their heads above the parapet and their reputations on the line.
Cech had already saved one spot-kick during the game, and Neuer went into the last-ditch competition without any pressure, and surely it would be one of these two men who would shape the destiny of the Champions League trophy.
Chelsea fans, believing their name was on the cup, sang at the top of their lungs as the competition to end all competitions began.
Bayern raced into a 2-0 lead after Juan Mata's tame effort was saved but Olic and Schweinsteiger both missed to leave Didier Drogba with the task of winning the trophy for Chelsea.
He did not disappoint, as his calmly struck spot kick nestled neatly in the bottom corner with Neuer having dived the wrong way, and the rest is history.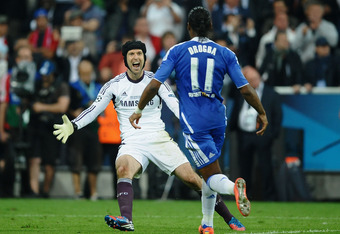 Laurence Griffiths/Getty Images
Bayern, for all their possession, shots, corners and attacks on goal never tested Cech once during the entire 120 minutes while Chelsea defended valiantly and attacked at key moments and won the competition deservedly.
It was a fairytale end to a season that threatened to go in a completely different direction just three short months ago.
Chelsea and Di Matteo handled the big occasion far better than their German counterparts and now Roman Abramovich has his club's name on the trophy he covets above all others.
Player Line-up and Ratings
Bayern Munich 4-2-3-1
01 Neuer (6)
17 Boateng (6)
21 Lahm (6)
44 Tymoschuk (6)
26 Contento (6)
31 Schweinsteiger (7) (Y)
39 Kroos (6)
07 Ribery (7) (sub-off 98)
10 Robben (7) (MISSED PEN 95)
25 Mueller (7) (GOAL-83) (sub-off 87)
33 Gomez (5)
Substitutes
22 Butt
05 Van Buyten (6) (sub-on 87)
13 Rafinha
14 Usami
23 Pranjic
09 Petersen
11 Olic (6) (sub-on 98)
Chelsea 4-4-1-1
01 Cech (7)
03 Cole (7) (Y)
04 David Luiz (6) (Y)
17 Bosingwa (6)
24 Cahill (7)
34 Bertrand (6) (sub-off 74)
08 Lampard (7)
12 Mikel (6)
10 Mata (6)
21 Kalou (6) (sub-off 84)
11 Drogba (8) (GOAL-88) (Y)
Substitutes
22 Turnbull
19 Ferreira
05 Essien
06 Romeu
15 Malouda (6) (sub-on 74)
09 Torres (6) (sub-on 84) (Y)
23 Sturridge
PENALTIES
1.BM - Lahm (Goal) 1-0
1.CFC - Mata (Missed) 1-0
2.BM - Gomez (Goal) 2-0
2.CFC - Luiz (Goal) 2-1
3.BM - Neuer (Goal) 3-1
3.CFC - Lampard (Goal) 3-2
4.BM - Olic (Missed) 3-2
4.CFC - Cole (Goal) 3-3
5.BM - Schweinsteiger (Missed) 3-3
5.CFC - Drogba (Goal) 3-4 - Chelsea win the Champions League
Referee
To read a comprehensive preview predicting Chelsea's win on Bleacher Report, click here.