NBA Playoffs 2012: Why the Lakers Need to Rebuild in Order to Succeed
May 20, 2012

Stephen Dunn/Getty Images
It was an almost surreal experience to see the Lakers blow yet another late-game lead, as they head to Oklahoma City now, down 3-1 with a 103-100 loss to the Thunder. Not only was it embarrassing and dumbfounding to watch, it was a mere heartbreaking experience for Lakers fans to watch. The torch has now officially been passed down from the Lakers to the Thunder.
Say hello to a new generation of basketball, folks.
We will be concluding our presentation of the Lakers and will now be presenting our newest and most entertaining new show, the Oklahoma City Thunder! And let me tell ya', they won't disappoint—especially at the conclusion of every show.
After a game like this for the Lakers, only three words come to mind: shoulda, woulda, coulda. One really has to wonder whether or not this series could have gone the other direction because it honestly could have. It is no mystery that the Lakers should actually be up 3-1 instead of being down. The Lakers blew it in the fourth quarter in the last two games. At this point, it looks like the winnable games of Game 3 and Game 4 have come back to haunt them, as they now have virtually no chance of winning the series. 
So where does this leave the Lakers heading into the offseason? Yes, I know the season isn't over quite yet but, come on, do we really believe there's still a fighting chance for the Lakers to come back? 
Let me tell you where this leaves the Lakers, and you may not like it. I've got two words for you: nuclear bomb. Yeah, you heard me, nuclear bomb. What do I mean by this? Well, if you haven't already figured it out, in the Lakers-Thunder series, the Lakers obviously have a major problem with the structure of the team itself.
Pau Gasol has been playing like a scared little girl, Andrew Bynum disappears as soon as he doesn't get touches, Matt Barnes is shooting like he's blind, Coach Brown can't run an offense to save his life and Ramon Sessions has slowed down since his exciting put-out in the regular season.
Oh, and don't forget the fact that this Lakers team has no pride whatsoever in what it means to be part of this cherished franchise—if they did, this series would have been a completely different story. 
The Lakers need a complete overhaul of new players and they need it now. Otherwise, this team will continue to underachieve and disappoint to the point of being swept and humiliated in coming playoffs, if they do indeed make the playoffs. 
Anyone in need of a mentally weak seven-footer? Because we got one waiting for you...
The most disappointing aspect of this Lakers team has to be the fact that they have continued to underachieve. Year in and year out, this ballclub has had the tools to compete for a title—yet these last two years, the Lakers have struggled to get through the early rounds of the playoffs.
Whether it be coaching or mental weakness, something has to change—if it won't be the coach, then it has to be the players. Too bad the market value for Gasol has dipped below zero in these last seven playoff games, for the Lakers probably thought they had a great chance to trade him away. Of course, we are assuming commissioner David Stern wouldn't veto it. 
In a rare time in Lakers history, it looks as though they will be put in a tough position to try and find a team that will compete for titles. Bynum and Gasol look to be the prime trading stock that the Lakers have to offer, but with their recent attitudes and level of play, it might be a little harder to trade them away for someone the Lakers would value. 
For once in Kobe's career, we have to feel for him. I mean, the guy pours his guts and heart out into every game, and what is he left with? A 3-1 deficit and a broken-down team. He may have five rings, but he most definitely is in a low point as a superstar. And no, I am not forgetting about the Smush Parker-Kwame Brown era, it's just that they don't really count as a team, so please do give Kobe a break.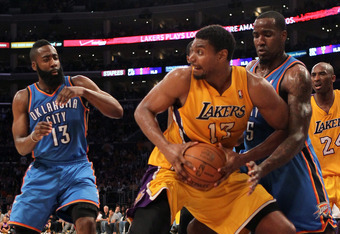 Stephen Dunn/Getty Images
It looks as though the Spurs are on their way to another title, and that should only spark more flares for the Lakers to try and one-up them. For this last era of basketball, it has been the Spurs, Lakers, Celtics and now a little more Spurs. Coach Popovich and the Spurs front office have done an almost perfect job in maintaining their core three players in Tony Parker, Manu Ginobili and Tim Duncan, while adjusting players' roles and bringing in fresh talent like Kawhi Leonard to complement their overall team's success. 
The Lakers need to take a deep breath, look at what the Spurs are doing and try and figure this situation out. We all know the city of Los Angeles is dying to find their next championship team to root for, and the clock is ticking as Kobe's time is slowing winding down.
It is a great time in the state of California in terms of sports, and it would be a shame if the Lakers missed out on this great opportunity to bring California to the top of the sports world. 
What is California without the Lakers, right?