Lakers' Lack of Execution in the Clutch Results in Another Heartbreaking Loss
May 20, 2012

Stephen Dunn/Getty Images
The Lakers came into Game 4 on a bit of a high from Game 3's win and seemed to have a game plan against the Oklahoma City Thunder that worked. Mike Brown seemed to figure out the Thunder's weaknesses—they have little—and a way to limit their otherwise explosive offense.
Once again, things seemed positive as the Lakers headed into the fourth quarter. The first half was dominated by the Lakers' ability to score in the paint and control the boards. The Lakers forced the Thunder to a half-court game during the first three quarters and therefore controlled the tempo of the game.
The Lakers were aggressive and physical for the first three quarters of Game 4, especially in the first half. Kobe Bryant was determined to get to the rim and Andrew Bynum found his groove in the low post. The Lakers built what was the best cushion in the score against the Thunder in the series.
Yet, in the fourth quarter things started to unravel—again.
The Lakers ran away from their inside game in the fourth, where they had success up until the last 12 minutes. Bynum stopped getting touches. Yes, the Thunder made adjustments to their defense to prevent Bynum from getting the job. However, the Lakers did nothing to counter their adjustment.
They started running their offense through the outside game. Kobe Bryant changed his game away from aggressively driving to the basket to forcing ill advised jumpers. The Lakers stopped sharing the ball as they only tallied four assists in the second half, compared to 15 in the first half.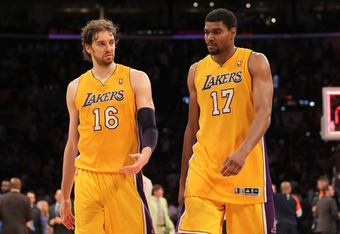 Stephen Dunn/Getty Images
When the Thunder crept back into the game, tying it at 98, it was another costly and careless turnover from Pau Gasol that led to Kevin Durant nailing a three pointer, essentially sealing the game.
All in all, the Thunder outscored the Lakers 32-20 in the fourth.
This is the second game in this series that the Lakers handed it to the Thunder. Credit Oklahoma City for fighting the fight and taking advantage of the Lakers' mistakes. For the Lakers, there were too many mistakes in the clutch, which not only cost them the game, it could cost them the series.
The Lakers are now in a tough challenge down 3-1 going back to Oklahoma City. The bright spot is that they have a game plan that works against the Thunder. However, it is the mistakes that they have made that have cost them two games, and these mistakes cannot be replicated.
Now, the Lakers must execute their game plan with perfection on Monday with their season on the line.